Why The Chevy Chase Show Failed In Its First Season
20th Television
Perhaps one of the most notorious talk shows in network history, "The Chevy Chase Show" ran on Fox from September 7 to October 11, 1993. It lasted only 29 episodes and was widely panned by critics and audiences alike. Hosted by an openly uncommitted Chase, the talk show featured unfunny monologues, long awkward pauses, and desperate grabs for audience enthusiasm. This author managed to see only one episode organically and spent a great deal of the time wincing. 
"The Chevy Chase Show" came during a tenuous time in late-night television history. Johnny Carson had left "The Tonight Show" in 1992 after hosting it for 30 years, and there had been an enormous kerfuffle as to who would replace him — David Letterman or Jay Leno — or whether the show should continue at all. The entire drama was recorded in Bill Carter's 1994 book "The Late Shift: Letterman, Leno, & the Network Battle for the Night." 
During the tempest, many other late-night talk shows were rushing to fill the void. "The Arsenio Hall Show" was already doing well. MTV launched "The Jon Stewart Show," a more laidback version of the format. "The Dennis Miller Show" launched on NBC in 1992, and even Whoopi Goldberg tried out with "The Whoopi Goldberg Show." After Leno ultimately took over on "The Tonight Show," Letterman launched "Late Show with David Letterman," and Conan O'Brien launched "Late Night with Conan O'Brien." In 1996, Dana Carvey threw his hat in the ring. By 1997, the format was being satirized on the absurdist animated show "Space Ghost Coast to Coast." If you were old enough to stay up late, it was a wild time. 
In the middle of all this was "The Chevy Chase Show," the shortest-lived and worst of the lot.
Why was it canceled?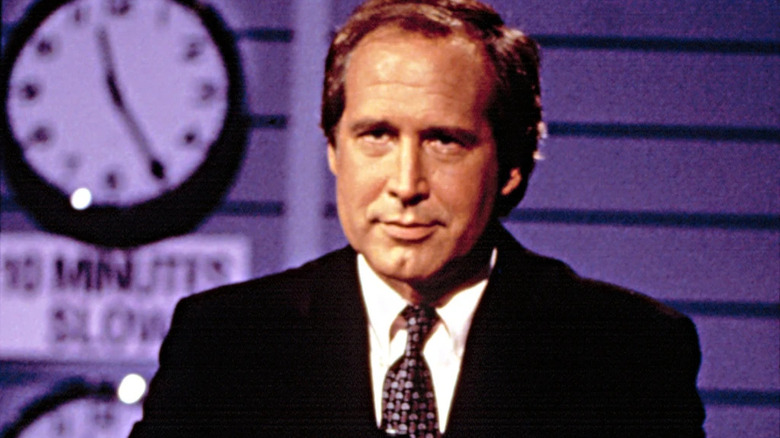 20th Television
The show was so notorious it eventually became a headline in the Onion: The Chevy Chase Show Enters Sixth Blockbuster Season In Alternate Universe. 
The easy answer as to why the show was canceled is pretty easy: it simply wasn't very good. Clips online reveal a low-energy Chase enacting limp slapstick from his glory days, a low-energy audience not laughing at him, and interviews that were full of prolonged pauses and awkward moments. He and Dan Aykroyd would wrap rubber bands around their faces. He'd talk to bubblegum-blowing champions. Comedian Archie Hahn appeared as his producer, and their banter — to put it bluntly ± sucked. Oh yes, and Chase would play piano on the show for extended sequences. He was ... okay I guess. 
There have been multiple post-mortems on "The Chevy Chase Show" over the years. Vulture published a rundown of the show in 2013, citing every problem the show had in excruciating detail. Chase hosted a segment called "News Update," a knockoff of the "Weekend Update" segment from "Saturday Night Live." Because the format was tested, Vulture argues, the comedy was running high. It was the languid approach and Chase's aggrandizement that sunk everything. Often, Vulture says, guests would be allowed to make "Caddyshack" references and gush over being a Chase fan. Actress Jennie Garth from "Beverly Hills 90210" gave Chase a lookalike doll and sang a song to him. 
When Chase tried to play along on the piano, he messed up.
Go to bed, old man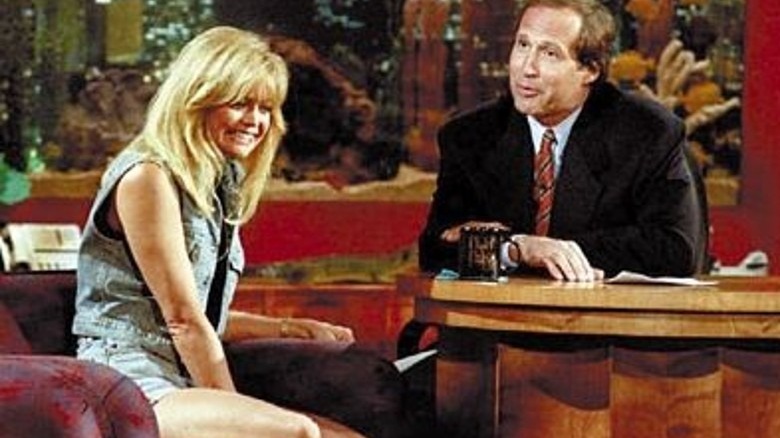 20th Television
Both Vulture and the YouTube channel Hats Off Entertainment have combed through the remains and highlighted one notorious episode — the first, in fact — wherein Chase interviewed Goldie Hawn. In the episode, it seems, Chase dances awkwardly and talks to Hawn in a way that offers no insight or wit. It was, essentially, like listening in on a boring lunch conversation. Chase, it seems, didn't have the stomach to actually host a show, take the reins, and bring the energy up if things begin flagging. "The Chevy Chase Show" is weirdly laconic. After talking to Hawn, Chase tries to present a birthday cake to Hawn's son in the audience. He then intentionally drops it. He gets another cake and merely puts it on the boy's lap.
Perhaps as a gift, perhaps as a curse, Whoopi Goldberg appears later to present Chase with a pair of shoes that she wore on her own short-lived program. It felt like something grave was afoot.
While Chase was a hot film commodity in the mid-1990s — he was just coming off of "National Lampoon's Christmas Vacation," and John Carpenter's "Memoirs of an Invisible Man" — "The Chevy Chase Show" was, by Vulture's estimation, proof positive of how very, very middle-aged the man was. Chase had just turned 50, and didn't have the self-effacing glee nor the hip, youthful energy of some of his contemporaries. Watching him play jazz piano was as entertaining as watching someone arrange their comb-over in the morning. 
The effort to make the comedian appear hip to young audiences was a resounding failure, and the show was canned a little over a month after it debuted. 
Chase, now 79, would eventually find a hit in the TV series "Community." That wasn't until 2009.