Saturday Night Live Basically Became A Live Version Of Inside Amy Schumer, And That's Just Fine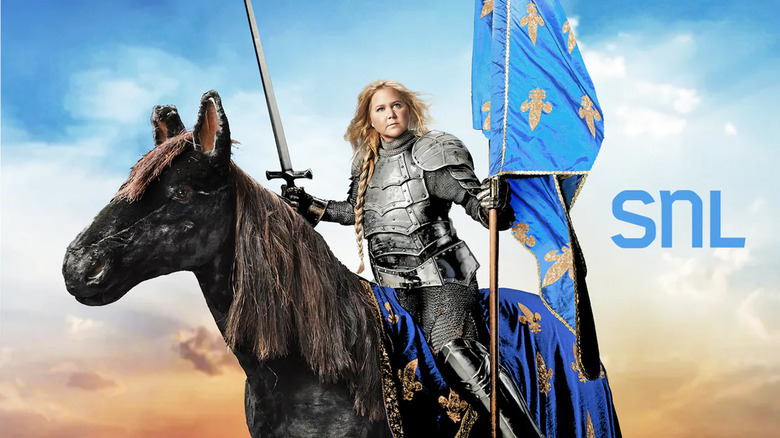 NBC
Amy Schumer returned to host "Saturday Night Live" for the third time this weekend, arriving in Studio 8H just in time to promote the return of her sketch comedy series "Inside Amy Schumer," which began with a few seasons on Comedy Central, went on an extended hiatus, and has just come back with new episodes on Paramount+. 
Though her mere appearance on "SNL" would have been enough to usher in her series' revival, the entire episode basically felt like a live version of "Inside Amy Schumer," featuring a good chunk of sketches that would have felt perfectly at home on her own sketch comedy show. Since "Inside Amy Schumer" was a solid assembly of female-centric comedy and satire, that was perfectly fine for the most part, but that doesn't mean every sketch landed firmly. 
Let's dig into the highs and lows of the latest episode of "Saturday Night Live."
The best sketch of the night
It's been fall for a little while now, but only recently has the weather started to cool down enough to usher in a true autumn wardrobe, including those Big Dumb Hats that ladies like to wear. You know the kind of hats we're talking about. The ones that look like hipster cowboy hats that were made specifically for Instagram photo shoots at orchards and coffee shops. This faux commercial for the Big Dumb Hat absolutely nails the vibe of this hat, from pairing it with little cursive tattoos to holding a tiny oat milk latte from Starbucks. Yes, wearing this hat is perfect for the person who posts a picture from their wedding everyday and has a fake gluten allergy. 
Aside from the mocking of this fall fashion trend, there's also a nice level of absurdity that comes from Amy Schumer's hat getting increasingly bigger, not to mention Heidi Gardner's hat producing both coffee and a tiny piece of pizza. Plus, even though this sketch is based around making fun of the women who wear these Big Dumb Hats, it was nice to see the equally terrible men's version of this hat come into play for a bit, with Marcello Hernandez looking like the perfectly trashy version of Timothée Chalamet and Johnny Depp.
How was the rest of the episode?
It's football season, and that means some of the most obnoxious people you'll ever meet are standing in the middle of a parking lot outside of a massive stadium, cooking up meat, drinking beer, and cheering on a bunch of men smashing into each other and tossing a ball around. America! This sketch reveals just how awful some of these sports fans can be, but in the most unexpected fashion. You've got two women chatting about their innocuous daily life before turning into enraged sports fans on a dime, shouting nonsensical insults simply because someone is wearing the colors and logo of the opposing team. 
The irony of course is how calm and chill they are, even talking about how terrible it is that kids bully each other, before bullying a pregnant woman and a bunch of kids just for being Buffalo Bills fans. It's a simple premise, but the way it's played by Kenan Thompson, Andrew Dismukes, Amy Schumer, and Cecily Strong was just fantastic. Strong feels like she's about to break every time she shouts at someone, and the way Thompson throws those charcoal briquettes cracked me up. 
The parody of Netflix's "The Watcher" also drummed up plenty of laughs from yours truly. It's the kind of spoof where you don't really need to even see the series being parodied to get the humor. Honestly, this doesn't even need to play off of the Netflix show to execute the series, but it helps make the sketch a little more relevant and timely. Amy Schumer becomes the butt of the joke as she's the only one being stalked who has embarrassing activities to be revealed, whether it's having a whole second meal late at night or pleasuring herself to episodes of "Property Brothers." You never see this kind of story come from a creepy stalker, but maybe it's time these kind of activities were brought to light so no one has to be ashamed of them. Who among us...
Along with the "Big Dumb Hat" commercial, fake advertisements were a big hit throughout the evening. Above you can see an ad touting the benefits of getting Covid. Need a couple weeks off? Want to get away from your kids? Doctors are recommending Covid. Sure, it comes with some side effects, like brain fog and having a bad cold for a few days, but how else are you going to get a break from the suffocating terror that is everyday life? Though it might seem like it's too soon to laugh about the pandemic that killed so many, the sketch does acknowledge this in a meta way by saying it just feels different now. I will say that the sudden January 6th insurrection kinda comes out of left field, but overall, this was a great sketch.
There was also the period underwear commercial, which made the overall fake advertisement game for the evening pretty great, even if this one felt like it was a little more one note than the other two. 
Not every sketch was a winner though, and this one felt like the worst of the night. Aside from the fact that the flashing gag was completely bungled by a poor chroma key effect that was supposed to blur the faux nudity of Cecily Strong and Amy Schumer (this was fixed entirely in the version that made it to the internet above), the overall sketch just didn't work for me. Schumer lost her southern drawl halfway through the sketch, Bowen Yang's redneck husband character was sorely underutilized, and this felt like a Jerry Springer sketch that arrived 25 years too late. Hard pass.
How did Amy Schumer do as an SNL host this time?
As a stand-up comedian and sketch comedy creator, Amy Schumer is no stranger to taking the spotlight and vying for laughs. She's hosted "SNL" twice before, not to mention making a couple of cameo appearances in between. Though her comedic style isn't for everybody, and she's coming under fire in recent years for trying too hard to be irreverent without being clever enough to justify it, Schumer still offers up some decent bouts of laughter. This episode in particular felt attuned to her comedic sensibilities. I don't know if that's because she brought some ideas that felt like they easily could have been on "Inside Amy Schumer," or if the rest of the writers merely were inspired to deliver sketch ideas that worked with the kind of comedy she typically delivers. Regardless of how you feel about Schumer's comedy, you can't deny that she feels comfortable on "SNL." 
Meanwhile, when it comes to Schumer's monologue, it was clear that she had to soften some of her material for network television. Schumer is known for being much more vulgar as a stand-up comedian, especially when it comes to sex-related comedy. But it was nice to hear how she was able to blend some of her traditional raunchy comedy with her recent experiences as a new mother. It offers a whole new arena of comedy for Schumer without completely changing who she is as a comic. 
Cecily Strong is a mothertruckin' treasure
Cecily Strong may have been absent from the earlier episodes of the 48th season of "Saturday Night Live," but she's back and proving why she's still one of the best "SNL" cast members of the 21st century. Not only was she hilarious in the New York Jets tailgating sketch, but she became the breakout star of the entire episode by coming to the Weekend Update desk for a poignant bit about abortion. 
Though not quite as strong as Strong's previous bit about abortion where she appeared as Goober the Clown, the message within this darkly hilarious and timely bit is still important as ever. It might seem trite and simple to tell people to vote, but it's the only real way that garbage politicians can be held accountable. Strong is one of the best cast members "SNL" has seen this century, and it's gonna be a shame to lose her whenever she chooses to leave the series.
Come back next weekend after (sigh) Dave Chappelle hosts "Saturday Night Live" on November 12 with musical guest Black Star.