The Community Movie Is Finally Officially Happening, But Two Key Cast Members May Be Missing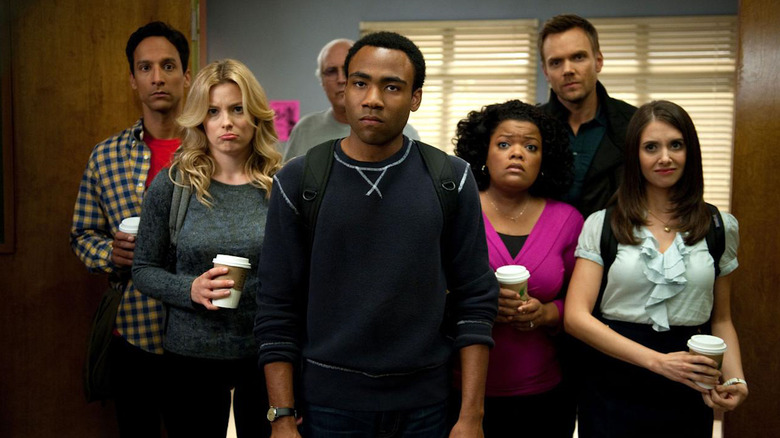 NBC
"Community" was simply playing the long game with "Six seasons and a movie," after all.
One of the funniest running gags in the entire comedy series — which started as an incredibly niche underdog with an almost impenetrable sense of humor and consistently low ratings, only later exploding in popularity as the years have gone by — has finally turned into a self-fulfilling prophecy. Today, after far too many false starts and hints and hopeful speculation, the news has been made official that "Community" will receive its very own feature film spin-off. Teased on social media by members of the cast like Joel McHale and Ken Jeong before the news officially broke, Peacock confirmed the rumors once and for all with the reveal that the long, long, long-awaited "Community" movie will debut exclusively on the streaming service.
You've been asking @Communitytv fans, and it's finally time. #sixseasonsandamovieOnPeacock pic.twitter.com/qlXmEDOPG2

— Peacock (@peacock) September 30, 2022
Variety followed up with further details on the project, confirming that Peacock has ordered the movie that will bring back the original stars of our favorite Greendale Community College gang: Alison Brie as Annie Edison, Joel McHale as Jeff Winger, Danny Pudi as the lovable and fan-favorite Abed Nadir, Gillian Jacobs as Britta Perry, Ken Jeong as Ben Chang, and Jim Rash as Dean Pelton. McHale will also serve as an executive producer on the film. As of the time of publication, however, questions swirled as to whether Donald Glover (who was written out of the series once his many other career interests took precedence) and Yvette Nicole Brown would also return as Troy Barnes and Shirley Bennett, respectively.
Read on for all the details!
Six seasons and (finally) a movie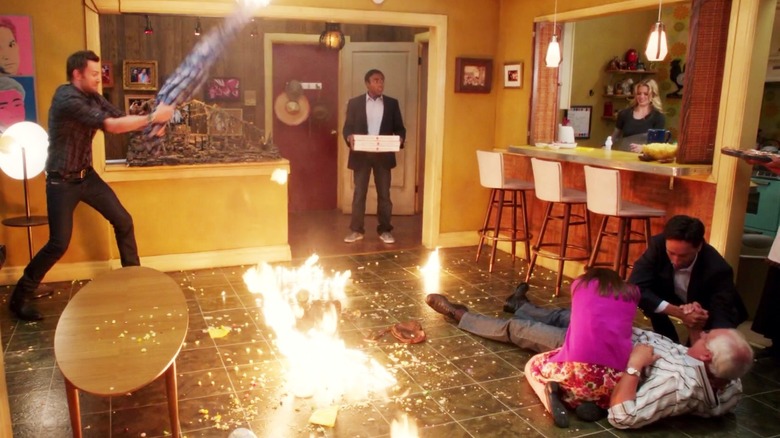 NBC
Pinch yourselves, "Community" fans! We're about to get more outrageous Dean Pelton outfits, a heaping dose of meta satire, maybe a return visit to the darkest timeline, and hopefully more of everyone's favorite side characters Starburns, Magnitude, and even the Human Being mascot. The consistently brilliant, hilarious, and experimental sitcom series (we don't talk about the gas leak season, mind you) has been resurrected over seven years after the Dan Harmon-created show left the airwaves.
Peacock and Sony Pictures TV announced the internet-breaking news that "Community" will return for a feature film that will stream on Peacock. Susan Rovner, chairman, entertainment content, NBCUniversal Television and Streaming, had this to say about the announcement:
"'Six seasons and a movie' started out as a cheeky line from 'Community's early seasons and quickly ignited a passionate fan movement for this iconic, hilarious and cool (cool, cool) NBC comedy. We're incredibly grateful that 15 years later, we are able to deliver fans this promised movie and can't wait to get to work with Dan Harmon, Andrew Guest, Joel McHale, Sony and our partners at UTV to continue this epic comedy for Peacock audiences."
Harmon will remain creatively involved in some capacity — likely as the main (or even sole) writer — though no director or premiere date has yet been revealed. This comes on the heels of Harmon's most recent comments that suggested a movie was a sure thing, though fans have been burned over the years many times before. With an original premise revolving around college students (and deadbeat lawyer Jeff Winger returning to school after faking his law degree), it remains to be seen exactly how the movie will attempt to bring these friends back together again.
Stay tuned for all updates as they come in!