Why Finishing Guardians Of The Galaxy Vol. 3 Was 'Bittersweet' For Zoe Saldaña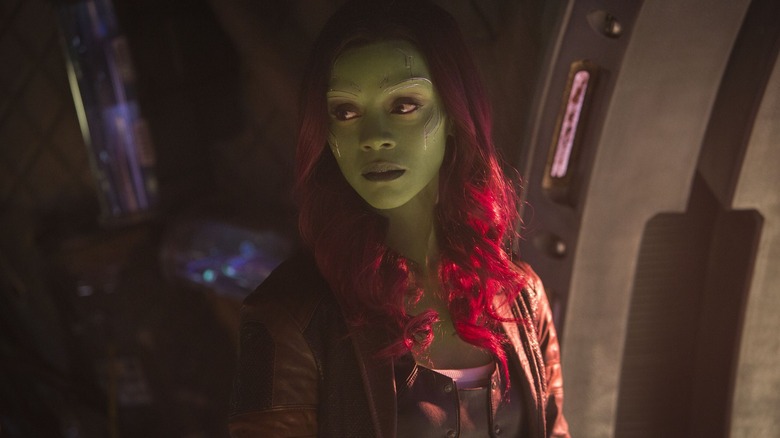 Marvel Studios
Thanks to their brief appearance early on in "Thor: Love and Thunder" and most recently in James Gunn's "The Guardians of the Galaxy Holiday Special," it hasn't been very long at all since we last saw Marvel's most irreverent and cosmic found family. But one key member of the team was noticeably absent in both instances — Zoe Saldaña's Gamora.
Along with the rest of those endearing Guardians, Gamora managed to worm her way into our hearts after her very first introduction in 2014's "Guardians of the Galaxy," helping to establish beyond a doubt that space-bound characters truly have a place in the otherwise grounded Marvel Cinematic Universe. Over the years, we've seen her go from a straight-shooting mercenary to someone with a strong sisterly bond with the villain-turned-Guardian Nebula (Karen Gillan) to finding full-blown love with Peter Quill (Chris Pratt) ... until "Avengers: Infinity War" went ahead and killed her off. But because this is the world of superheroes, that wasn't the last we saw of the character. "Avengers: Endgame" saw fit to bring her back. Or, rather, it brought back a younger version of her who was plucked from the past and deposited in the present.
In any case, early Comic-Con footage of "Guardians of the Galaxy Vol. 3" showed that Gamora won't be the same as when we last saw her in "Endgame" — and neither is Saldaña herself, especially since "Vol. 3" has been billed as a grand conclusion for this iteration of the Guardians. It's no wonder that the actor is referring to her experience filming on the set of the threequel as "bittersweet."
'It was a very sweet departure'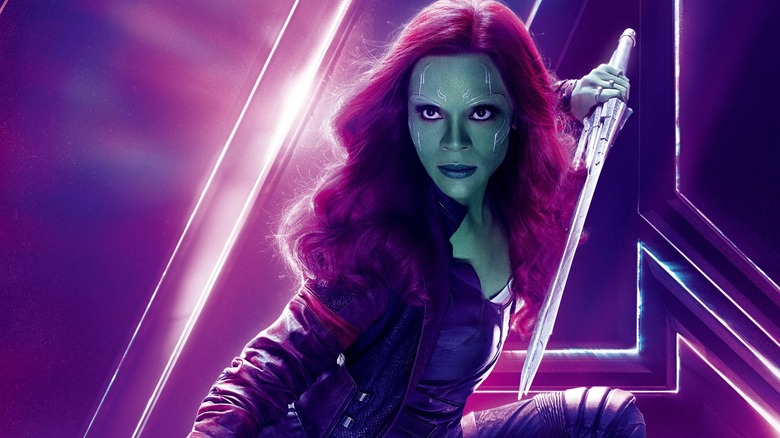 Marvel Studios
While we don't know the ultimate fates of each individual Guardians character in "Vol. 3," it's increasingly clear that the trilogy-capper will serve as the end of an era — especially since James Gunn will be far too busy with his plush new DC gig to even think about another return to Marvel. It certainly appears as if that feeling permeated the set of the film during production, as Zoe Saldaña spoke about some time ago. In an interview with Entertainment Weekly (via The AVClub), the actor revealed that she truly soaked in the experience of (possibly) her last time playing Gamora:
"[Filming] started bitter in the beginning cause obviously you're anticipating the end, but I'm just so happy that once again I got to work with great people. I had an evolution that I witnessed of myself, but also my director and my cast. I just felt very blessed and grateful. It was a very sweet departure, I have to say."
Describing it in such terms certainly lends a sense of finality to the proceedings, though Saldaña went on to remark:
"It's been bittersweet, because we've been told that this is the last of the 'Guardians of the Galaxy' installments, I know that Gamora has taken a different journey. So whether they continue, I don't know what's in it for Gamora in terms of, will she be a Guardian again or not? So it was bittersweet."
If filming proved to be such an emotional experience for the cast, there's no telling just how affecting it will be for audiences, as well. We'll find out when "Guardians of the Galaxy Vol. 3" comes to theaters on May 5, 2023.