Babylon Trailer: Feast Your Eyes On Damien Chazelle's Ode To Hollywood Excess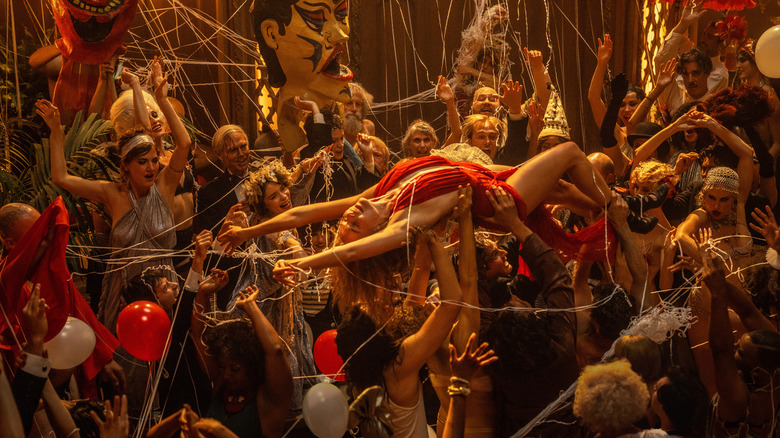 Scott Garfield/Paramount
Whenever Damien Chazelle makes a new movie, you can bet that it'll come with a cast chock-full of A-listers, a spectacle-sized story that spares absolutely no expense, and probably a plot that doubles as a love letter to Hollywood itself. And, of course, it'll likely end up becoming a major awards player when it's all said and done.
"Babylon" will look to keep that trend going, with its latest official trailer attempting to capitalize on the steadily-building buzz behind Chazelle's celebration of a very specific (and tumultuous) period of time in the moviemaking industry — when the silent era gave way to the glamour and prestige of "talkies." After establishing an incredibly impressive oeuvre with 2014's "Whiplash," the Academy Award darling "La La Land," and the oddly underrated "First Man," Chazelle is back and ready to take audiences on a roller coaster of a trip through Hollywood with some of the biggest names in town. Brad Pitt, Margot Robbie, Jean Smart, and a whole host of recognizable names fill out the impressive ensemble of what's sure to be a constant presence during this upcoming awards season.
Check out the newest trailer below!
Watch the new Babylon trailer
Prepare yourself to come to the crossroads where "high art" and drug-fueled "party time" meets. That's exactly the energy and vibe that this newest footage for "Babylon" unleashes on unsuspecting audiences, which teases a hilarious, high-energy romp that should win over even the most cynical grump left on the fence about another Hollywood movie celebrating, well, itself. Reuniting Brad Pitt with his "Once Upon a Time in Hollywood..." co-star Margot Robbie, this latest big-screen epic by Damien Chazelle appears to provide all the thrills and humor (and more!) that some accused his Neil Armstrong biopic "First Man" of lacking.
Written and directed by Chazelle, "Babylon" cleverly features some of the few remaining movie stars of our day to tell a story all about both up-and-coming and past-their-prime stars from 1920s Hollywood. Pitt and Robbie portray original characters Jack Conrad and Nellie LaRoy, respectively, alongside a murderer's row of stars that include actor/directors Olivia Wilde and Spike Jonze, Tobey Maguire, Jean Smart, Samara Weaving, Max Minghella, Diego Calva, Jovan Adepo, Li Jun Li, Katherine Waterston, Phoebe Tonkin, Max Minghella, Lukas Haas, Rory Scovel, Eric Roberts, P.J. Byrne, Damon Gupton, and — get this — Flea of Red Hot Chilli Peppers fame.
"Babylon" comes to theaters on December 23, 2022.
From Damien Chazelle, "Babylon" is an original epic set in 1920s Los Angeles led by Brad Pitt, Margot Robbie and Diego Calva, with an ensemble cast including Jovan Adepo, Li Jun Li and Jean Smart. A tale of outsized ambition and outrageous excess, it traces the rise and fall of multiple characters during an era of unbridled decadence and depravity in early Hollywood.