Babylon Trailer: Take A Trip Back To Classic Hollywood With Damien Chazelle, Margot Robbie, And Brad Pitt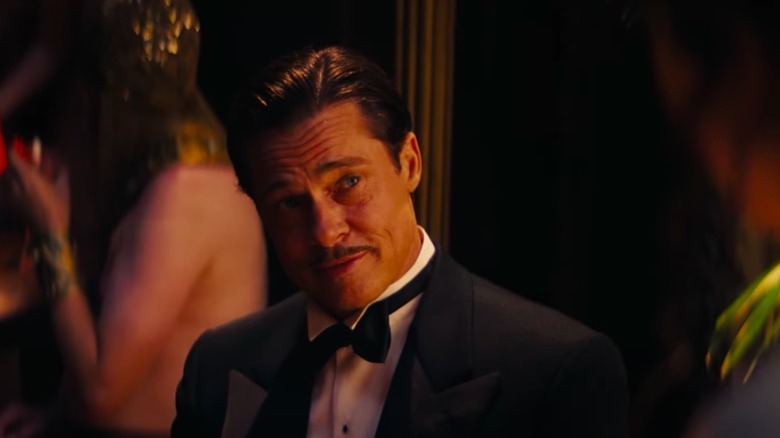 Fox Searchlight Pictures
The trailer for Damien Chazelle's long-awaited new film "Babylon" has finally been released by Paramount Pictures. Get ready to travel back to the Golden Age of Hollywood in the 1920s, when the industry moved from the silent film era to that of the talkies. The title boasts a plethora of stars, including Margot Robbie ("Once Upon a Time in Hollywood") as young actress Nellie LaRoy, and Brad Pitt ("Inglorious Basterds") as Jack Conrad, a silent film star who isn't taking the change well. The character has been compared to real-life actor John Gilbert ("The Merry Widow"). 
Academy Award-winner Chazelle, who brought us 2014's "Whiplash," 2016's "La La Land," and 2018's "First Man," serves as both writer and director on "Babylon." He's reteaming with the award-winning "La La Land" duo of cinematographer Linus Sandgren and composer Justin Hurwitz for the film. In a recent Vanity Fair article, Chazelle said that he's been working on "Babylon" since he first moved to Los Angeles 15 years ago. 
Footage from the film was shown at CinemaCon in Las Vegas earlier this year, but now you can get a first look for yourself.
Watch the Babylon trailer
An early report in 2019 from THR described "Babylon" as:
"...set in the late 1920s, during the movie industry's transition from silent films to talkies. The rise and fall of fictional and historical characters figure into the proceedings. If deals are made, [Margot Robbie] would portray Clara Bow, the early sex symbol and box office star who was Hollywood's first "It" girl. [Brad] Pitt would play a fictional character, a silent film star who fails to make the transition to the new technology; sources say he is based on real-life figure John Gilbert."
It's been a while since that report came out, and Robbie won't be playing the actual Clara Bow. Instead, the characters are fictional but based on real people. Emma Stone was originally up to play the lead role but had to step away due to scheduling conflicts. 
The rest of the cast list for "Babylon" reads like a who's-who of Hollywood. In addition to Robbie and Pitt, we have Olivia Wilde, Spike Jonze, Tobey Maguire, Jean Smart, Samara Weaving, Max Minghella, Diego Calva, Jovan Adepo, Li Jun Li, Katherine Waterston, Phoebe Tonkin, Max Minghella, Lukas Haas, Rory Scovel, Eric Roberts, P.J. Byrne, Damon Gupton, and The Red Hot Chilli Peppers' bassist Flea.
"Babylon" will hit theaters on December 25, 2022.