Babylon First Look: Brad Pitt And Margot Robbie Are Showstoppers In Damien Chazelle's 1920s Hollywood Drama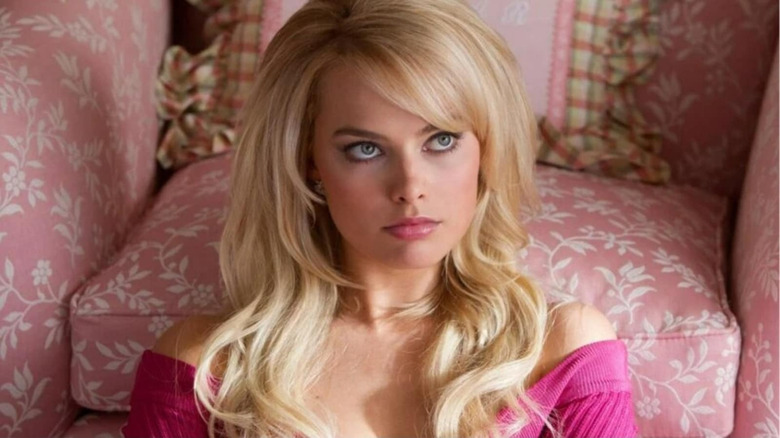 Paramount Pictures
Six years after winning an Oscar for "La La Land," Damien Chazelle is returning with yet another ode to the Cty of Angels. According to an exclusive chat with Vanity Fair, this particular project has been a long time coming — Chazelle has been working on the story for his upcoming feature film "Babylon" since he first moved to Los Angeles 15 years ago. When the idea first dawned on him, the plan was "just to do a big, epic, multi-character movie, set in these early days of Los Angeles and Hollywood, when both of these things were coming into what we now think of them as." After years of chipping away at the story, the character and dynamics finally emerged, and later this year, we'll see for ourselves what it all became.
For obvious reasons, it sounds like "Babylon" might share a lot in common with the very successful "La La Land." But where that film followed two dreamers finding love in the shadow of the Hollywood sign, the project of this film is the creation of the Hollywood that we saw Mia and Sebastian dance in. "Babylon" goes big and heads way back into the past, dazzling us with the realities of 1920s Tinseltown, when Hollywood was on the cusp of a Golden Age.
The upcoming film boasts an all-star cast, which really makes the Hollywood of it all feel extra-meta: the biggest names of the bunch are Margot Robbie and Brad Pitt, who are joined in the spotlight by newcomer Diego Calva. "Babylon" also features Olivia Wilde, Spike Jonze, Tobey Maguire, Jean Smart, Samara Weaving, Max Minghella, and many more. After months of waiting with bated breath, we finally have our first look at the film, which you can check out below.
First look at Babylon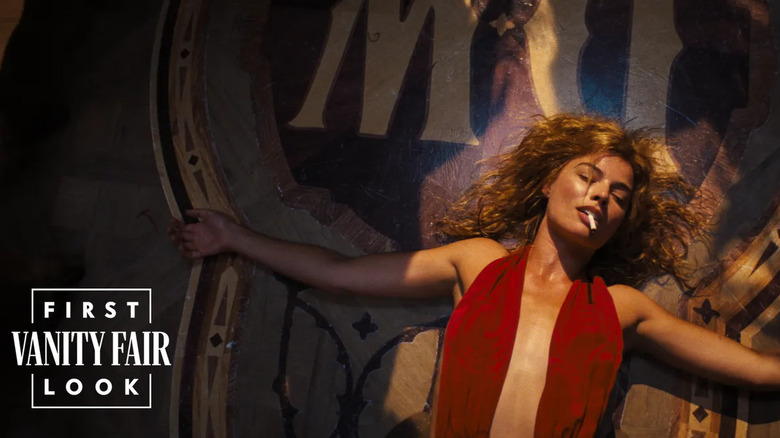 Paramount Pictures
With "Babylon," Damien Chazelle isn't holding back. Expect to see Hollywood glamour on full display — the Roaring '20s earned that nickname for a reason and what better place to showcase wealth than the booming movie biz? According to Chazelle, the plan was always to lean into the idea of spectacle and hedonism: "I wanted to capture just how big and bold and brash and unapologetic that world was." To help him accomplish that goal, Chazelle is reteaming up with past elaborators, cinematographer Linus Sandgren and composer Justin Hurwitz, who both won Oscars for their work on "La La Land."
Chazelle explained in the Vanity Fair First Look report that it was never just about spectacle though — he was also interested in all that it cost to build the Hollywood we know today: "I became really fascinated by the human cost of disruption at that magnitude, at a time when there was no roadmap, when everything was just new and wild." As for how it compares to his latest films, Chazelle added that the film will "juxtapose La La Land's gorgeous, Hollywood-glam set pieces and Whiplash's darker examination of ambition's toll."
The faces of Babylon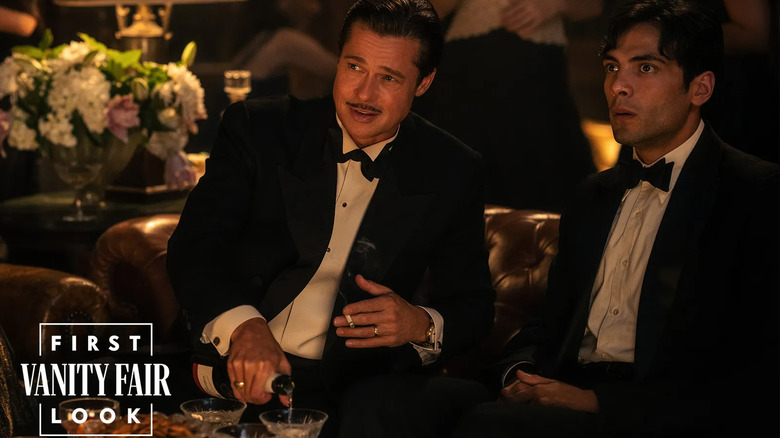 SCOTT GARFIELD/PARAMOUNT PICTURES
Story-wise, Chazelle took inspiration from real stars but the characters themselves are fictional. He compared Pitt's Jack Conrad to the likes of John Gilbert, Clark Gable, and Douglas Fairbanks, calling him a "hard-partying uber-movie star" who has reached a point in his career where he's starting to look back and worry if he already peaked. And while Jack worries that he's old news, on comes Margot Robbie's Nellie LaRoy — a scrappy actress at the very beginning of her career, who's very suddenly thrust into the spotlight. For her, Chazelle floated names like Clara Bow, Jeanne Eagels, John Crawford, and Alma Rubens.
Speaking of the spotlight, Diego Calva stars as Manny Torres, a Mexican actor and an outsider in Hollywood. He serves as the audience's way into the world of "Babylon," finding his footing just as we enter the story.
"Babylon" hits theaters on December 25, 2022.