How Battlestar Galactica And A Random Act Of Kindness Landed Sam Witwer A Role In The Mist [Exclusive]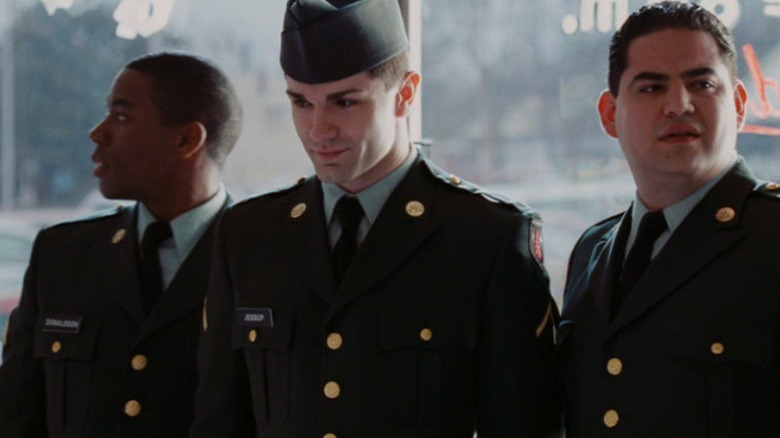 Dimension Films
In celebration of its 15th anniversary, /Film's Eric Vespe has put together an oral history on Frank Darabont's heavy-hearted monster movie "The Mist." The 2007 adaptation of Stephen King's 1980 novella featured several Darabont Traveling Players, such as "The Walking Dead" star Jeffrey DeMunn, and brought on emergent actors like Sam Witwer, who played Private Wayne Jessup in "The Mist."
In the film, Pvt. Jessup is a soldier stationed at Arrowhead military base, near the creature-besieged town of Bridgton, Maine. At a pivotal moment, Jessup sheds light on the origin of the deadly white mist.
In our oral history, Witwer described his journey into the project as "steeped in ignorance" and "completely an accident," especially since he hadn't read the novella on which the movie is based. He recounts a sweet tale of a woman trying to pick up her dropped bags from crosswalk in the middle of a busy, callous Hollywood street. Witwer helped her and offered to walk the bags to her destination, which turns out to be the same casting office he was headed to. The woman asked him to read for a movie, and after a quick beat to study his pages, he nails it, thanks the kind woman, and calls his agent with vague details. Witwer told Vespe:
"And my manager goes, 'Okay, I'm looking this up. Well, that casting director, that's Deb Aquila. She's a big casting director.' I'm like, 'Oh, well, that's good.' [He said,] 'So that movie, that would be 'The Mist' probably.' And I'm like, "'The Mist' like Stephen King's 'The Mist?'" He's like, 'Yeah, and the Frank ... looks like that's Frank Darabont.' I'm like, 'Wait a second, 'The Shawshank Redemption,' 'The Green Mile' Frank Darabont?'"
He was hired shortly thereafter.
Crashdown!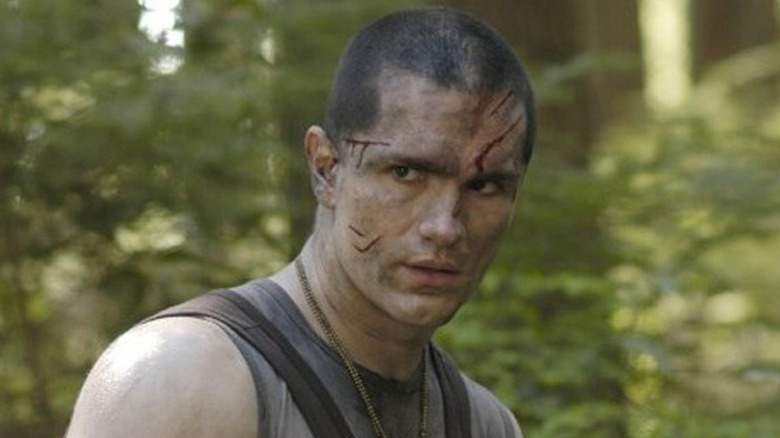 NBC Universal
Witwer's "multifaceted, multi-viewpoint story" continues from the POV of director Darabont, who got into "Battlestar Galactica" (specifically, the "Re-imagined Series" run) around the time that casting tapes were coming his way. Those casting tapes included that of Good Samaritan Witwer, who goes by call sign "Crashdown" on the alien-free sci-fi show. As Witwer recounts, Darabont started reviewing the tapes one by one; he knew nothing of the former's chance encounter with the casting director at that time, but he did know the complicated raptor pilot when he saw him. He tells Vespe:
"The story Frank told me back [then] was, 'Oh, well, here's my version. I was on the treadmill. I popped in the casting tape, got on the treadmill. And it started playing, and your audition came up. And I said, 'Oh, my God, it's Crashdown from 'Battlestar Galactica.' Cool. Oh, wow. He's really good. Oh, he's really right for this.'
And then he said, 'I got right off the treadmill, hit stop on the tape, called up Deb, and said, 'Hire that guy.' And so, I'm like, 'That happened that fast?' He's like, 'Yeah, it's happened that fast. I literally got on and off the treadmill.'"
It's easy to imagine this crash-down scene conjured up in the mind of the "Majestic" director at the moment Witwer begins his read:
Thanks to his sci-fi enthusiasm, this would be one of Darabont's shortest workout sessions. With his storied casting in "The Mist," Witwer would continue a mercifully brief tradition of playing soldiers destined for doom.