Why Battlestar Galactica Had Such An Aversion To Aliens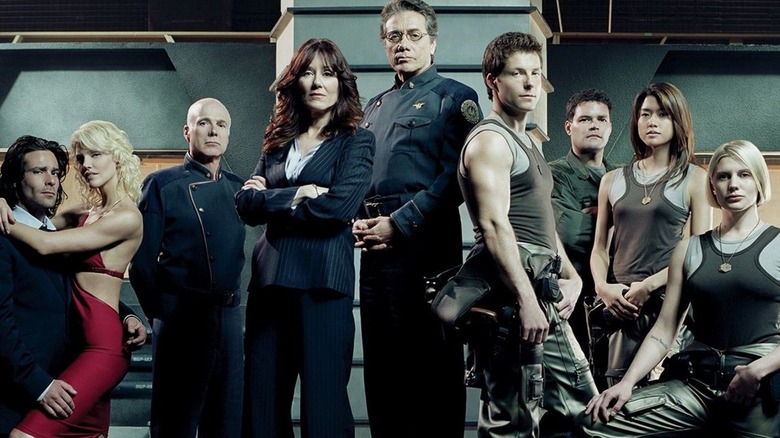 NBCUniveral
"Battlestar Galactica" is not only the rare reboot that manages to surpass the original source material, but it's also the rare "grim and gritty" reboot that actually plays into that aesthetic without feeling like it's embarrassed of its genre. Part of that is due to series creator and showrunner Ronald D. Moore, and how he approached the series as an allegory for the then-ongoing war on terror. Again, it's a testament to how truly great "Battlestar Galactica" was that its allegory had actual thought put into it and wasn't a clumsy metaphor. (Looking at you, "Star Trek Into Darkness.")
After its run on The Channel Formerly Known As SciFi, "Battlestar Galactica" was the subject of an exhibit at the Museum of Pop Culture in Seattle in 2009. The exhibit featured multiple props and vehicles from the series — including the Colonial Viper fighter, which is one of the coolest spaceships to enter the halls of pop culture. Moore attended a press preview for the exhibit, where he discussed the behind the scenes process involved in "Galactica" and the one rule he stuck to throughout the entire series.
Strange new worlds? Not for this series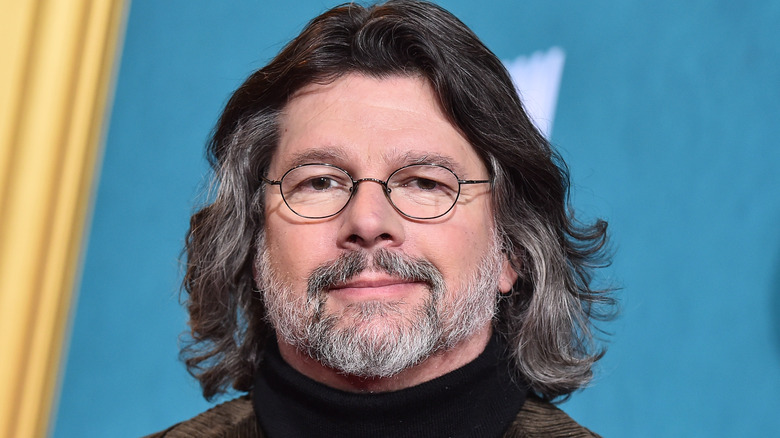 DFree/Shutterstock
Prior to working on "Galactica," Moore had served as a writer and showrunner for "Star Trek" shows, including "Star Trek: The Next Generation" and "Star Trek: Voyager." He even helped co-write "Star Trek: First Contact," one of the greatest Trek movies to ever hit the silver screen. As a result of spending so much time on the final frontier, Moore was determined not to bring any alien creatures or complicated sci-fi jargon into the mix on "Galactica." As he told NBC News back in 2010, "The technobabble in 'Trek' just got completely out of control."
It was a feeling shared by Edward James Olmos, who portrayed the stoic Admiral William Adama. Olmos even said that introducing an alien on "Galactica" would be the one thing that would get him to leave the series — to the point where he supposedly had an "anti-alien clause" in his contract, telling NBC News: "The first four-eyed monster that I see, I'm going to faint on camera — then I'm going to get up, and you're going to write me out of the show."
Given the grounded, gritty vibe of "Galactica" — especially the pursuits weaved into the narrative — it wouldn't have made sense for any aliens to show up. And there were enough threats from the mechanical Cylons and their agents to satisfy any hardcore sci-fi fans.
Charting his own frontier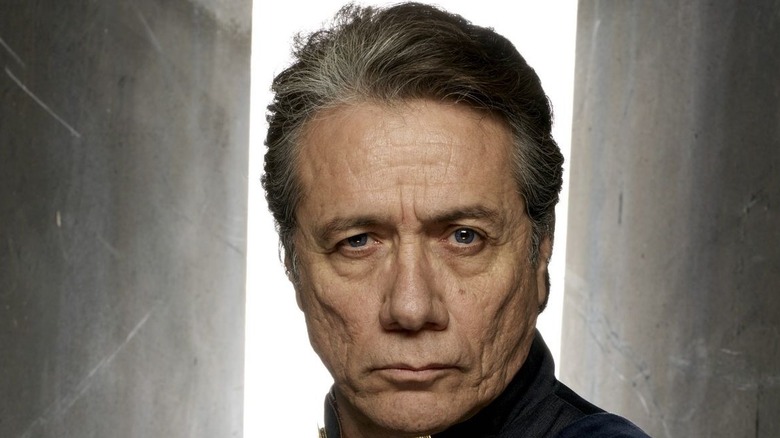 NBCUniversal
Moore had been open about the frustrating moments he had while working on the "Trek" franchise, particularly "Star Trek: Voyager." Moore was a long time writer and producer for "Star Trek," having started with the franchise in the early years of "The Next Generation." He often collaborated with his writing partner and friend Brannon Braga, who went on to become an executive producer of "Voyager." After "Deep Space Nine" ended, Moore transferred over to "Voyager" in 1999 — but almost immediately clashed with Braga. Moore only spent a month on "Voyager" before departing, but likely his unused ideas for the series are present in "Battlestar Galactica."
The "Battlestar Galactica" pilot premiered in 2003 to rave reviews. The show ran until 2009, and was met with critical acclaim for most of its run. In hindsight, Moore's departure from "Star Trek" laid the groundwork for him to lead a sci-fi show he was free to shape — without aliens of course.