John Leguizamo Doesn't Care About Playing A Character Who's Loved, He Just Wants To Play One Who's Understood [Exclusive]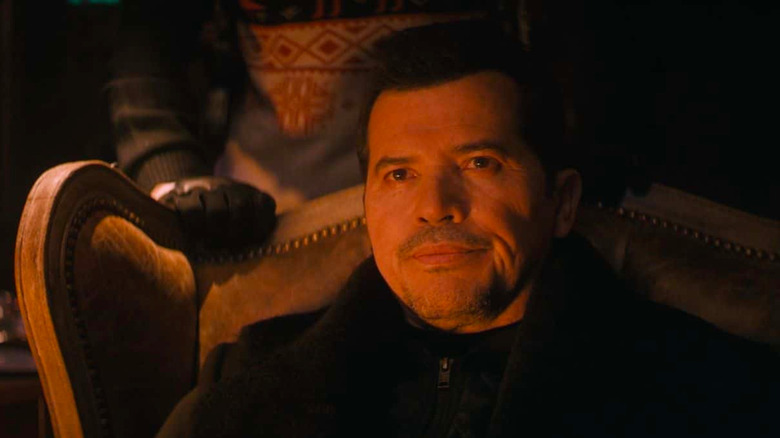 Universal Pictures
For those of us still suffering from seasonal depression and the post-Halloween blues, it's uplifting when the holiday season is starting to move away from idealized family fare to embrace the horror genre a little more during the winter months. Compiling a list of 31 horror movies to watch every day in October isn't really considered a difficult task due to the sheer amount of titles to choose from. Now, it's starting to be considerably easier to come up with 25 horror movies to watch over the month of December as a kind of twisted version of an advent calendar. In fact, there's even a French holiday horror movie called "The Advent Calendar" that would be a perfect kickoff for a potential viewing guide. (/Film's list ranking the best Christmas horror should also help you on your quest.)
Setting off the month of December with a glorious bang this year is the action horror comedy "Violent Night" starring David Harbour ("Stranger Things") as an ass-kicking Santa Claus. Sold. Add in Tommy Wirkola, the director of the Nazi zombie twofer "Dead Snow" and its bloodier and snowier sequel "Dead Snow 2: Red vs. Dead," and we could have a new Christmas classic on our hands. Early reactions have described "Violent Night" as a combination of "Krampus" and "John Wick," which makes sense considering that producer David Leitch from the hit action franchise starring Keanu Reeves is also on board.
/Film's Bill Bria recently spoke with actor John Leguizamo, another "John Wick" alumni, about playing a relatable villain in "Violent Night" who is forced to do battle with Harbour's strapping version of Santa after a home invasion gone awry. Santa Claus is, after all, the original nighttime burglar. He just comes down the chimney instead of breaking in through the back door.
'I'm not a corny actor'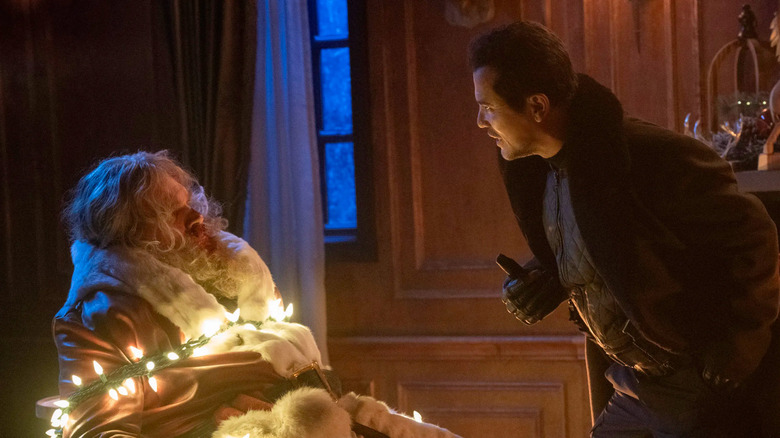 Universal Pictures
In his long and varied career, Leguizamo has played every kind of character imaginable, but he's never had to go up against 'ol Saint Nick before. How do you take Santa hostage and still be a likable villain? "It was a big task," Leguizamo told us, "because your actual movie is only as good as your villain. So your villain has to be as smart as possible." There is a brawn versus brains aspect to "Violent Night" that pays homage to classic American action films like "Die Hard" and Hans Gruber, the sophisticated mercenary played so eloquently by the late Alan Rickman. "I want to be funny, too, but not 'haha' funny," Leguizamo explained. "I want to be witty. I have to be witty, I have to be smart."
As a character known only as Scrooge in "Violent Night," Leguizamo wants the audience to respect him, and frankly, doesn't really care if they like him or not:
"I'm not a corny actor, I don't care about being loved, but I want to be understood. I want the audience to be able to respect me, and that's what we were going after, because that would keep the balance correct."
The balance between a violent action film and a Christmas-set comedy caper already sounds difficult to pull off, then writers Josh Miller and Pat Casey decided to throw in the fairly ridiculous addition of a rough-and-tumble Santa Claus into the mix. To say "Violent Night" is taking a pretty big tonal risk is an understatement. 
Horror can still have heart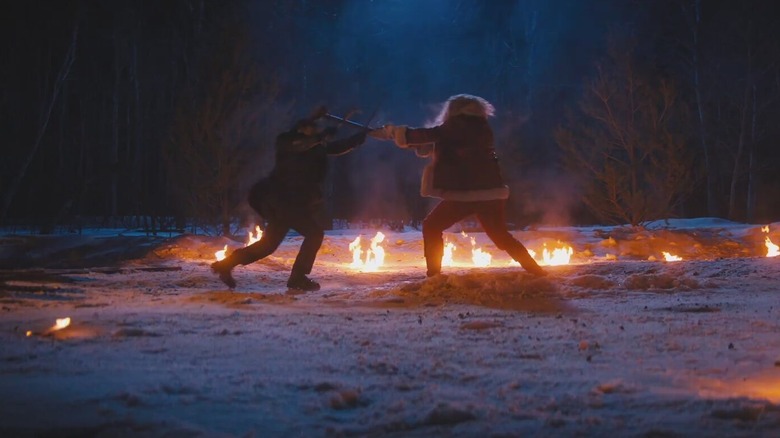 Universal Pictures
Leguizamo was well aware of just how challenging it was going to be for "Violent Night" to stick the landing. And the seasoned actor knew that the responsibility to nail the right vibe would ultimately lie at the feet of director Tommy Wirkola. Telling /Film, "Tommy had a tough, tough road to hoe because you got comedy, you got violence, and he brought heart, and those three ingredients don't go together easily or often."
Mixing in horror elements in an action comedy means a lot of bloodshed is likely to occur which could easily overshadow the humor, or any attempt at sentimentality. It is a holiday movie, first and foremost. Judging from Leguizamo, it sounds like "Violent Night" somehow hits all the right notes. He says: 
"I was crying at the end of this movie and I didn't expect that. [Tommy Wirkola] punched me out of nowhere. I was like, 'Wait a minute, what?' I've been laughing and rooting, and all of a sudden I was tearing up. I couldn't believe it. I couldn't believe that he snuck that in me."
After seeing the emotional weight that David Harbour has been carrying throughout his role as Hopper in "Stranger Things," any tears shed at the end of "Violent Night" will probably be due to what is likely going to be a powder keg performance from Harbour as a macho Santa Claus with a heart of gold. Seeing Leguizamo match wits and weapons with him should make for some pretty memorable fireworks.
"Violent Night" is scheduled to hit theaters on December 2, 2022.