Wakanda Forever Screenwriter Joe Robert Cole Reveals Who Else Was Considered To Be The New Black Panther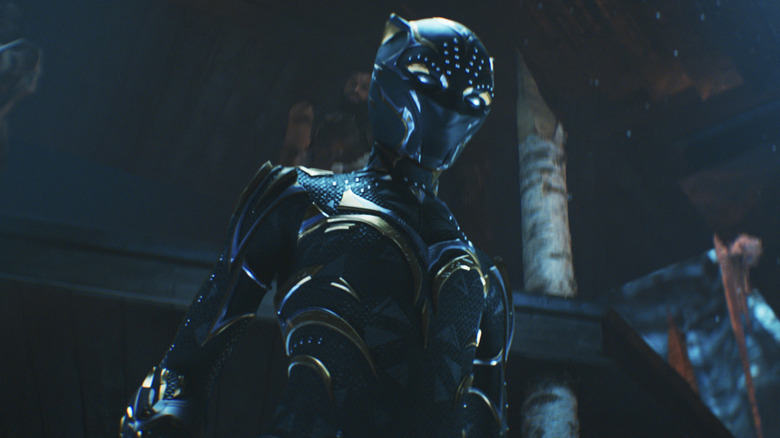 Marvel/Walt Disney Studios Motion Pictures
This article contains spoilers for "Black Panther: Wakanda Forever."
Prior to the release of Ryan Coogler's sprawling war picture "Black Panther: Wakanda Forever," the 30th film in the Marvel Cinematic Universe, speculation ran wild as to who would step into the role of the title character. The Black Panther, a.k.a. T'Challa, was played by Chadwick Boseman in the 2018 original, and the actor tragically passed away in 2020. Rather than re-cast the same role, Coogler and his co-screenwriter Joe Robert Cole ("The People v. O.J. Simpson: An American Crime Story") elected to let T'Challa die between films. At the end of "Black Panther," the rare species of magical flowers that gave T'Challa his superpowers were also destroyed, so it looked like the legacy of the Black Panther would not be passed onto a new person. 
Of course, one cannot make a Black Panther movie without a Black Panther, and "Wakanda Forever" would indeed feature a new character donning the hero suit and going to battle with a species of undersea merpeople. Ultimately, the title would be passed to Shuri (Letitia Wright), T'Challa's sister, who would mix her own synthetic version of the magical flowers, and have her own spiritual journey on her way to becoming a superhero in earnest. For the months leading up to "Wakanda Forever," Shuri's eventual donning of the mantle was left coyly obfuscated by the public. 
In a recent interview with Rolling Stone, Cole revealed that Shuri was not always assumed to become the Black Panther, and he and Coogler kicked around several ideas for who would take up the role. For a good part of their creative process, they posited that the character of M'Baku, a rival Wakandan chief played amusingly by Winston Duke, might become the Black Panther. Indeed, several characters cognitively "auditioned" for the part in his mind. 
M'Baku as Black Panther?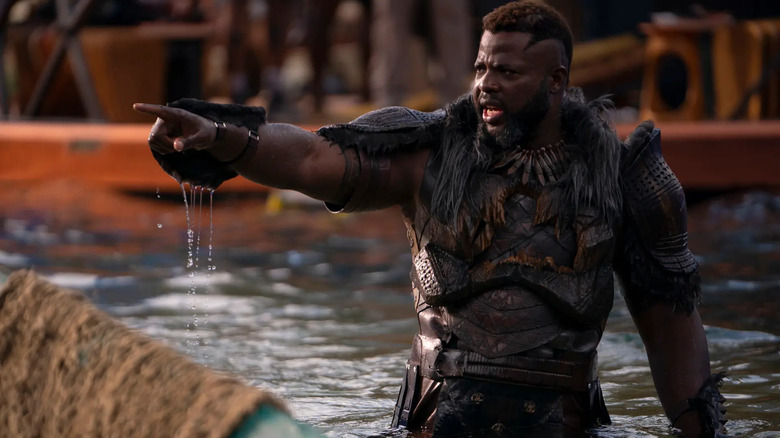 Marvel/Walt Disney Studios Motion Pictures
According to Joe Robert Cole, he and Ryan Coogler tried to develop the story organically, and try to find a new Black Panther as they grew from the story. They did not start with an intended target and write the story around that conclusion. As such, brainstorming led down several paths that could have led to M'Baku as Black Panther. M'Baku was a gruff outsider with a wry sense of humor and little patience for the stuffy formality of his neighboring tribe. In terms of MCU characters, his capacity for jokes in stressful situations would have fit in with many of his superhero peers. But that wasn't as big a concern as what would make for the best plot. As Cole put it in Rolling Stone: 
"We would kick around the ideas, and try to extrapolate where the story goes and what's the most impactful choice — what's the best journey? And where do you go after the film in terms of those characters? M'Baku certainly was someone that got kicked around a little bit. I think you're correct because in the comics, Shuri is Black Panther and there's a natural organicness, I guess is the best way to say it, to her becoming Panther. But you kick the tires on all sorts of ideas. And you just want to make the best decision and do what's best for the story." 
And M'Baku wasn't the only rudimentary idea. The interviewer asked Cole about another notable figure, and he confirmed that the idea had indeed been floated. Nakia (Lupita Nyong'o) was also considered to be the possible next Black Panther.
Nakia as Black Panther?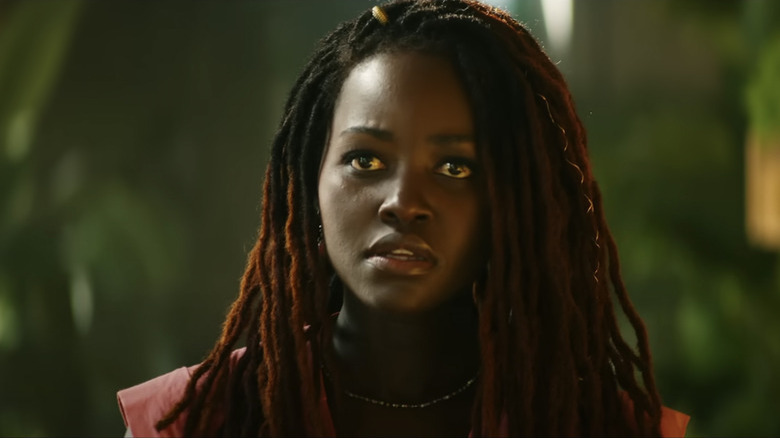 Marvel/Walt Disney Studios Motion Pictures
The character of Nakia was once part of the Wakandan royal guard and was T'Challa's ex-girlfriend. She was brilliant, tough, and tight with the Wakandan monarchs. Joe Robert Cole confirmed that she was under consideration when Brian Hiatt, the Rolling Stone interviewer, pointed out that Nakia would have been a fun choice. Cole said simply, "That got kicked around! Her name got kicked around for sure." 
Not confirmed, but fun to speculate about is Ramonda, T'Challa's mother played by Angela Bassett. The actress was only 63 at the time of filming, which isn't too much older than Robert Downey, Jr., who was playing Iron Man at age 55. Also likely in the running was Okoye, the tough, intense royal guardswoman played by Danai Gurira. She, however, would eventually be recruited to wear one of a pair of flying rocket suits and take to battle as a Midnight Angel. Black Panther was far from the only superhero in "Wakanda Forever," and it seems a large cast was needed to fill out the roster. 
To speculate even further, perhaps this author can posit a fun parallel universe wherein Namor (Tenoch Huerta Mejía) conquered Wakanda and made off with the Black Panther suit himself. The film's villain would then move forward as a combination superhero, combining the best of Namor the Sub-Mariner, and the Black Panther. Although perhaps that idea is far too oblique. The fact audiences didn't see such a thing means that Cole and Ryan Coogler didn't think it would have made a very interesting story.