Lupita Nyong'o Says This Horror Movie Was One Of Her Most Challenging Experiences On Set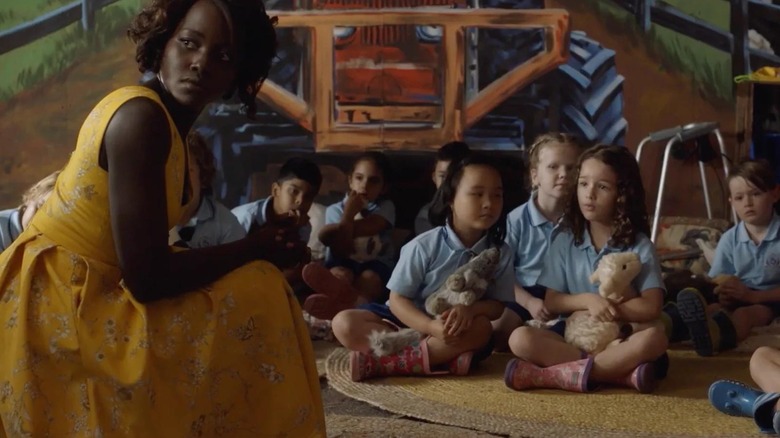 Hulu
Comedian W.C. Fields is credited with the famous advice for all performers to "never work with children or animals." It's sage wisdom if you're an actor that's lucky enough to be in a position to turn work down in the first place. When a certain horror movie was offered to Lupita Nyong'o, she had already won Best Supporting Actress for Steve McQueen's "12 Years a Slave," appeared in two "Star Wars" films as the Yoda-esque Maz Kanata, and co-starred opposite Chadwick Boseman in the global phenomenon "Black Panther." Oh, and Nyong'o was already an international fashion icon to boot. 
She certainly didn't need to fly to Australia to make a zombie film with a room full of preschool kids directed by a relatively unknown, young director. But that's exactly what she did, and it turned out to be one of the harder shoots of her career. In an interview with Collider, Nyong'o talked about her experience, saying "Well, I did this movie in Australia called 'Little Monsters,' and it had music, children, animals. And zombies."
Premiering on Hulu in 2019, the horror comedy "Little Monsters" follows Miss Caroline (Nyong'o), a kindhearted school teacher who is forced to protect a classroom of kids in the midst of a zombie outbreak. With the help of an insincere kids' show TV personality named Teddy McGiggle (Josh Gad), Miss Caroline has to pretend the zombie attack is just an innocent game so the children don't completely freak out. And, of course, there's also a petting zoo outside that comes into play later on when they make their daring escape. 
Children, animals, zombies and Taylor Swift?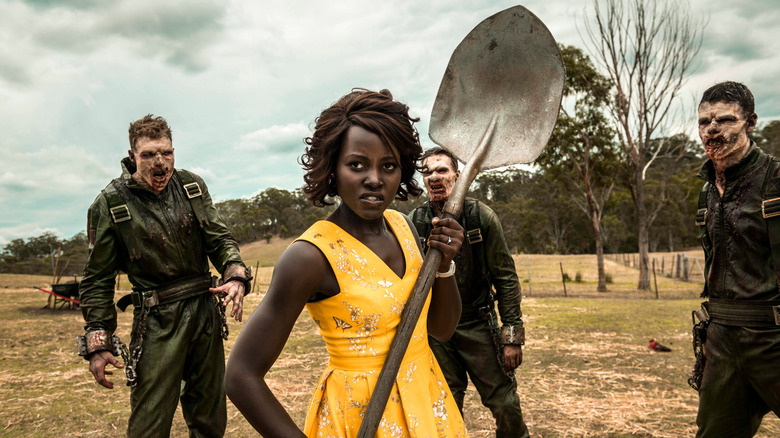 Hulu
At the time, Nyong'o had just finished "Black Panther" and was looking for something to push her in an entirely new direction. She found it with Abe Forsythe's little gem of a zombie romcom. I remember seeing an advance screening of "Little Monsters" featuring a Q&A with Nyong'o and she did mention the difficulty of working with so many different elements whilst being covered in blood. Nyong'o obviously still remembers the on-set challenges, telling Collider:
"You could imagine how tough it was to get all those things to cooperate. I just remember that movie was hard to make. And sometimes we were shooting without the children, and I had to sing to an open space. It was wild."
Having to sing to an imaginary child audience must have been a surreal experience. "Little Monsters" does feature a couple of sweetly endearing performances from Nyong'o who keeps the kids calm with her serene voice and trusty ukulele. In fact, when Miss Caroline isn't decapitating the undead with a shovel, the song breaks in this surprisingly funny horror comedy are the true standout moments. There's even a musical number where Nyong'o covers Taylor Swift's "Shake it Off" to the delight of the kids who apply Swift's lyrical wisdom to their current predicament. "Shake it Off" really becomes the unofficial anthem of "Little Monsters" and reminds the children that they can overcome anything, even if it's surviving a surprise zombie attack from a nearby military facility. Surely, Nyong'o took the song to heart, as well, in order to get through a fun but intense experience in her first horror film. 
Speaking of genre movies and Lupita Nyong'o (who really should be in everything), it was just announced she'll be starring in "A Quiet Place: Day One," the spin-off of the major horror franchise. 
See Nyong'o in "Black Panther: Wakanda Forever" this weekend and look for "A Quiet Place: Day One" on March 8, 2024.