The Daily Stream: Little Monsters Will Make You Smile As The World Burns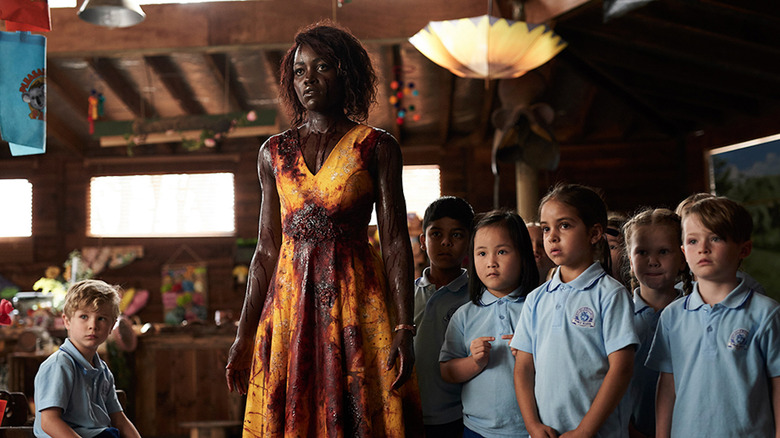 Neon
(Welcome to The Daily Stream, an ongoing series in which the /Film team shares what they've been watching, why it's worth checking out, and where you can stream it.)
The Movie: "Little Monsters"
Where You Can Stream It: Hulu and HBO Max
The Pitch: We're only a couple of days into 2022, a new year filled with minimal hope and a lot of frustration. Since most of us will probably be hungover, I want to recommend a film with a little bit of everything, no matter what your taste or level of exhaustion may be. Written and directed by Abe Forsythe, "Little Monsters" is filled with cuteness, violence, romance, and lots of comedy. Lupita Nyong'o stars as a captivating kindergarten teacher named Miss Caroline who takes her class on a field trip to a local farm. Accompanying her as a chaperone is a metalhead burnout named Dave (played by Alexander England) who is the uncle of one of her students, Felix (Diesel La Torraca). Once they arrive, Caroline and Dave realize there is a zombie outbreak and they have to not only protect the kindergarten class from being eaten by the undead; they also have to protect the kids' innocence in a time that seems like all hell is breaking loose.
Why It's Essential Viewing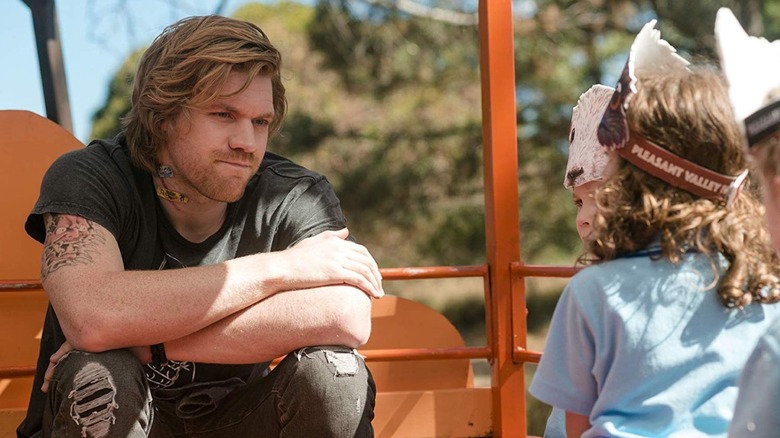 Neon
"Little Monsters" is a f***ing delightful watch. As far as horror comedies go, it stands out because of its sugar-coated reality. The adults have to pretend like everything will be okay despite being in a dire situation. Sound familiar?
The two main characters meet each other halfway in their current place in life as their affection blooms. Dave is jaded because he caught his girlfriend (to whom he was going to propose) cheating on him, and moved in with his sister to get his life back on track. Once he meets Miss Caroline, he becomes instantly enamored with her charm. Initially, Dave is your typical douchebag but as his responsibility and affection grows, so does his maturity — without the female love interest having to force it or plead for it. 
There are a lot of wholesome aspects to this film within a zombie attack background. The kids aren't jerks or the threat like in "Cooties." They rally together to protect one another as well as their beloved teacher despite not fully understanding the depth of danger. Instead, they think that they are in some sort of game and they're still fairly safe. However, they are aware of real-life dangers like Felix's deadly food allergy, and when he accidentally eats a snack containing his allergen, Miss Caroline risks her own life to get the bag with his EpiPen. I have to give a shout out to Forsythe for writing the correct usage and administration of EpiPens into the script, as well as a realistic depiction of food allergies in general. 
"Little Monsters" is a zombie film with a lot of heart but not a lot of gore. If you're looking for something scary, look elsewhere. What makes this film great is its dark comedy, sweetness, and overall merriment within mayhem. It's also a fitting validation for the chaotic nature of the past couple of years and how to find fun within despair. Forsythe also spotlights teachers as being heroic, brave, and ruthless in the face of danger (which these days they definitely are). The film serves as a reminder to cherish small, sweet moments. Even if the world feels like it's ending and there's not a lot to look forward to, there's still some things to smile and laugh about, and fight for along the way.