Lupita Nyong'o Learned A Major Lesson From Her Black Panther: Wakanda Forever Character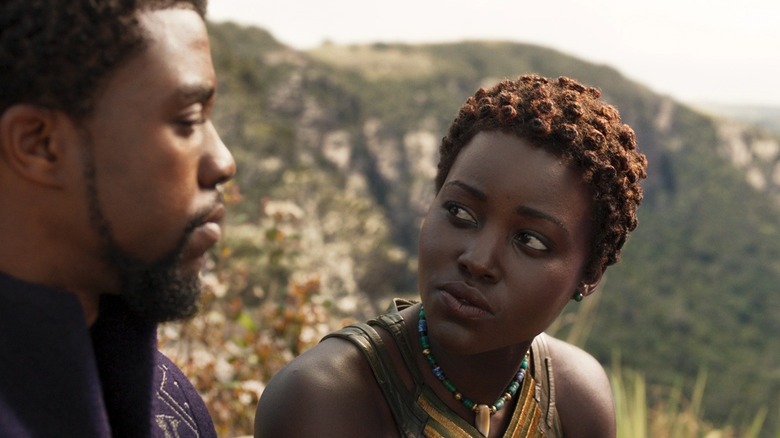 Marvel Studios
"Black Panther: Wakanda Forever" shows the ripple effects of grief among everyone who knew the late superhero T'Challa (Chadwick Boseman). Of course, it's no surprise that there were times when the grief on the page of the actors' scripts matched up with the grief they felt in real life, mourning friend, colleague, and incredible actor Chadwick Boseman after his passing in 2020.
In a virtual press conference attended by /Film's Bill Bria, actress Lupita Nyong'o spoke about the differences between her grief as Nakia and that of T'Challa's sister Shuri, and the ways in which they taught her to process her own feelings in the wake of Boseman's passing.
"I remember in the beginning, reading the script and being so envious of Letitia, because [Shuri] gets to be chaotic," Nyong'o shares with a laugh. "That's how I felt. I felt raw and wanted to express it." While trailers for the film haven't shown us exactly how Shuri responds to T'Challa's death, it's surely with a lot of pain. The tech-savvy hero-in-the-making finally got to fight alongside her brother in "Avengers: Endgame" after being kept on the sidelines in "Black Panther," a moment that Wright herself called a moment of "character growth for Shuri."
'I had to look beyond my frustrations ... and learn from her'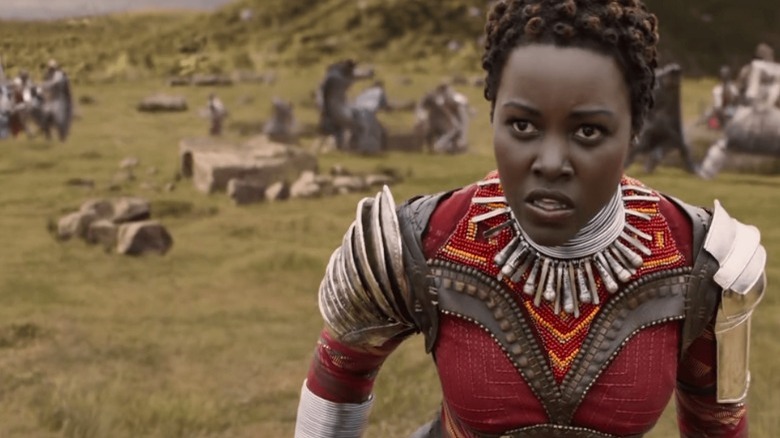 Marvel Studios
No amount of growth can prepare a person for grief, and it sounds like Shuri will be processing it all on screen in "Black Panther: Wakanda Forever." Nakia, T'Challa's friend and ex, apparently feels the loss a bit differently. "She's an example of someone who's a little further along in terms of her processing," Nyong'o says. She adds:
"It's not like she has it all figured out. But in the first film, Ryan described her as T'Challa's oasis. That really, really resonated with me, so when I was reading this script and thinking about where she is, I realized that what she was once to T'Challa, she now has the opportunity to offer Shuri. It made a lot of sense in terms of the structure and architecture of the story."
Nyong'o says that as T'Challa's former love, Nakia "allows an audience to know that it's OK. It's OK," she repeated at the press conference today. 
From the sounds of it, Nakia will be more of a comforting character as opposed to Shuri's raw nerve of emotion. That role didn't exactly match up with where Nyong'o was in her own grief, but she says she gained a lot by playing a character who's processed a bit more. "As much as I was frustrated with [writer-director Ryan Coogler] for doing that to Nakia, actually playing her was very therapeutic for me," she shares. "Because I had to look beyond my frustrations with losing Chadwick and learn from her, learn from that wisdom that she seems to possess."
A role and a film that lets its grief show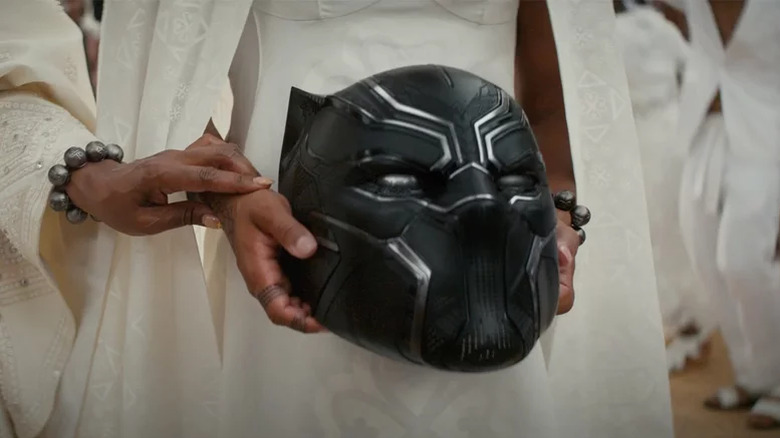 Marvel Studios
Actors speak all the time about the impact a particular role had on them, or the closeness they felt to the character they played, but I imagine it's rare for a role to be such a clear conduit for processing grief and healing the way Nakia was for Nyong'o. 
Initial reactions to the movie have been emotional, with several critics calling it a touching tribute. "It is a beautiful depiction of how grief and love co-exist, and the healing in the depths of some of our greatest pain," writer and podcaster Kay-B shared on Twitter. It sounds, then, like "Black Panther: Wakanda Forever" might not just offer a chance at emotional catharsis for the cast and crew, but for the people all over the world who loved Boseman as well.
"Black Panther: Wakanda Forever" hits theaters on November 11, 2022.