Black Panther: Wakanda Forever Star Letitia Wright Wanted To 'Check Out' After Chadwick Boseman's Death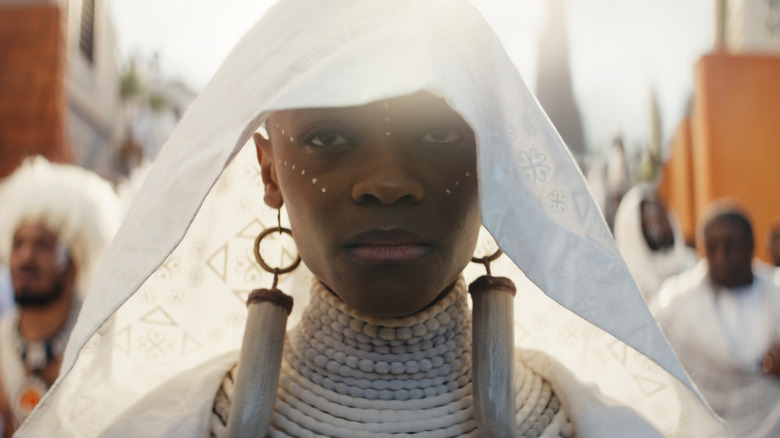 Marvel
It's hard to watch the trailers for "Black Panther: Wakanda Forever" without being moved to tears. It's harder still to imagine what it must have been like for the cast of the upcoming film to make the movie in honor of Chadwick Boseman, who passed away in 2020 after a long but private sickness. In the November issue of Total Film, the cast and crew of Marvel's next movie spoke openly about the aftermath of Boseman's death and the process of making a film for the person who meant so much to them.
Letitia Wright, who has played T'Challa's younger sister Shuri in 2018's "Black Panther" and two "Avengers" films, spoke to the magazine about her initial response to the news of Boseman's passing and the motivations she found to keep going with the role. "Naturally, my first response was shock, and, you know, a lot of pain and sadness," she said. "The first thing I kind of communicated to my co-stars was, 'I think it'll be very difficult for me to do this without my brother, so I think I'm going to check out.'"
Ryan Coogler found a way to 'continue forward'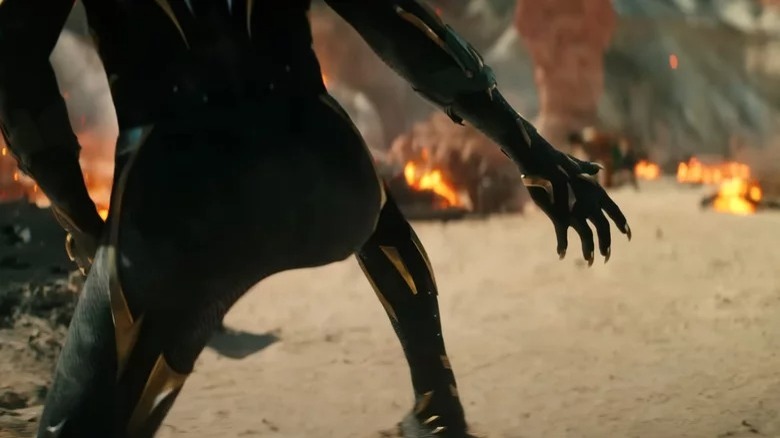 Marvel
"I just immediately said that, because when you lose someone, you can't imagine anything else without them," Wright adds, explaining that she mentioned this to fellow cast members before anyone had conversations about the future of the sequels. "For a long time, the focus was just on processing the loss," Marvel President Kevin Feige told Total Film, but he says that filmmaker Ryan Coogler ended up focused on finding a way to "continue forward, and continue to put that light of positivity out into the world" that Boseman first inspired when he stepped into the role.
When Boseman died, many fans professed the desire for the role of Black Panther to end with him, as he embodied the hero so perfectly. And while the trailers for "Black Panther: Wakanda Forever" indicate that the film will deal sensitively and thoroughly with the passing of its hero, it does look like someone else will be donning the black suit by the time its credits roll. If the familiar mask patterns from the latest trailer are any indication, it may well be Shuri who ends up in her big brother's footsteps after all.
Wright wanted to honor her brother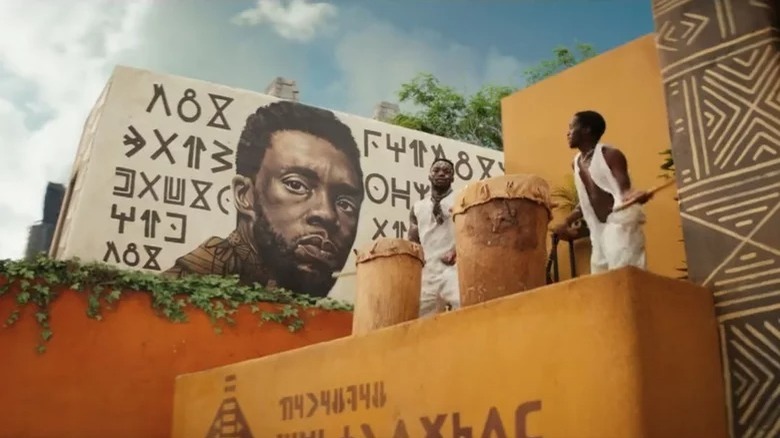 Marvel
While Wright was understandably ready to check out from future projects at the time of Boseman's passing, she apparently had conversations with Coogler that made her come around to the idea of the sequel. She told Total Film, "I felt like I understood the purpose of the next film. For me, it was about honoring my brother, in a way that just meant I showed up, and I did the best work I could do. And I was just praying that he would be proud."
Elsewhere in the issue, which hits newsstands on October 13, Wright reminisced about filming for "Avengers: Endgame" with the late actor. "It was huge setups, and huge things to work through," she said. "But the set was really smooth and easy and calm. And I just loved being alongside my brother." Wright called those particular scenes "character growth for Shuri," pointing out that the tech-savvy character had long-since wanted to join T'Challa on the battlefield, and finally got the chance to do so. Two years after the actor's passing, it's still hard to believe that Boseman won't be able to join Wright on the battlefield one more time. But Wright says she still spoke to him on set, and felt their connection. "I always carried him in every scene," she told Entertainment Weekly.
"Black Panther: Wakanda Forever" will be released in theaters on November 11, 2022.