She Said Bombed At The Box Office In Historic Fashion While The Menu Served Up A Nice Surprise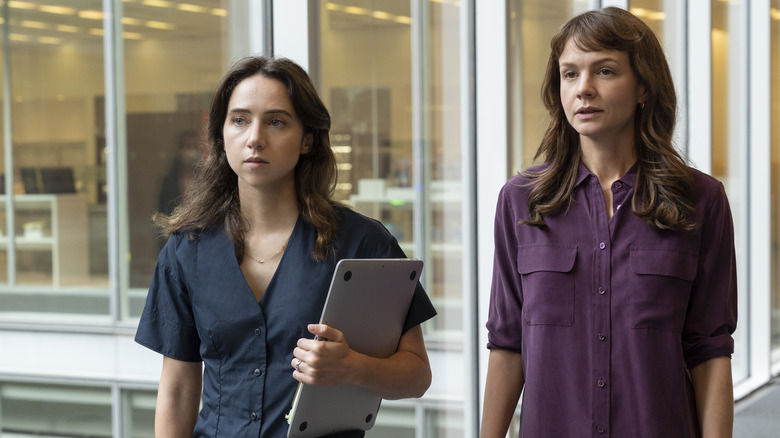 Universal Pictures
It would be hard to argue against the box office recovery that has been taking place in 2022 thus far. Domestically, ticket sales overall sit at $6.51 billion compared to $4.48 billion in 2021 and an abysmal $2.1 billion in 2020. That said, we are still seeing the limitations of what audiences will and won't turn up for in the post-pandemic theatrical landscape, and non-franchise, adult-friendly fare that isn't some kind of horror or thriller movie is suffering badly. Case in point? This past weekend saw the debut of "She Said" from Universal Pictures, which posted one of the worst debuts for a big studio wide release ever. Meanwhile, Searchlight Pictures scored with "The Menu," setting the table for the challenges the industry faces moving forward.
"She Said," which documents the bombshell Harvey Weinstein scandal and was directed by Maria Schrader, earned a mere $2.25 million in more than 2,000 theaters. Sure, "Black Panther: Wakanda Forever" was always going to come out on top again, but returns that low — just over $1,100 per screen — are next level bad. The well-reviewed film (read our review here) cost $32 million which, frankly, was a bit steep for something like this, in my humble opinion. Be that as it may, here we sit with a movie that is almost certainly going to make less than $10 million worldwide, meaning it is going to lose a small fortune for Universal. Yikes.
This cements a concerning trend. This year's Oscar hopefuls have all been falling short. "Tar" currently sits at $4.9 million and is fading fast, while "Till" is doing better-but-not-great with $8.5 million. We've also got "The Banshees of Inisherin" sitting at $16.5 million which is still bad but looking downright good compared to everything else. It's dire.
The Menu finds the winning recipe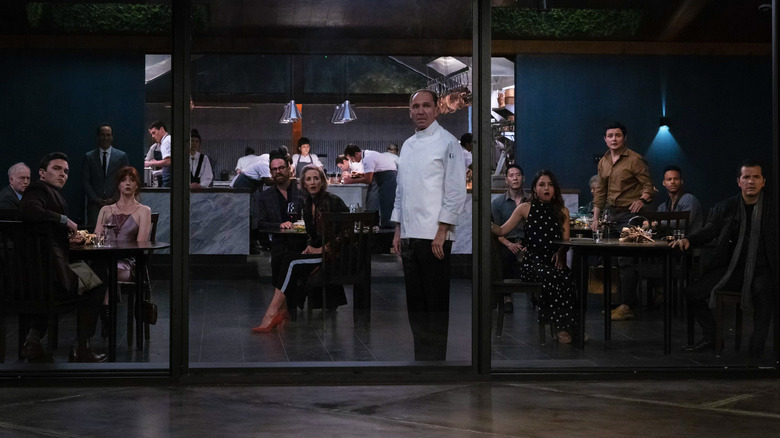 Searchlight Pictures
All the while, director Mark Mylod's well-reviewed thriller "The Menu" over-performed against expectations and took second place with $9 million. Coupled with a $6.2 million international start and Searchlight's latest is off to the races. The movie is said to carry a budget in the $30 million range, meaning it still has a long way to go before hitting profits. But still, it's miles better than "She Said" and means that Disney can still invest in genre fare such as this through Searchlight Pictures and maybe, just maybe, even get some awards season love as well from time to time.
The problem is, outside of superheroes, the only other reliable genre for the past two years has been horror. "Smile" is the biggest horror movie of the year, taking in well over $200 million globally against a $17 million budget. Universal similarly scored with "The Black Phone," while "Halloween Ends" kinda flopped its way past $100 million despite bad reviews and its day-and-date release on Peacock. Horror works and "The Menu," even if it was more adult-skewing thriller than outright horror, is further proof of that.
For studios, this is a problem. How can they rightfully invest in movies like "Tar" if they don't make any money? We can talk about why "She Said" specifically flopped for hours (I'd argue it was too soon for this sort of thing), but to flop as bad as it did against strong reviews? It's a bad sign. I don't currently have answers, but my concern as a moviegoer is that if people don't start showing up, these adult-friendly originals are going to get made for streaming or not at all. Period. And that's bad for cinema.