Why Rick And Morty Got Cut Off From The Multiverse In Season 6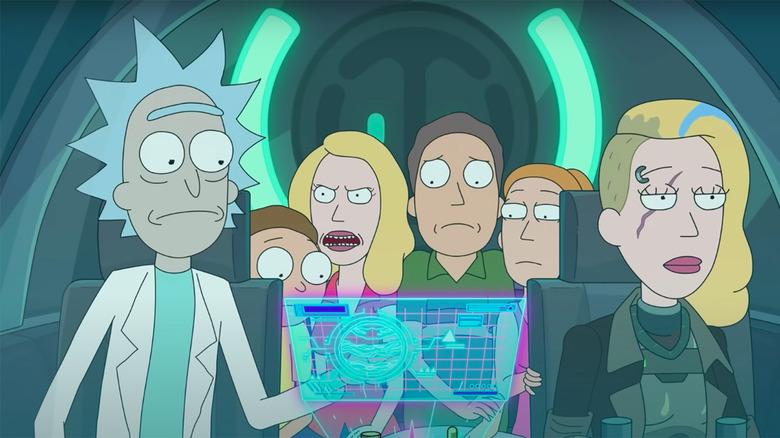 Adult Swim
There is an unspoken rule to sitcoms that nothing can change, at least not permanently. As Bojack Horseman once said, "there's always more show." "The Simpsons" can never age its characters, and Bob's restaurant in "Bob's Burgers" can never truly be successful, because the show would simply have to end. When it comes to "Rick and Morty," the characters can never be happy, and the status quo cannot be changed drastically for long, or else the show cannot continue.
Granted, we have seen some change in "Rick and Morty," if only temporarily. Each season has started and ended with Rick being rather vulnerable, and changing his dynamic with the rest of the family. Whether it was his imprisonment by the citadel, his being pushed as the dominant member of the family when Beth and Jerry reconciled, the death of Rick's best friend, or the destruction of his portal gun by Evil Morty.
Though the show tends to revert back to its status quo rather quickly, this season of "Rick and Morty" spent a significant amount of time actually exploring the ramification of Rick not having his portal gun. Gone were the wacky multiversal stories that removed all sense of stakes because Rick would go to a different dimension, gone were the crazy stories with tons of aliens and exotic locations. Instead, we got a first half of the season that was much more family-focused, something closer to, say, "Solar Opposites" than early "Rick and Morty," and that was all part of the design for this season of the long-running show.
Family ties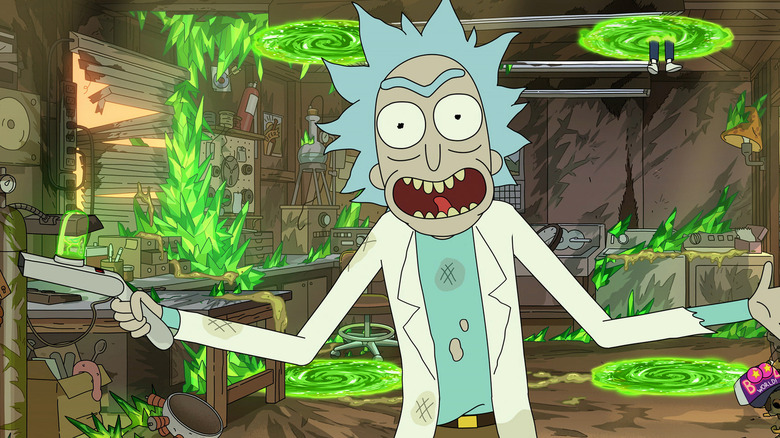 Adult Swim
In an interview with Comicbook.com, showrunner Scott Marder said they wanted Evil Morty's actions at the end of season 5 to have lasting consequences, for the destruction of the portal gun to not be fixed right away. "We felt like a cool kind of side effect of it was that it forced Rick to be with the family a little bit more, that it forced them all to have to play off each other a little bit more."
For better and worse, they pulled it off. This season has had an episode focused on each of the Smith family members, from Summer in the "Die Hard" episode, to Jerry in the fortune cookie episode, Beth falling in love with herself, Morty reckoning with abandoning his original dimension, and Rick facing off against dinosaurs. We even got a rare episode with the whole family together when they faced off against the night family. This change of forcing the episodes to take place mostly on Earth, and with most of the family together has allowed "Rick and Morty" to turn the sci-fi dial down a little bit to tell more contained stories focused on character dynamics.
In a way, this has felt like one big bottle episode, forcing the characters to reckon with the crazy sci-fi lives they live, bringing back elements from previous seasons such as Space Beth seemingly permanently in an effort to show the growth the Smiths have gone through that they just accept things like clones as fact and learn to live with them rather than fight them. The season has even doubled down on some of the horror elements from earlier seasons, presenting some truly horrific imagery and plotlines as well as great references to the films of John Carpenter.
No get out of jail free card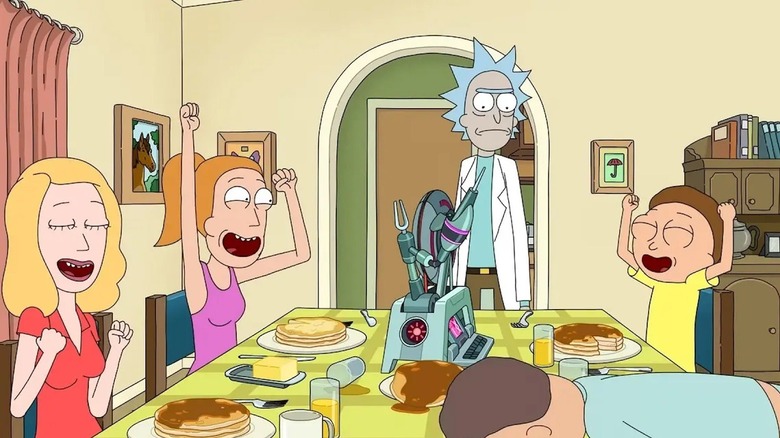 Adult Swim
As Marder said,
"We thought it was kind of nice that they chose each other in [Season 6's premiere], and they were all kind of dealing with each other a little bit more, and didn't have that get out of jail free card that they could keep pulling that they normally can. So that was all fun for us. I mean the space components such a infinite sort of thing that this show has to offer too, that it didn't feel like it completely put us in a tiny box." 
Granted, the change in focus hasn't been perfect. For some inexplicable reason, season 6 of "Rick and Morty" has been rather heavy on incest, both by reminding us of one of its most controversial episodes, and giving us not one, but two episodes about wanting to, or thinking you're destined to, have sex with your family (or yourself, kind of).
Still, it is commendable that the show is still trying out new things after so many years. Given we still have a couple of seasons left in that huge Adult Swim episode order, innovation is always a good sign.