Cool Stuff: The Menu Serves Up A Bloody Delicious Vinyl Soundtrack At Waxwork Records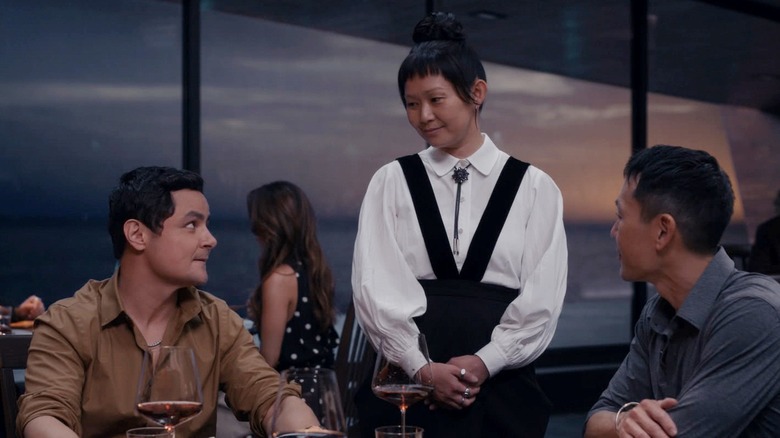 Searchlight Pictures
Sharpen your knives (or your record needles) for a new addition to your vinyl soundtrack collection. Composer Colin Stetson's original score for "The Menu" is getting the vinyl treatment from Waxwork Records, in partnership with Milan Records, early next year.
In "The Menu," per the official Searchlight Pictures synopsis, "A couple (Anya Taylor-Joy and Nicholas Hoult) travels to a coastal island to eat at an exclusive restaurant where the chef (Ralph Fiennes) has prepared a lavish menu, with some shocking surprises." Said chef — and possible human hunter — can be seen giving his guests a 45-second running head start in the trailer for "The Menu." But with the vinyl edition of "The Menu (Original Motion Picture Soundtrack"), you'll have about a three-month head start to pre-order it before it ships in February 2023.
Stetson is an accomplished saxophonist who took home two Grammy Awards for his collaborations with Bon Iver. He also composed the score for "Hereditary" and the Oscar-winning "12 Years a Slave," among other films. "The Menu (Original Motion Picture Soundtrack)" retails for $30.00 and includes all 14 tracks from Stetson, plus these features (via Waxwork):
180 Gram Splatter Colored Vinyl
Artwork and Design by Matt Needle
Deluxe Packaging
Heavyweight Gatefold Jackets with Matte Satin Coating
12"x12" Art Print
'Creating the music on this film has been an absolute joy'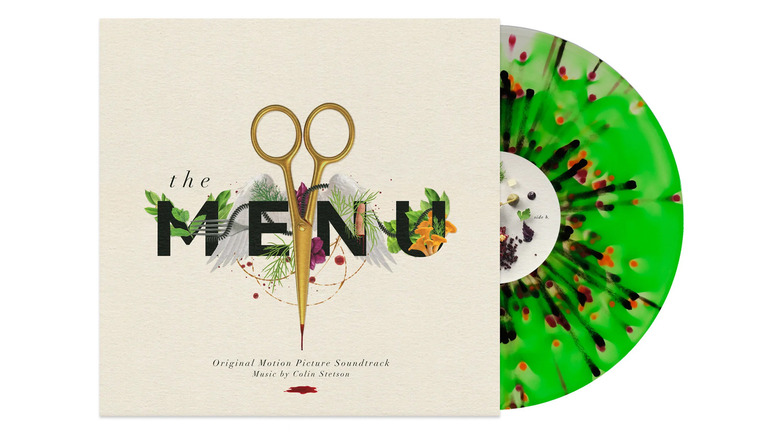 Waxwork Records
Helmed by "Game of Thrones" and "Succession" director Mark Mylod, "The Menu" happens to have opened the week before "Glass Onion: A Knives Out Mystery," another movie where rich people head to a private island and violence appears to ensue. It's also releasing in the same year as "Triangle of Sadness," yet another social satire where wealthy passengers from a luxury cruise find themselves in a survival situation on a desert island.
Despite its similarities to those other films, "The Menu" has earned positive reviews, including one from /Film's Chris Evangelista, who calls it a "delightfully deranged horror-comedy-food porn mash-up."
For his part, Stetson had this say about his work on the soundtrack for "The Menu."
"From my first reading of the script [by Seth Reiss and Will Tracy] to our last moments on the mix stage, my experience creating the music on this film has been an absolute joy, as the themes, refrains, and aesthetic have seemed to jump right off of the page and screen for me with every brilliant turn of phrase, perfect edit, and wickedly delivered performance. It is pure pleasure working with such an incredible team and I am truly grateful for the whole of it."
"The Menu" is in theaters now.