The Menu Trailer: These Party Guests May Have Bitten Off More Than They Can Chew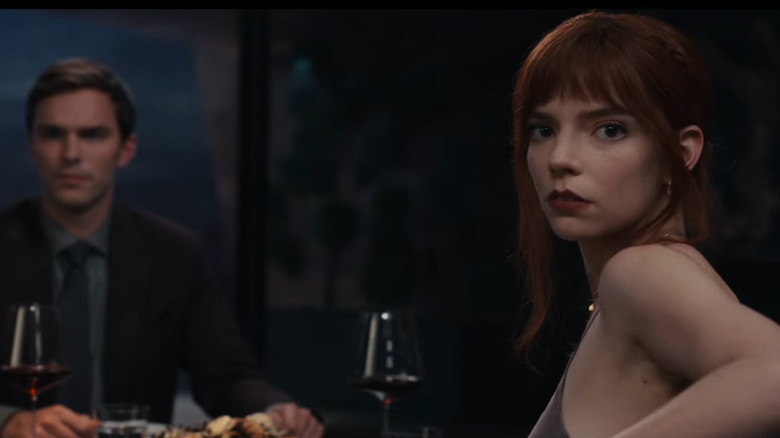 Searchlight Pictures
A new trailer for Searchlight Pictures' upcoming film "The Menu" has been released, and though it's very mysterious, it certainly brings the currently popular phrase "eat the rich" to mind. The film is a black horror comedy starring Anya Taylor-Joy ("The Queen's Gambit"), Nicholas Hoult ("Mad Max: Fury Road"), and Ralph Fiennes (the "Harry Potter" franchise). 
Taylor-Joy and Hoult play Margot and Tyler, a couple who, along with a number of very wealthy people, visit a secluded island for a culinary experience with Fiennes' Chef Slowik. It appears to be one of those fancy rich-people-only parties where the guests can revel in how cultured and refined they are, while others cater to their every whim. You know that's not going to end well.
Watch The Menu trailer
From the trailer (and the teaser before it), it looks like Margot isn't a part of this wealthy set, and was brought here by Tyler, who is clearly very into it. Chef Slowik, one can assume, is going to punish these guests for something, but doesn't think Margot is a part of it. The teaser revealed more of the horror elements, and it looks like someone got their arm cut off. While I do watch a lot of cooking shows, "rich person arm" isn't something you usually see as a secret ingredient on "Iron Chef." 
Speaking of which, chef Dominique Crenn is serving as chief technical consultant. The French chef is the only woman in the United States to have received three Michelin stars. She's the proprietor of Atelier Crenn in San Francisco, and one of the Iron Chefs in the Netflix series "Iron Chef: Quest for an Iron Legend." Even if you're not a horror fan, it sounds like if you love food, this still might be up your alley. There appears to be a lot of molecular gastronomy, and while it feels like we're supposed to sneer at the frou frou stuff, the food is really pretty.
'What, are we eating a Rolex?'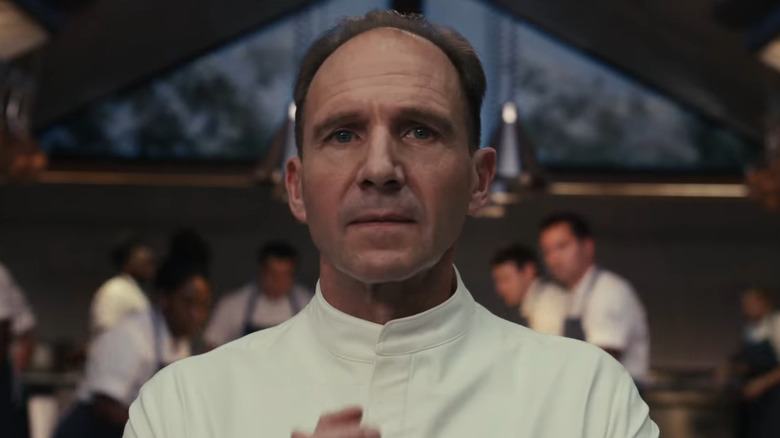 Searchlight Pictures
"The Menu" is directed by Mark Mylod, from a Black List screenplay written by Seth Reiss and Will Tracy. While this is Mylod's feature film debut, he's previously directed a number of high profile television series including "Game of Thrones," "Succession," "Shameless," and "Entourage." It's also notable that one of the producers for the film is Adam McKay, who also produced "Fresh." That film, starring Daisy Edgar-Jones and Sebastian Stan, involved cannibalism, with human meat being harvested for the consumption of the rich. If, in fact, we did see someone's arm being cut off in the teaser for "The Menu," there seems to be a recurring theme here about the wealthy consuming things in a way that harms other humans. 
The cast also includes Hong Chau, Janet McTeer, Judith Light, Reed Birney, Paul Adelstein, Aimee Carrero, Arturo Castro, Mark St. Cyr, Rob Yang, and John Leguizamo. Here is the movie's official synopsis:
A couple (Anya Taylor-Joy and Nicholas Hoult) travels to a coastal island to eat at an exclusive restaurant where the chef (Ralph Fiennes) has prepared a lavish menu, with some shocking surprises.
"The Menu" will premiere at the Toronto International Film Festival in September, and will hit theaters on November 18, 2022.