Almost Famous: The Musical Review: The Much-Loved Movie Deserves More Than A Dull Stage Translation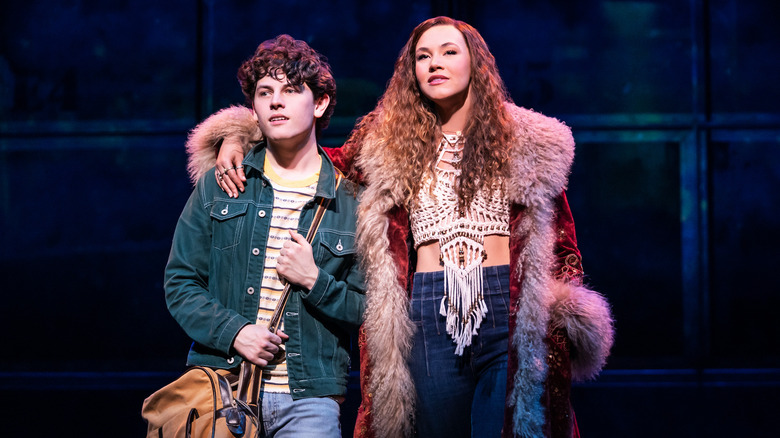 DKC/O&M/Matt Murphy
There's plenty of buzz around "Almost Famous: The Musical." As a Broadway screen-to-stage adaptation of Cameron Crowe's 2000 acclaimed autobiographical "Almost Famous," the production was dripping with promises. After a 2019 premiere at the San Diego Old Globe Theatre, the musical finally moved its way to the Broadway stage. With a book based on Crowe's Oscar-winning screenplay, some light revisions (like cutting out a non-consensual kiss), and a talented cast, what could go wrong? Sadly, not a lot goes right. Adding original songs by Tom Kitt ("The Visitor"), Crowe's book remains mostly intact yet the staging struggles to translate the charm for distinctive theatre sensibilities.
Growing up with a supportive but overbearing mother (Anika Larsen) in 1973 suburban San Diego, 15-year-old William Miller (Casey Likes) obsesses over rock albums left behind by his rebellious sister (Emily Schultheis). An emerging writer, William scores paid writing assignments, including one from Rolling Stone, to profile the rock band scene. He ends up in a tenuous bond with the band Stillwater, who enjoy his company as a fan just as they are wary of his journalistic duties ("The Enemy," they jokingly nickname him). By association, William bonds with the "Band Aids" (music fans who insist they are not "groupies") and falls for the vivacious Penny Lane (Solea Pfeiffer), who rekindles her romance with the Stillwater lead guitarist Russell (Chris Wood, then understudy Van Hughes on my second viewing). Snagged along Stillwater's tour across the US, William grapples with documenting Stillwater's charms and their private follies.
Vacant staging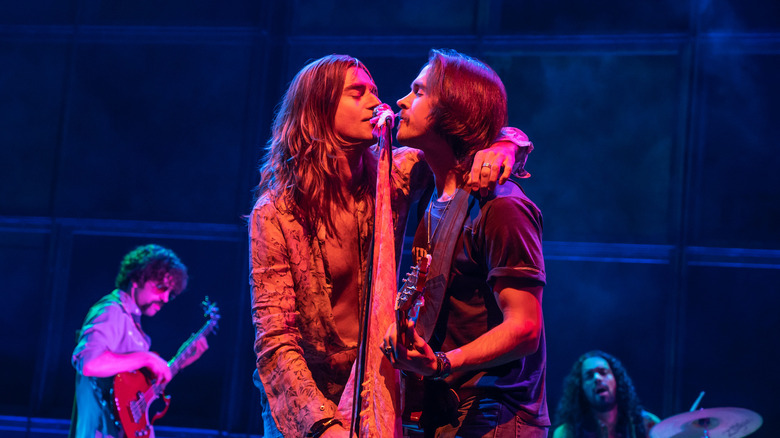 DKC/O&M/Matt Murphy
Under Jeremy Herrin's direction, glimpses of a well-performed play that struggles to breathe through crowded details and Kitt's music. While not terrible, Herrin's staging relies on the cast's performances but fails to underline Crowe's dialogue with energy — with an exception of a meltdown where Russell storms through a choreography of doorways. Compounding this issue, Derek McLane's uninspired scenic spread and video design cast only a tint of mood. The backstage, hotels, and home sets hold no signature lived-in quality. Some artificiality glares the most when a projection of park trees underscores a revealing conversation between William and Penny. When Herrin is not working with a crowd, private conversations are curiously devoid of any locational atmosphere.
When it comes to original songs, Kitt's scoring and lyricism (contributed by Crowe) also do not inspire insight. Though beautifully sung, Penny Lane's I-Want "Morocco" falls flat as a forgettable ballad. Most glaringly, Kitt's focus on converting Crowe's dialogue into lyrics drowns out the impact. The score particularly undercuts one of the show's strongest interactions in "Listen to Me," the phone dialogue between Will's mother and Russell ("It's not too late for you to become a person of substance"). Thank goodness though, that Larsen can act against Kitt's sentimental score when it threatens to wrinkle down her ironed gustiness. As for the show's most effective original number, William's wistful "No Friends," the busy choreography (by Sarah O'Gleby) around William sacrifices introspection.
The most vibrant musical numbers turn out to be renditions of existing songs, like the ensemble's soulful road trip performance of Elton John's "Tiny Dancer" that closes Act I. In addition, a concert reenactment of a headbanging "Fever Dog" fills the vacant stage (colorful lighting by Natasha Katz) while offering the best taste of the era.
An underserved book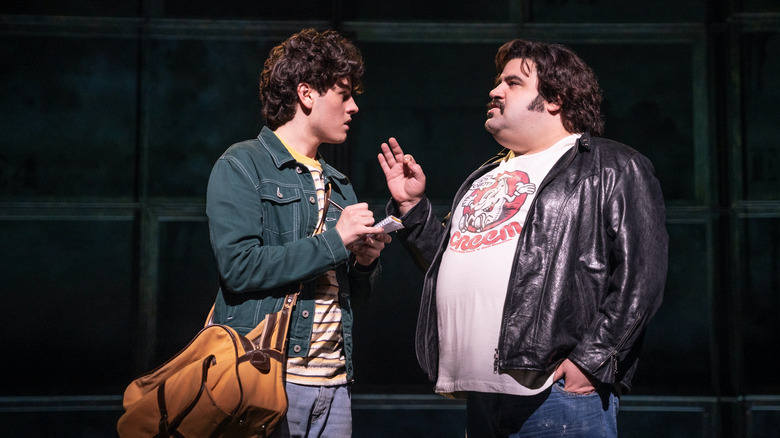 DKC/O&M/Matt Murphy
Having big shoes to fill, the cast carries the torch for their movie predecessors under lackluster creative choices. Compared to Patrick Fugit's performance in the movie, Likes instills a more hardened visage, playing out the teen's simmering skepticism as he grows closer to Stillwater (and his understudy Andrew Posten does the job well too). Rob Colletti thunders as the rock journalist Lester Bangs, William's mentor and austere ethical conscience ("Be honest and unmerciful" is his most valued mantra). Wood stands out whenever his Russell explodes into a drug-fueled breakdown or butts heads with bandmate Bebe, a show-stealing prima donna played by Drew Gehling. As for Pfeiffer (a budding star in the theatre community) in the burgundy fur coat, she inhabits her Penny Lane with a hypnotic mystique.
Having such a solid cast, the drama of "Almost Famous: The Musical" is in sore need of a "you're in the room with them" quality, especially for its backstage quarrels. When I saw "Almost Famous: The Musical" on stage the first time without seeing the movie source material, I wondered if the large traditional Broadway proscenium swallowed Crowe's book and Herrin's direction. On second viewing, a closer orchestra seat did not move me much closer to Herrin's direction, though I could see Likes acting through crowd scenes that barely give his performance breathing space. I think of the off-Broadway staging of "Sing Street," a notable screen-to-stage antithesis to "Almost Famous: The Musical." Perhaps advantaged by its smaller and more intimate space, "Sing Street" functioned with less scenic tools but drenched its story in its moodiness.
For all its disappointing direction, "Almost Famous: The Musical" still contains a meaningful book that depicts a bygone 70s with all its glamor and griminess, the backstage toxicity co-existing with affection, and a complex relationship between artist and critic. Criticism of this musical adaptation does not prevent me from recommending the film, now 22 years old. It's a shame that a live translation somehow couldn't elevate its own potential.