Superhero Bits: DC's Legion Of Super-Heroes Trailer, An Agents Of S.H.I.E.L.D. Star Stirs MCU Speculation & More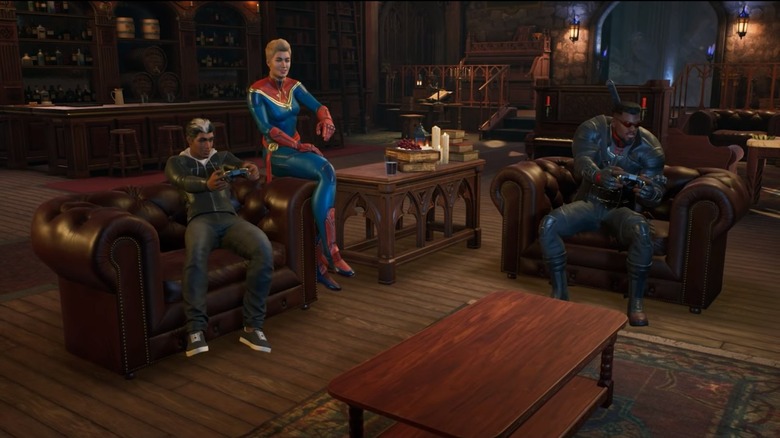 Marvel
(Superhero Bits is a collection of stories, updates, and videos about anything and everything inspired by the comics of Marvel, DC, and more. For comic book movies, TV shows, merchandise, events, and whatever catches our eye, this is the place to find anything that falls through the cracks.)
In this edition of Superhero Bits:
DC releases the "Legion of Super-Heroes" trailer.
Sylvester Stallone teases a possible return for King Shark.
A certain "Agents of S.H.I.E.L.D." star is stirring chatter of an MCU debut.
"Marvel's Midnight Suns" debuts an enlightening trailer.
Marvel Comics releases the final trailer for Invincible Iron Man #1
A new, particularly rough era for Tony Stark is about to begin in the pages of Marvel Comics, as evidenced by this new trailer for "Invincible Iron Man" #1. The new ongoing series hails from writer Gerry Duggan and artist Juan Frigeri, with the hero seemingly at his lowest of low points. This trailer offers an overview of the first issue, and the road looks rough for Iron Man. The synopsis for the book reads as follows:
Tony Stark, the genius-billionaire-playboy-philanthropist, has lost it all: his wealth?his fame?his friends. But Stark doesn't realize he still has so much more to lose, especially when the assassins start to come for him! It's the beginning of the end, as the Golden Avenger must fight for his life and find out what it really means to hit rock bottom.
"Invincible Iron Man" #1 hits shelves on December 14.
Stargirl season 3 shot two different endings in case the show got canceled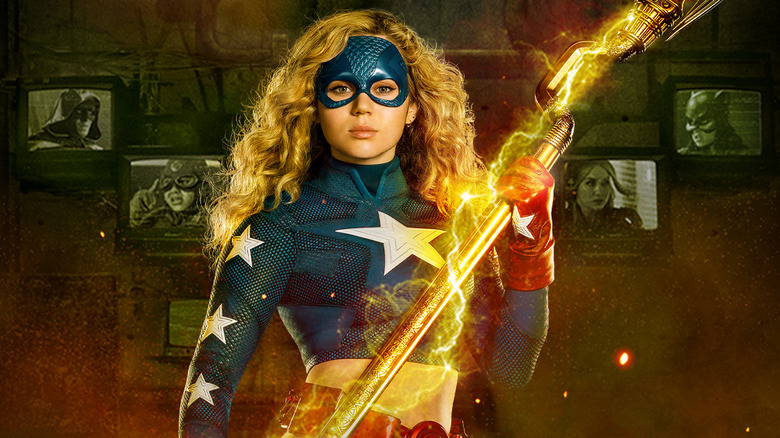 The CW
We recently learned that "Stargirl" is ending its run after three seasons on The CW, but the creators didn't know that heading into the season. So, as star Brec Bassinger revealed recently on the "Wayne Ayers Podcast," they actually shot two different endings to avoid an unsatisfying cliffhanger ending.
"Geoff [Johns] was so smart because obviously there's been a lot of changes in The CW and the Warner Brothers this past year, so the future of any show was not quite certain and because of that, he went the extra mile and shot two different endings, because he did not want to leave the fans with all these question marks."
"Stargirl" is currently airing its third and final season, with new episodes debuting Wednesdays on The CW.
Cosmic Ghost Rider returns to Marvel Comics
Things are going to get cosmic for Ghost Rider next year. That's because Marvel Comics has officially announced a new "Cosmic Ghost Rider" series that is set to debut in March, with Polygon breaking the news. Stephanie Phillips is penning the series with Juann Cabal handling the artwork, which you can catch a glimpse of above. A logline for the book reads as follows:
In a far-flung corner of deep space, Frank Castle has eked out a quiet existence, and his days as Cosmic Ghost Rider are finally behind him. But across the universe, a vicious bounty hunter is leaving a trail of bodies in his wake, and his name is...Cosmic Ghost Rider?! When Frank's peaceful existence is shattered, he must suit up once more and face his most savage enemy yet – himself!
Be on the lookout for "Cosmic Ghost Rider" #1 on shelves on March 1, 2023.
Check out Ironheart's practical suit in Wakanda Forever
Kellina Rutherford, who served as a stunt double on "Black Panther: Wakanda Forever," recently shared some behind the scenes photos of her time working on director Ryan Coogler's film. The film in question features the debut of Dominique Thorne as Riri Williams, aka Ironheart, ahead of her solo series next year. In the photos, Rutherford revealed some pretty impressive looks at the practical suit that the hero wears early on in the film before getting a major upgrade in Wakanda. As for what her suit will look like in the show? That's anyone's guess, but it is probably going to involve more CGI.
More King Shark in the DC Universe? Sylvester Stallone is game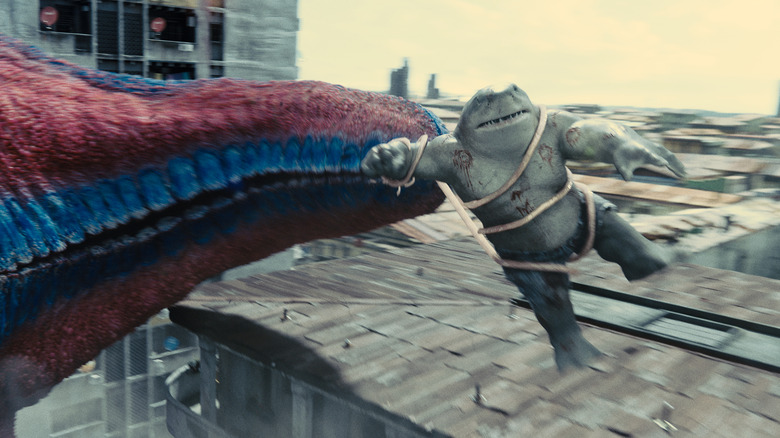 Warner Bros.
"The Suicide Squad" director James Gunn is now the co-head of DC Studios, meaning he's going to have a tremendous amount of say in regards to the future. Does that future include more King Shark? That remains to be seen, but Sylvester Stallone, who voices the character in the film, is certainly game to return. In an interview with Comicbook.com, the actor said the following on the topic:
"Yes, for sure. I think James has been very generous... He and I are pretty tight. So if there's an opportunity... I love him, he's great."
Mr. Stallone patiently awaits your call, Mr. Gunn.
Looks like The Batman almost name-dropped Barbara Gordon
As noted by the folks at Batgirl Film News, "The Batman: The Official Script Book" revealed a pretty interesting deleted scene that didn't make the final cut of Matt Reeves' DC Comics adaptation. In that scene, none other than Barbara Gordon, aka the person who becomes Batgirl, would have had her name dropped. Why this scene was cut has not been revealed but one important thing to note is that this would have been a different version of the character than the one who was set to appear in the canceled "Batgirl" movie, as they take place in different universes.
Wait, is Chloe Bennet teasing a return for her Agents of S.H.I.E.L.D. character?
Let's put on those tinfoil hats, folks, as it's time for some reckless speculation! Chloe Bennet played Daisy Johnson, aka Quake, on "Agents of S.H.I.E.L.D." for the show's duration. But with that show well in the rearview mirror and its connections to the MCU tenuous at best, the future of those characters remains firmly up in the air. Recently, Bennet stirred the pot a bit by posting the above on Instagram. As we can see, there is a daisy poking out of her sock. While I won't make any speculative statements myself here, it's not hard to see how fans might read into this. Do with that information what you will, dear reader.
Behold, the first trailer for DC's Legion of Super-Heroes movie
While the film remains without a release date, Warner Bros. has released a trailer for the upcoming animated "Legion of Super-Heroes" movie. It sees a group of younger heroes training to become protectors of the planet. Tensions rise as the group faces threats and distrust emerges between Batman and Supergirl. The full cast was revealed last month, with Jeff Wamester directing from a script written by Josie Campbell. Again, no release has been set but it is expected to arrive sometime in 2023, so be on the lookout.
Marvel's Midnight Suns gets a revealing new trailer
Lastly, a little more than two weeks out from release, we have another new trailer for the "Marvel's Midnight Suns" video game. This one puts the spotlight on Hunter, a brand new character who will be at the center of the action. We also focus on the Abbey, a key location in the game. More than that, this trailer gives a much stronger sense of how the story will be focused and how some of the gameplay outside of combat will function. So this is an important one for those who are considering a purchase. "Midnight Suns" hits shelves on December 2.