Pitch Perfect: Bumper In Berlin Stars On Their Continued Trend Of Inappropriate 'Ship' Names [Exclusive Interview]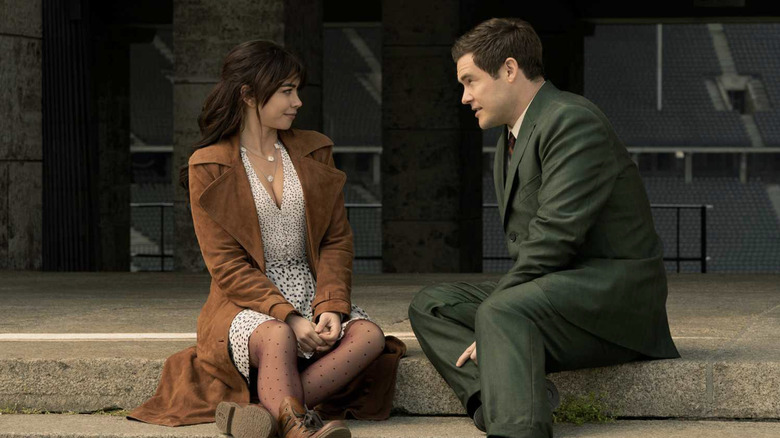 Peacock
Adam DeVine's Bumper Allen started out as the antagonist of the first "Pitch Perfect" film, but has since evolved into the star of the popular trilogy's spin-off series for Peacock, "Bumper in Berlin." The show sees Bumper trying to revitalize his waning singing career after "Pitch Perfect 2" star Pieter Krämer (Flula Borg) informs him that a TikTok mashup he's made of "Take On Me" by A-ha and "99 Luftballons" by Nena is going viral in Germany. Hoping to capitalize on his 15 minutes of fame, Bumper moves to Berlin to try and grow his budding fanbase with Pieter as his manager. His arrival brings a new host of characters, including Pieter's sister Thea (Lera Abova), who makes music under the name "DJ Das Boot." Bumper feels out of place at first, but quickly finds an ally in Pieter's American assistant, Heidi (Sarah Hyland), a budding singer-songwriter in her own right.
Hyland opened our interview by complimenting my glasses, to which I proudly replied, "Oh, thank you. They're so I can see things." Look, I may be a writer, but I'm not going to let my college improv training go to waste by not cracking a joke. DeVine gave me a "Nice!" and Hyland noted, without any glasses on, "That's why I wear mine too. Except right now. I can't see anything right now."
Chatting with DeVine and Hyland ahead of the show's premiere was an absolute delight, and the two actors, who previously shared the screen on "Modern Family" as Haley Dunphy and Andy Bailey (aka "Handy"), exuded such natural chemistry it's no wonder "Bumper in Berlin" sees them once again in a will they/won't they relationship ... that I may or may not have christened with their official inappropriate "ship name." Whoops.
On singing songs and sour pickles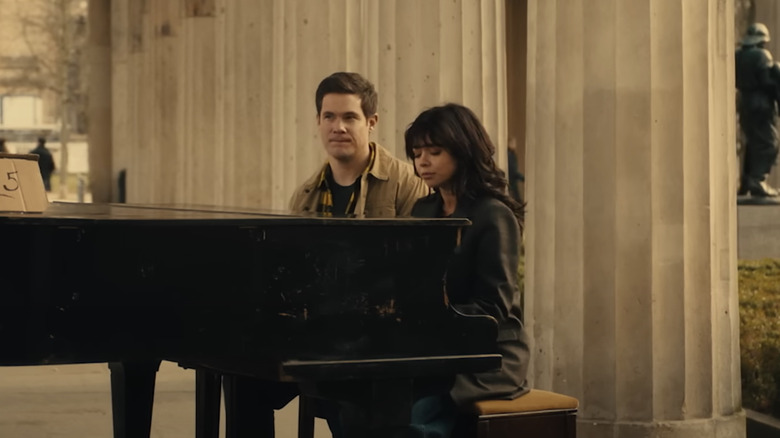 Peacock
Adam, you've been playing Bumper Allen off and on, for over a decade at this point. How do you keep the character from feeling one-note after all these years?
DeVine: Well, I think that's what I was so excited about doing the series. In the movie, especially the first movie ... the second movie, I got to do a little more and show some more range, but for the series, I'm excited to show Bumper as a fully realized human being.
He's definitely shown so much growth! I'm very proud of him. Sarah, over to you. The songs in this show sit so beautifully in your voice, so I was curious if you could share the process of what it was like learning or developing these songs.
Hyland: Oh. Well, there are a couple of original songs that I sing. The one at the end is written by [OneRepublic lead singer] Ryan Tedder, which is just a dream come true for me. I'm just so honored to be able to sing an original song of his. But it was kind of crazy how fast everything was. We would get the demo and then have to know it in a day or two. So we were rehearsing, or whenever I was in my trailer or on my set chair or anything like that, I would just have my AirPods in, rehearsing before I had to go and actually do it. Because it was really fast. But thank you so much. That means a tremendous amount to me, you have no idea.
Oh, I'm so happy to share! Adam, back to you. Tell me about the "Sour Pickles" bit. Were they actually that sour? Were they actually even pickles?
DeVine: They were marshmallows! They've got weird food in Germany. [jokes] No, they were sour pickles. But I like pickles a lot. People were coming up to me and being like, "Ugh, pickles? Are you going to puke? What?" And I'm like, "Pickles are delicious. I love pickles." So I think I would do really well on that show. Basically, it was like a spoof on or a take on "Hot Ones," where you eat the hot wings and Sean Evans interviews you. And I've done that before. And I ate all 12 wings or whatever they give you. So I think if "Sour Pickles" was a real show, I think I'd do pretty well on that one as well.
Oh, perfect.
DeVine: I'm a human garbage can, so I'll eat anything.
Relatable. Same.
DeVine & Hyland: [laughs]
From 'Handy' to 'Humper'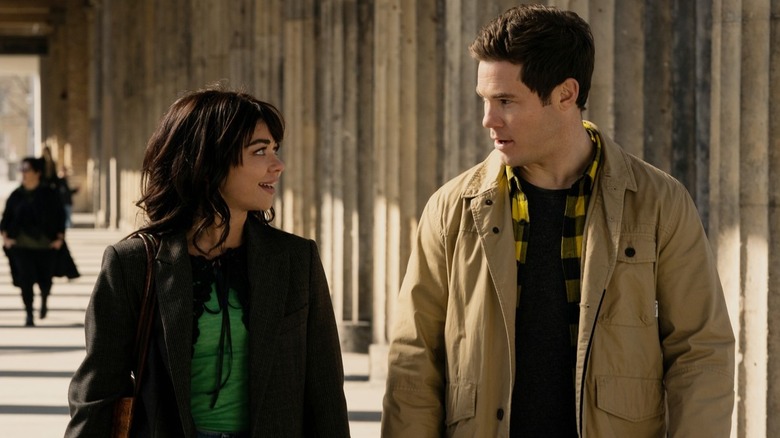 Peacock
So there's no easy way to phrase this question, and I apologize for how clumsy this may sound, but we all know your ship name from "Modern Family" is "Handy." (Haley + Andy = Handy)
Hyland: Yes! I've been dying to talk about "Handy!"
I mean ... we could call it "Beidi" but everyone's probably going to call the ship "Humper." How was it for the two of you to revisit this chemistry that was already established, but getting to present it in a new way because you're entirely different characters?
DeVine: Well, I want to give you the honor of the first person that I've heard say "Humper." And I'm usually really quick to be the one to make dirty jokes, so, I mean, congratulations.
Hyland: Yes! I was actually thinking about that the other day actually because I was like, "What would everyone...?" I was getting a lot of #Handy tweets or whatever. And so I was like, "What are Heidi and Bumper?" And I was like, "Beidi ... Humper ... Oh my gosh."
DeVine: Humper.
Hyland: Why do Adam and I always have character ship names that sound so inappropriate?
DeVine: Yeah, Handy ... Humper.
Hyland: Handy and Humper. We need to have a third to round it out.
DeVine: Yeah. We'll do a movie together at some point and It'll just be a grotesque name, whatever it is.
Hyland: Yeah, real gross. But it was so, so much fun to be back filming with Adam. And especially now that we're Humper.
DeVine: Yeah, it was fun. Obviously, we know that we have chemistry with each other, and it's really easy. And we're good friends off-screen. A lot of times when you're acting and it has to be a more emotional scene, you have to know that person a little better before you can be that open with them. At least I do. Maybe I'm just not that good of an actor. But it's so easy with Sarah, and she makes it so easy. So I think that's one of the reasons that we work so well together.
"Pitch Perfect: Bumper in Berlin" will premiere on Peacock on November 23, 2022.