A Run-In With Wendell Pierce Changed The Course Of Anthony Mackie's Acting Career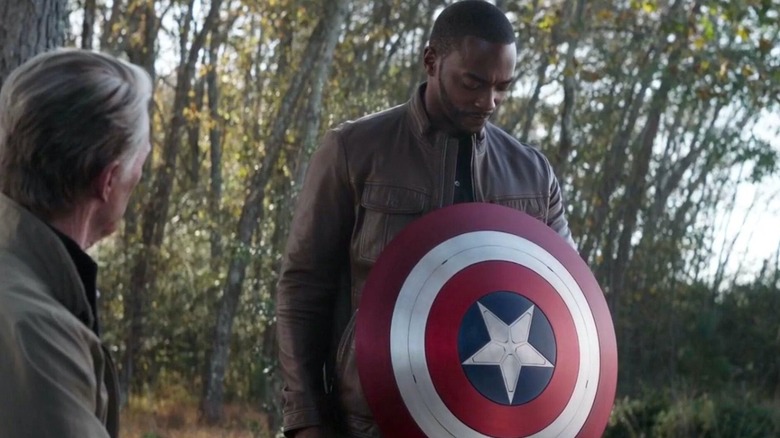 Marvel Studios/Disney
It feels like it's been a bit of a meteoric rise to stardom for Anthony Mackie, even if the New Orleans-born actor has been doing strong work on the big screen for the last two decades following his first film role in the Eminem-starring "8 Mile." After making a splash as the main antagonist in that movie, Mackie started working steadily with roles in "The Manchurian Candidate," "Million Dollar Baby," "We Are Marshall," and "The Hurt Locker," but it wasn't until he landed the coveted role of Sam Wilson, better known as the Falcon, in the Marvel Cinematic Universe that his career really started to soar.
After making his MCU debut in the acclaimed "Captain America: The Winter Soldier," Mackie has, to date, strapped on the wings five more times on the big screen. Last year, he carried the character over to the small screen alongside Sebastian Stan's Winter Soldier for a two-hander called — aptly enough — "The Falcon and the Winter Soldier."
He's not done with what has become his signature role, either, as he'll take on the mantle of the new Captain America in the next phase of the MCU. Needless to say, the last few years have been a whirlwind for the Juilliard-trained thespian, and a far cry from his beginnings as a stage actor — including serving as an understudy for fellow MCU regular Don Cheadle in a play in 2002.
But while Mackie has trained under Don Cheadle in real life and Steve Rogers on the big screen, it was another actor from New Orleans who inspired his dream of becoming an actor and, most importantly, doing it on his terms. That actor was Wendell Pierce.
A flashy white suit and a confident attitude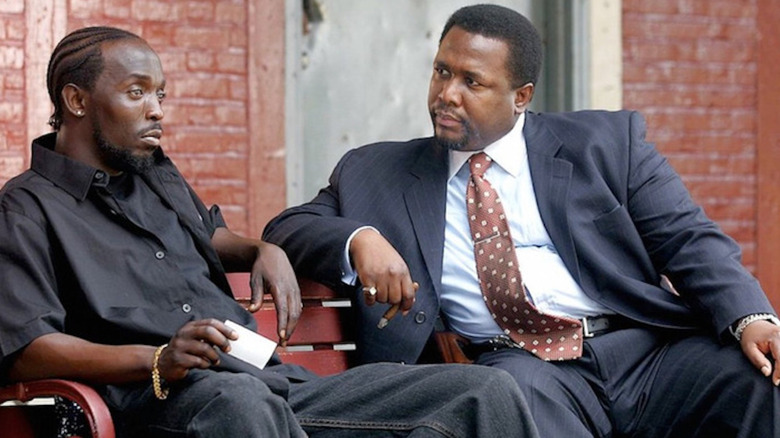 HBO
Like Mackie, Pierce is a product of the New Orleans Center for Creative Arts (NOCCA). And like Mackie, Pierce also trained at Juilliard. Pierce, perhaps best known as Detective Bunk Moreland on the classic HBO series "The Wire," shares a love of his hometown, and a respect for NOCCA. As such, he frequently returned to his old stomping grounds to speak to the students in attendance.
By the time Mackie was 14, he was already studying to become an actor at NOCCA. And by then, he was already looking up to Pierce, who had appeared in movies like "Malcolm X" and "Waiting to Exhale" by the mid-1990s. In other words, he was a big deal among the young students of NOCCA — Mackie included. As he recalled to NOLA.com:
"Wendell's been a focal point in my career ... When I was at NOCCA my first year, Wendell came and spoke to the students, and it was amazing. I was sitting there, and here was this dude in this white linen suit with this fly cap, this beautiful hat on. So I ran up to him after he spoke, and I was like, 'I want to be just like you.' He was like, 'All right, young dude,' and I was like, 'No. Whatever you did, I want to do that.'"
So Mackie, like Pierce before him, wound up going to Juilliard. He found his way to the stage, where Pierce was already a wild success. In fact, Pierce continues to shine in the theater, currently starring as Willy Loman in "Death of a Salesman" on Broadway. And, as luck would have it, Mackie would get a chance to work with his idol just before his career really started taking off.
Learning to stay true to himself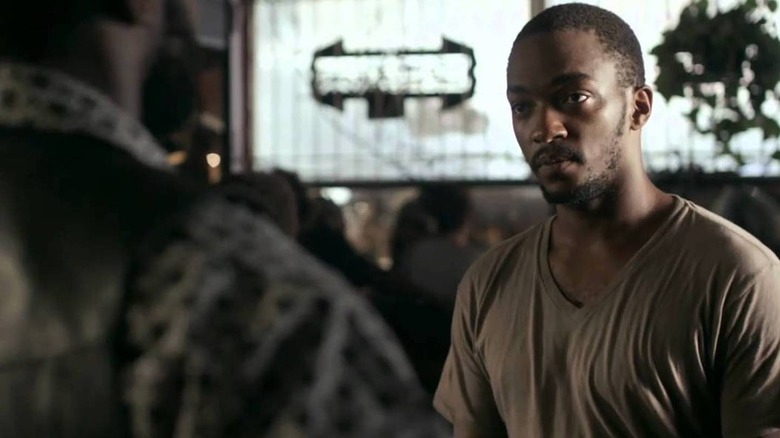 Magnolia Pictures
In 2010, Mackie got a chance to work in front of the cameras with Pierce in the film "Night Catches Us," alongside Kerry Washington and Pierce's "The Wire" co-star Jamie Hector. The film premiered at the Sundance Film Festival and received critical acclaim. It was a long time coming.
One of the lessons Pierce taught Mackie during the years they've known with one another is simple, and one Mackie shared to NOLA.com: "Be true to yourself." It's a lesson Mackie definitely took with him to Juilliard, as one of his former instructors, Denise Woods, told Men's Health:
"The school's paradigm at that time was 'We break you down to build you back up.' And Anthony refused to be broken. He put his stake in the ground and said, 'This is who I am, and you've got to see me'."
Mackie continues to do things his way — including working his love of his home state into "The Falcon and the Winter Soldier" — and the MCU is all the better for it. And while the bulk of it comes from Mackie's natural charm and a confident attitude, a significant part can be traced back to when a 14-year-old saw a hometown hero swagger into his school in a sweet hat and a fancy white suit.