How Okoye's Black Panther: Wakanda Forever Journey Sets Up Her Disney+ Series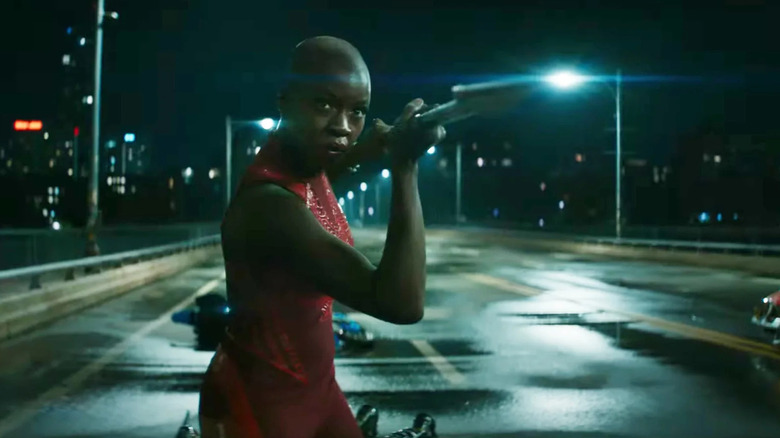 Marvel Studios
This article contains SPOILERS for "Black Panther: Wakanda Forever." Please proceed with caution.
Wakanda has cultivated a culture that reveres women and forges them into some of the mightiest warriors in the nation and in the world, whether that be on the battlefield or in their everyday lives. Ryan Coogler has been showcasing these characters in the Marvel Cinematic Universe since he signed on for 2018's "Black Panther." He even showed interest in female-led Wakandan spinoffs at that point. And though some things likely needed to be adjusted in the story to accommodate for the untimely passing of franchise star Chadwick Boseman, there's no doubt that the ladies still would have been in the spotlight of "Black Panther: Wakanda Forever" in some way, shape, or form.
Now, beyond the Phase Four finale, the filmmaker's desire to continue the story of Wakanda on Disney+ appears to be coming to fruition. Back in early 2021 when Coogler's Proximity Media entered a five-year deal with the Mouse House, it was announced that he was developing a series set in the Kingdom of Wakanda. Then in May of the same year, it was revealed that Dana Gurira's Okoye would be receiving her own spinoff. It's currently unclear if these projects are one and the same, but either way, it seems like the former general of the Dora Milaje will be appearing in the MCU again. And following the events of her last appearance on the big screen, there is certainly a lot more of her story to be told. So where could Okoye's path be leading? We have some ideas.
Angel of mine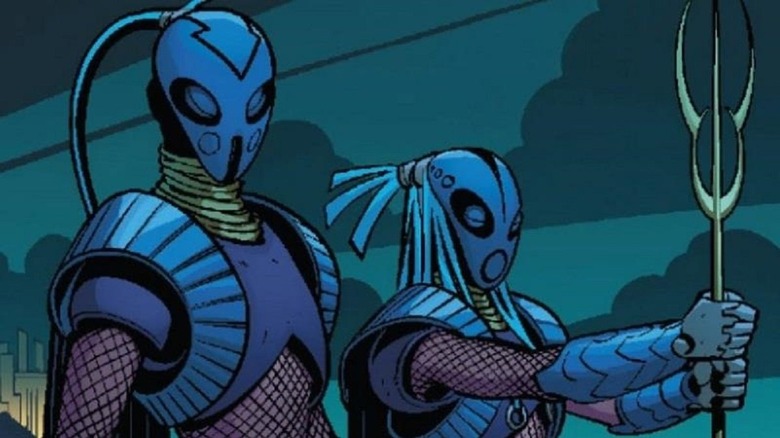 Marvel Comics
One of the best Easter eggs in "Black Panther: Wakanda Forever" was the inclusion of the Midnight Angels armor first seen in Shuri's lab at the beginning of the movie. At first, when the princess tells Queen Ramonda about the armor, which she designed to protect warriors like the Dora Milaje, Shuri shares that Okoye thinks it's stupid. Then, when the queen strips the general of her rank and authority after losing Shuri during their mission in Boston, the loyal Wakandan feels completely lost and utterly defeated. But when she's left as a civilian after the Queen's death and still wants to help her country and her people, that's when she recruits Aneka to don the battle-ready armor as well and take up the mantles of Midnight Angels.
In the pages of Marvel Comics, Okoye was not originally part of the team. While the name first belonged to King T'Challa's personal bodyguards, it came to refer to Aneka and her rival-turned-lover Ayo under the armor. Both characters appear in the movie played by Michaela Coel and Florence Kasumba respectively, but their origins are traced back to the comic book titles "Black Panther: A Nation Under Our Feet" by Ta-Nehisi Coates and Brian Stelfreeze and "Black Panther: World of Wakanda" by Roxanne Gay and Alitha E. Martinez. Basically, after loyally serving Wakanda and the royal family, their values no longer aligned with the throne or the Dora Milaje, so they took their super suits and hunted those that targeted Wakandan women. But they also mixed it up with other Marvel Comics mainstays, such as Doctor Doom when he decided that he wanted vibranium for himself.
Good morning, angels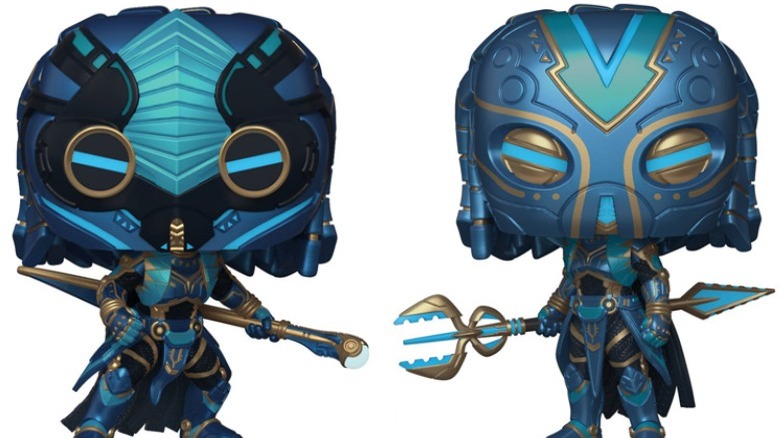 Funko
As the MCU tends to do, the story changed a little bit as it transitioned from the page to the screen. But elements of these two excellent comic series can still be integrated into the rumored Okoye Disney+ series. "Wakanda Forever" ends with her and Aneka embracing their identities as the Midnight Angels, so the show should be about their ongoing adventures. Since they are elite fighters and seasoned operatives, Shuri or M'Baku might need them to go on a mission to stop the countries that continue to try to obtain vibranium for themselves. They could also be called to protect Wakandan women that have ventured out of their protective bubble as part of T'Challa's efforts to better integrate their country into the world at large.
Meanwhile, their relationships will likely play a part in the series as well. With Aneka constantly leaving Ayo (who appears to have taken over as the General of the Wakandan Armed Forces) and vice versa due to their commitments, this may cause Okoye to reexamine her relationship with W'Kabi, the character played by "Nope" star Daniel Kaluuya who ended up in prison after he sided with Killmonger during his takeover of Wakanda. So far, we've seen a number of ceremonies and rituals from this culture, but does this mean we could see how Wakanda does divorce now? It's definitely a possibility.
With those elements in play, this show could be similar in tone to "Falcon and the Winter Soldier," though you have to wonder what kind of twist Coogler brings to the story since he tends to pit the Wakandans against antagonists rather than villains. But we do still need that announcement that this is officially happening. Meanwhile, we'll just have to look to Marvel Comics for more adventures.