Ryan Coogler Says He Would Love To Make A Female-Led 'Black Panther' Spin-Off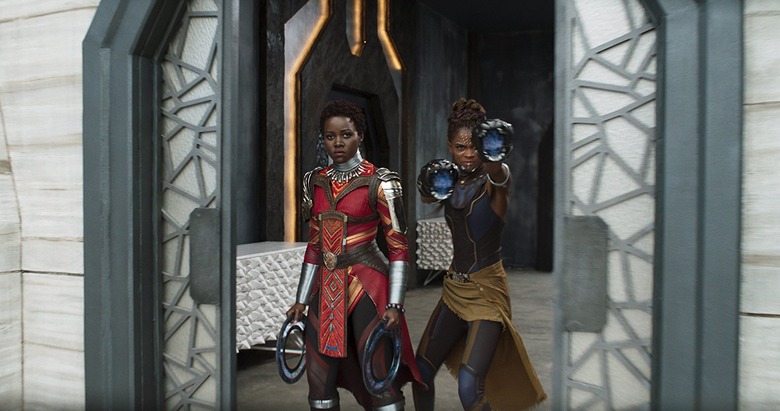 Wakanda may be ruled by a king, but Black Panther was ruled by its amazing female characters played by Danai Gurira, Lupita Nyong'o, and Letitia Wright. Their characters of Okoye, Nakia, and Shuri, respectively, stole the scenes from under Chadwick Boseman's T'Challa and had many fans buzzing about the possibility of an all-female Black Panther spin-off.
Now, with the post-Avengers 4 Marvel Cinematic Universe slate up in the air, director Ryan Coogler has said that he would definitely be interested in making a female-led Black Panther spin-off if the opportunity arose.
At the Cannes Film Festival, Coogler spoke extensively about Black Panther and the plethora of female characters that populated the movie. These characters, especially Gurira's Okoye, Nyong'o's Nakia, and Wright's Shuri, were so rich and complex that they threatened to outshine any prior female character who had appeared in the MCU. The ardor around them was so strong that when Coogler was asked if he would ever make Black Panther spin-off focused on the women, he immediately said yes, according to Variety.
"Oh man. That would be amazing if the opportunity came up. They did it in the comic-book version."
The Dora Milaje — T'Challa's all-female cadre of elite warrior women — recently received their own comic book title penned by Nnedi Okorafor and drawn by artist Alberto Jimenez Alburquerque. Before that, the 2016 Black Panther comic book relaunch by Ta-Nehisi Coates and Brian Stelfreze placed a renewed focus on the Dora Milaje, while Roxane Gay, Yona Harvey, Alitha E. Martinez, and Afua Richardson wrote the World of Wakanda series that focused on the love story of two Dora, Ayo and Aneka.
And with General Okoye fast becoming a fan-favorite character in both Black Panther and her brief appearance in Avengers: Infinity War, it would be great to see her take on the lead role in film about the Dora Milaje.
Coogler added that any of the female characters of Black Panther could easily carry their own movie. He was especially impressed by the part of the movie where Nakia, Ramonda (Angela Bassett), and Shuri escaped Killmonger's wrath and attempted to revive T'Challa:
"There's a whole section of the film where T'Challa is out of the movie and you're just following the women. That's one of my favorite parts of the movie when I watched it, and I didn't expect that. That part of the movie you feel like you're watching something fresh and new. That part of it was exciting.
We have these actresses who could easily carry their own movie. Some of them have before. We were so fortunate. I would watch a movie with them!
And with Black Panther breaking so many box office records, you can bet that Marvel Studios would be willing to give Coogler some freedom in the sandbox. Soon after Black Panther swept the box office, Feige mused about the possibilities of Black Panther spin-offs, especially ones centered around the women.
"I would watch a movie about any of those characters you just named," Feige said. "I think Shuri's astounding, and you'll see much more of her in our universe. Okoye, I think I'd watch three action films just Okoye. I'm not saying we're doing that, but I'm saying that we're intrigued by them."
So could we see a female-led Black Panther spin-off? Maybe. Everyone at Marvel is clearly excited by these characters' potentials, and with talk of an all-female Marvel movie in the future, Coogler better clear his schedule.