Andor Star Diego Luna Is Glad Hollywood Is Telling More Stories With Latino Representation [Exclusive]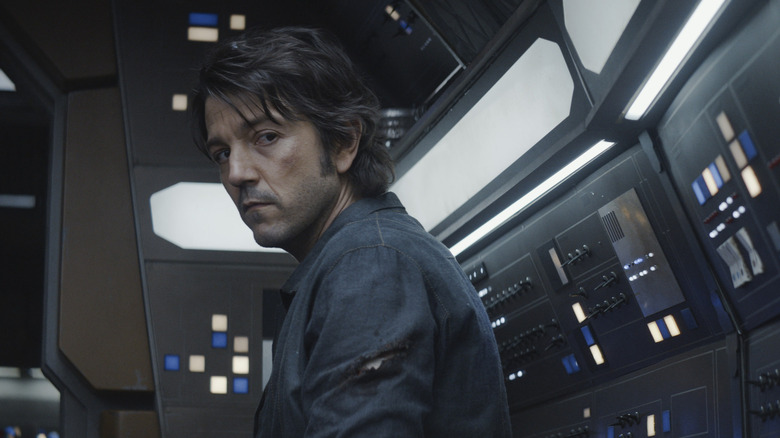 Disney+
Despite making up 19% of the population, and Spanish being the second most commonly spoken language in the United States, Latinos are still severely underrepresented in Hollywood. According to this year's Hollywood Diversity Report from the University of California, Los Angeles, only 7.7% of film acting roles went to Latinos in the past year. Of those acting roles, most are unfortunately still tied to old, tired stereotypes of either poor immigrants or gang members.
Fortunately, we're starting to see a wave of Latino actors break through in Hollywood in major ways, being cast in prominent or even leading roles in major blockbuster franchises. Diego Luna and Pedro Pascal recently appeared in "Star Wars" shows, Xolo Maridueña is set to star in "Blue Beetle," Gael García Bernal, Oscar Isaac, Xochitl Gomez, and Tenoch Huerta Mejía are part of the Marvel Cinematic Universe, and even Melissa Barrera and Jenna Ortega are the new faces of "Scream." Granted, there is still a long way to go, considering Latino-led projects like "Batgirl" have been canceled without a good enough reason. There's also the problem of colorism in Hollywood and Latin America, which actors like John Leguizamo and Huerta Mejía have criticized in the past. Still, the progress we do see is worth celebrating.
During an interview with our own Ethan Anderton, "Andor" star Diego Luna talked about seeing things in Hollywood change and seeing other Latino actors in big roles. "Finally, the industry is reacting to the world we live in," Luna said, referring to the number of Spanish speakers in the U.S. and the world. "If we are the ones going to the cinema, why not see ourselves there? If we are the ones paying subscriptions, why not to see our stories portrayed in those series?"
'We're sending a message'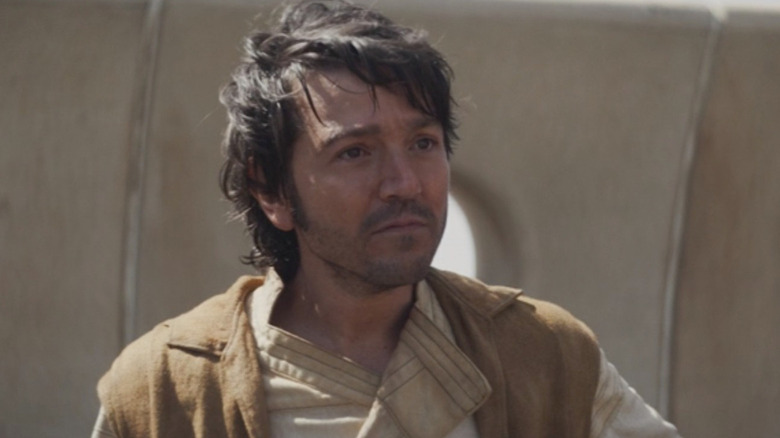 Disney+
Luna certainly speaks the truth. The Latino market is huge for the box office, as the community helped keep the industry afloat during the pandemic, and has helped turn franchises like "Fast & Furious" into giant blockbusters. Diego Luna emphasized this during his interview with /Film: 
"I think as an audience, we have a great responsibility of sending the right messages. When we buy a ticket, we are sending a message. When we see a piece of work that has someone with a Latin American connection, we're sending a message. When we don't, we're sending a message too, when we don't buy the ticket. So the industry will react. The industry reacts with numbers. If we send the right messages, it's just going to keep happening. And gladly, the world is a different place these days. Our stories travel easily with the platforms. Now you do a very specific tiny thing in a country, and if it's good, you have a chance to connect with others in places they didn't even think they had a connection with."
The audience is there which means the money is there, so Hollywood needs to listen. Having Latinos in lead roles shows the audience that the studios care enough to consider the community as part of the movies they're paying to see, and of the shows they're subscribing to services to stream. "We have to keep reminding people our stories matter, and we have to do cool stuff that can represent us in the best possible way, also, because that matters too," Luna continued. "And I feel really proud of what I'm part of and very lucky to belong to this generation that is getting this chance."
"Andor" is currently streaming on Disney+.