Bob Odenkirk Almost Got Out Of Comedy After Seeing Chris Farley's Improv Chops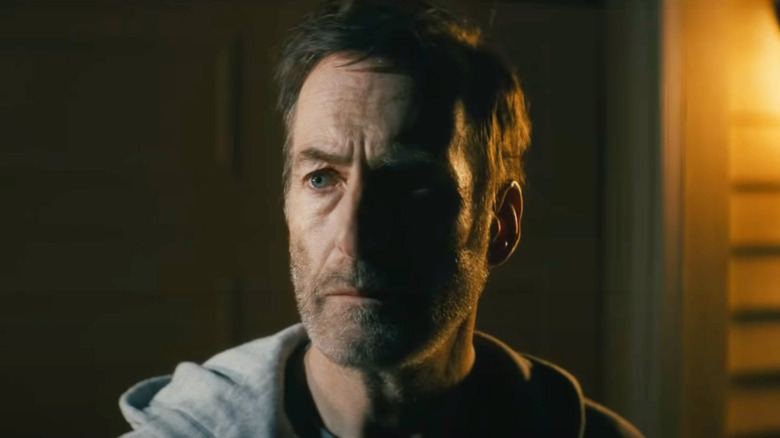 Universal Pictures
With "Better Call Saul" in the can, Bob Odenkirk has established himself as not just a convincing dramatic actor but a bankable one. The former "SNL" writer and co-creator/star of the sketch series "Mr Show" has embraced his serious side in the last decade to great effect, even venturing into "John Wick" territory and scoring himself an action hit with 2021's "Nobody." And with his upcoming AMC series "Straight Man," it looks as though the actor is sticking to the genre that made him a household name. 
But Odenkirk not only started out in comedy, he was pretty damn successful in it. After winning an Emmy for his writing on "SNL" in 1989, he would repeat the feat in 1993 for his contributions to "The Ben Stiller Show," before launching his own HBO sketch series with David Cross, "Mr. Show." He even came close to playing Michael Scott on "The Office" before Steve Carrell got the gig. And while there's no doubt his big acting break came with playing sleazy lawyer Saul Goodman in "Breaking Bad," much of his influence can be seen in the comedy world today.
"Mr. Show" itself, though not a major mainstream hit, influenced a host of comedians, including alt-jokesters Tim and Eric who were "discovered" by Odenkirk after they sent him a DVD of their own sketches (complete with an invoice for the cost of making the DVD). We also have Odenkirk to thank for what might be Chris Farley's most memorable character on "SNL": the brash motivational speaker Matt Foley. Farley and Odenkirk worked together as colleagues in Chicago's improv troupe Second City, where, it turns out, Odenkirk's dramatic ambitions may have been kindled. In fact, it seems Farley's high-energy humor almost caused Odenkirk to pack in the comedy before he'd even really started.
'I can't compete with that'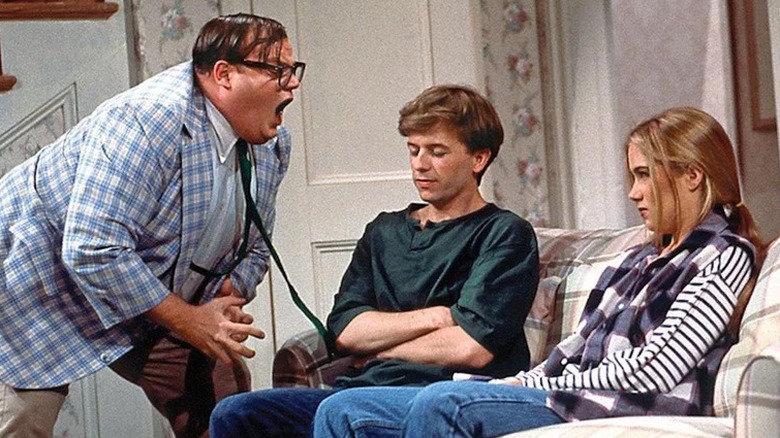 NBC
As Entertainment Weekly reports, during an appearance on "Late Night with Seth Meyers," Odenkirk recalled how he almost quit comedy after witnessing Farley in action. The pair were on-stage together with Jill Talley for a Second City performance and Odenkirk recounted how he was immediately dazzled by Farely's presence and comedic chops:
"Chris and I are acting and I think, 'I should be in a drama. That's what I should do.' And I really had that crazy thought. I think I was just loving his presence so much and he was so wonderful and I thought 'I can't compete with that. So put me in a drama and I'll be so funny.'"
Odenkirk wouldn't actually make the leap to dramatic acting for some years. As he goes on to say in the "Late Night" interview: "I had that thought but I never pursued it because I'd already started my life as a comedy writer and I wasn't going to go back in time and take some acting classes." It would take the producers of "Breaking Bad" calling him up to eventually tempt Odenkirk over to drama full-time, and that wouldn't happen until 2009. But there's no doubt the "Better Call Saul" star was genuine in his recollection of being impressed by Farley's comedic energy. It seems that far from being a fleeting thought, the dramatic seed was very much planted by Farley.
Somewhere between drama and comedy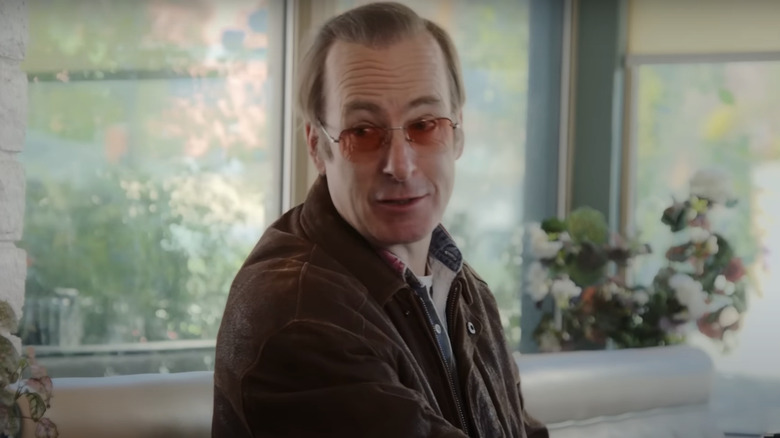 Netflix
It's easy to see why Odenkirk was so bowled over by Farley. His high-energy hijinks have become legendary in the comedy world, and although the actor would tragically pass away from a drug overdose in 1997, his influence is undeniable. Far from exaggerating for the sake of a funny anecdote, Odenkirk's recollection of considering dramatic acting in the face of such a powerful comedic performance seems completely genuine.
Farley's eccentric life was itself tinged with drama. Odenkirk recalls in his memoir, "Comedy Comedy Comedy Drama" watching "Chris stumble off into the night after killing it onstage" and writing in his own mind the phrase "'taken from us too soon!'" Later in the book, he writes about seeing his friend for the last time and knowing it "was clearly going to be just that." A few weeks after that encounter, Farley would be gone.
In that sense, Odenkirk was all too familiar with life's hardships, even while working exclusively in comedy. Farley inspired Odenkirk with his comedy chops, but his story of addiction would become one of the most tragic in Odenkirk's own. With a "Nobody" sequel in the works and the aforementioned "Straight Man" well into production, Odenkirk doesn't appear to be plotting a full return to his comedic roots any time soon. But that doesn't mean he's left comedy behind completely. He can still be found in Tim Robinson's unreasonably funny "I Think You Should Leave," playing hilariously deranged characters such as the stranger in the diner who has "triples of the Barracuda." But much like his late friend's life, Odenkirk's career is now firmly positioned somewhere between drama and comedy.