Only Bob Odenkirk Is Allowed To Improvise On I Think You Should Leave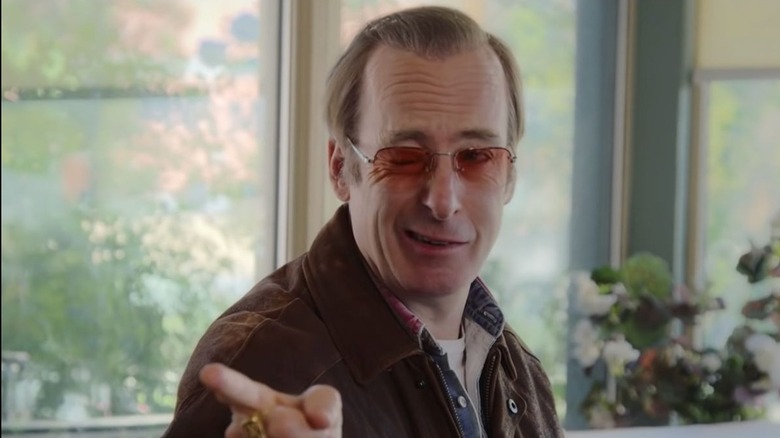 Netflix
The jokes and wacky characters of "I Think You Should Leave" find unconventional ways to nudge a laugh out of you. Whether it's via a washed-up Santa Claus dropping F-bombs or an alumni dinner that goes awry when a former professor gets envious enough of someone's burger to brazenly eat it. A lot of this is owed to the characters of Tim Robinson's zany sketches: people who end up in socially awkward situations who react either by doubling down against logic and reason or who rage in self-righteous indignation. The feelings of secondhand embarrassment, the cringe, and the shock that often follows are all indispensable to the comedy of "I Think You Should Leave."
Flipping the script appears to be the spirit in which Robinson guides the surrealist comedy of the show. But one area he is less cavalier about is the script, which he develops with co-creator and fellow former "Saturday Night Live" writer Zach Kanin. As a result, none of the blustering monologues or dialogues in the show are improvised. The rule applies even to the show's growing list of guest stars, which has included Steven Yeun, Will Forte, and Tim Heidecker. Yet at least one person was immune to such constraints: Bob Odenkirk, who started riffing off the script while shooting his season two scene.
Odenkirk has triples of the Barracuda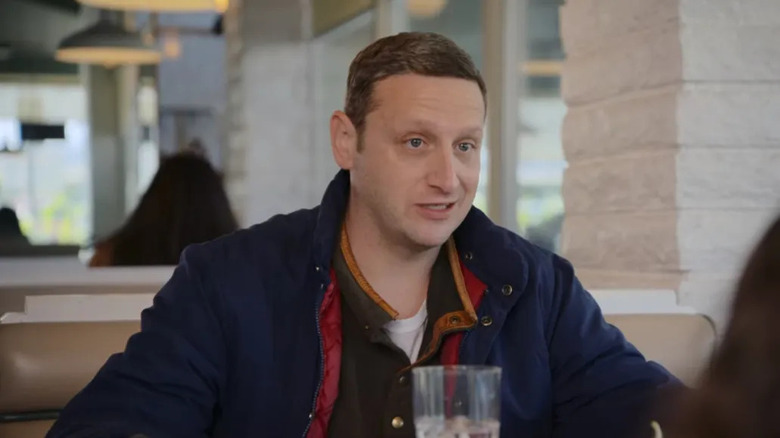 Netflix
The scene in question opens innocently enough: A father (Tim Robinson) enlists a lonely, slightly sleazy stranger (Bob Odenkirk) in a white lie about ice-cream machines to his daughter. But when the stranger starts to imagine for himself a fantasy life as a rich car collector, the absurdity becomes disconcertingly tangible. Speaking with the Los Angeles Times, Robinson heaped nothing but praise atop Odenkirk's performance and even revealed the actor left the script behind at one point:
"Bob did improvise a bunch at the end of that sketch, it was all really funny, and I feel like it elevated the sketch off of what was on the page a lot."
Odenkirk's decision to improvise lends a lot to his character's manic creation of new lies about his fake life. But it's also hard to tell when he starts going off script. Maybe it's during his hilarious contemplation over which cars he has doubles/triples of — "If I don't have triples, that other stuff's not true," he quips matter of factly. Or is it his constant urgings for Robinson to repeat the lies to his daughter? Especially during his rant over his beautiful, but dying model wife: "She's sick, but she's hanging in there. Tell her."
Long before he was Saul Goodman, Odenkirk was a sketch comedy pioneer in his own right. Alongside David Cross, he debuted "Mr. Show with Bob and David," and its offbeat, oddball humor became an unsurprising inspiration for Robinson when creating "I Think You Should Leave." Maybe it's because of that veneration that he was given such comedic latitude during his skit. Clearly when you let Odenkirk do Odenkirk, you get comedy gold.