The Office Considered A Massive List Of Actors For The Role Of Michael Scott, Including Philip Seymour Hoffman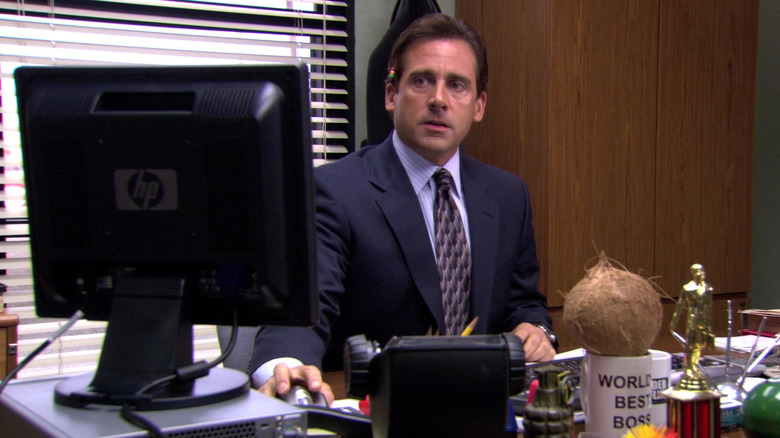 NBC
Steve Carell has taken on plenty of memorable roles in his life, from the depressed scholar Frank in "Little Miss Sunshine" to the sexually frustrated Andy in "The 40-year old Virgin" to sweet supervillain Gru in "Despicable Me." Yet no matter how many great performances he puts in, he'll always be known first and foremost to many people as Michael Scott from "The Office." The tactless, cringe-inducing, hilarious boss of Dunder Mifflin Paper Company is the sun around which all the show's workplace chaos revolves.
"The Office" wouldn't have succeeded without Carell's faux-sly glances to camera, perfectly uncomfortable line deliveries, and contagious outbursts of laughter. Yet as with so many great roles, it almost went to someone else. In fact, lots of familiar names were considered for the role. 
In Andy Greene's authoritative oral history book, "The Office: The Untold Story of the Greatest Sitcom of the 2000s," the show's producers dug into the casting process for Michael Scott, revealing the names of over 30 actors and comedians who were considered for the now-iconic role, including a few who were actually offered the part.
A laundry list of potential Michael Scotts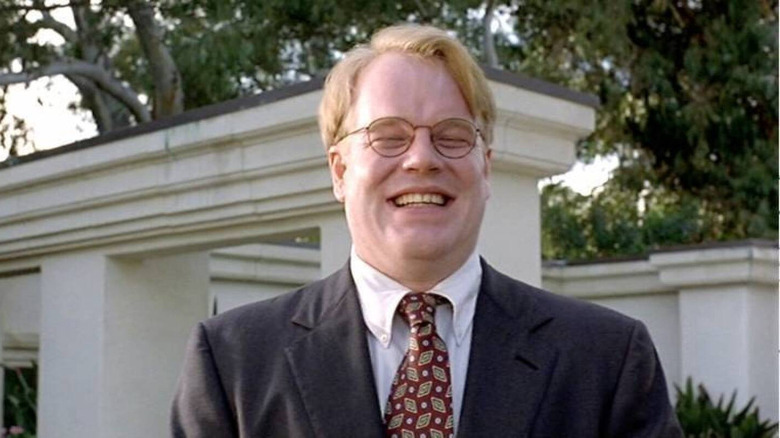 Lionsgate Television
A memo shared in Greene's book reveals a laundry list of potential actors whose names were mentioned in the early stages of casting "The Office," although many of those discussions were purely internal. Here's the full list of names mentioned:
Christopher Guest, John C. Reilly, Eugene Levy, Cedric the Entertainer, Rick Moranis, Dan Aykroyd, Matthew Broderick, Owen Wilson, Jason Lee, Steve Buscemi, Stanley Tucci, Jon Favreau, William H. Macy, Gary Cole, Hank Azaria, Robert Townsend, Jeff Garlin, Stephen Colbert, Dave Foley, Mark Mckinney, Richard Kind, Kevin Nealon, Horatio Sanz, Thomas Lennon, Dan Castellaneta, David Arquette, and Paul F. Tompkins.
In terms of "Sliding Doors" moments for TV fans, this list is a huge one. Take any three names from it and they'll give you three radically different versions of who Michael Scott could've been. Stanley Tucci's poised cool, Owen Wilson's aww-shucks sensibilities, and Eugene Levy's put-upon neuroticism, for example, all contrast wildly from both one another and from the version of the character we got with Carell. Some performers, like Steve Buscemi, seem utterly out of left field, while others, like David Arquette, seem like they just might have worked.
In terms of potential Michael Scotts, this memo seems to include the ultimately discarded long list, but the short list had even more intriguing candidates. "They made an offer to Paul Giamatti, and that was the days when movie stars did not do TV," casting director Allison Jones said, "So he said no. Then we tried Philip Seymour Hoffman and he said no as well." In the mid-2000s, television wasn't a particularly appealing landscape for big-name actors, although Giamatti would go on to take a starring role in a TV show a decade later, on Showtime's "Billions."
Missed opportunities and dodged bullets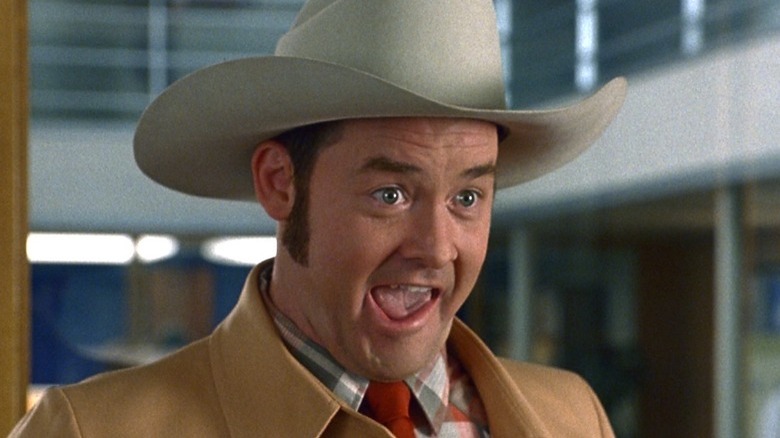 Dreamworks
In fact, several of the actors whose names were in the running ended up with successful shows of their own during the nine-season run of "The Office." According to Jones, Jason Segel tested for the part. His own beloved sitcom, "How I Met Your Mother," would end up premiering just months after "The Office." Kevin Nealon's series "Weeds" also started that year, as did Jason Lee's "My Name is Earl." 
Any casting decision would've changed the life of the star at the series' center, but at least one was a bullet dodged. According to Jones, comedian Louis C.K. read for the part, but ended up unable to take the role as he had a CBS deal at the time. The comedian would go on to guest star in another show made by "The Office" writer-producer Michael Schur, "Parks and Recreation" and create the groundbreaking series "Louie." Yet he'd also go on to admit to a disturbing pattern of sexual misconduct, one that would ultimately make his work tough to revisit. With C.K. at its center playing an inappropriate boss, "The Office" definitely wouldn't still have the love it does today.
Andy Richter, Ben Falcone, Damon Jones, and David Koechner also read for the part, according to Greene's book. The latter, Carell's "Anchorman" co-star, ultimately landing the part of the wholly inappropriate traveling salesman Todd Packer. Aside from Carell, the frontrunner seemed to be another actor who would later take on a small role in the series: Bob Odenkirk. "He was available and was a great comedic actor. He had an incredible reputation among the comedy world," executive producer Ben Silverman shared. At the time, Odenkirk was still a few years away from his turn as Saul Goodman on "Breaking Bad," and was most-known for the sketch comedy series "Mr. Show with Bob and David."
Odenkirk and Carell ended up in the right roles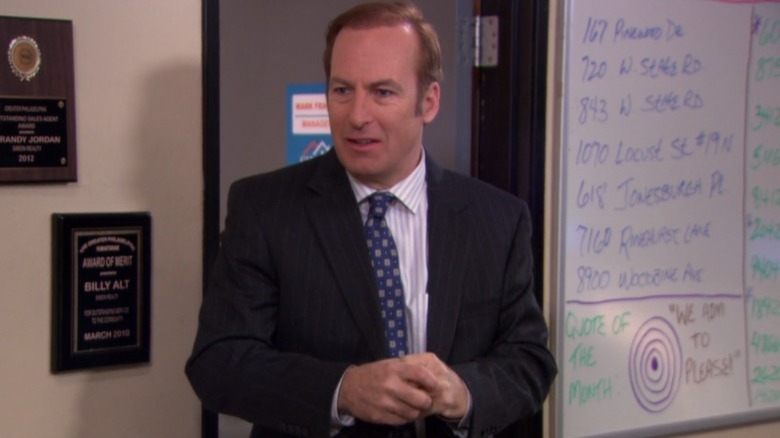 NBC
According to Kevin Reilly, who was promoted to president of NBC's entertainment division around the time of the inception of "The Office," Odenkirk was excellent in the role, and really wanted it. Yet Jones' comments hint at the complexity to his performance that would ultimately be better suited for a different, just as historic series. "Bob has an edge to him," she said in Greene's book. "His take on Michael was just as funny as Steve's, but it was darker." Silverman, who shared that the team was looking for someone with "generic Americana appeal," said they "just weren't sure Bob was soft or likable enough."
Close to two decades later, and it's abundantly clear that Odenkirk is capable of being both dark and likable. Of all the hypothetical trade-offs these casting lists inspire, none seems as poor a decision as one that would've kept Odenkirk from becoming the richly developed antihero Saul Goodman. Odenkirk would go on to play a Michael Scott-esque manager in the series' final season, while Carell embodied the character for the rest of the series, earning six Emmy nominations for his performance and a life-long spot in the hearts of "The Office" fans along the way.