Director Mark Mylod Hopes The Menu's Satire 'Speaks For Itself'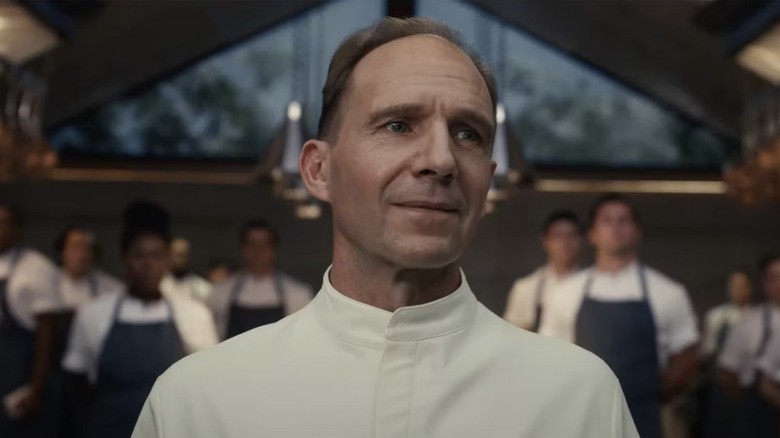 Searchlight Pictures
Mark Mylod has one of the most interesting filmographies of any director working today. The man who helmed "Ali G Indahouse" as his debut feature has gone on to direct episodes of hit TV shows like "Entourage," "Game of Thrones," and "Succession." It's his latest film, however, that has all of us thirsting for more. Mylod has been dazzling film fans with "The Menu," a film he was interested in making as a way to "reinvent [himself] creatively." The film stars Ralph Fiennes in the ultimate performance of his career, playing a world-class chef who incorporates shocking ingredients in his internationally-renowned cuisine. Our own Chris Evangelista called "The Menu" a "delightfully deranged horror-comedy-food porn mash-up" in his review, which should be enough to entice anyone to make a reservation to Mylod's new film.
Horror movies have never shied away from stories featuring questionable appetites, but it's the satirical takedown of so-called "high-class gourmet" circles that got the script from Will Tracy and Seth Reiss produced. In a recent interview with Film School Rejects, both the director and producing partner, Betsy Koch, had plenty of reasons to sink their teeth into the project. "I think for me, it sort of speaks to different levels of servitude and exploitation and all of those people that give their souls and bodies up for that," said Koch.
Layering in the metaphors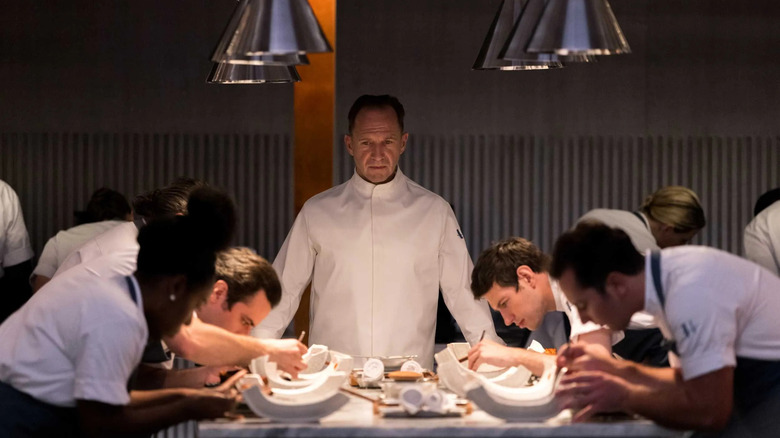 Searchlight Pictures
Betsy Koch continued with comments reflecting fellow producer Adam McKay, who also directed "Don't Look Up" earlier this year, an environmental disaster satire. "I think for McKay if you asked him, he's like, 'This feels like a transfer of resources and power and money to the ultra-rich,'" she recalled. "And so people watch the movie thinking it's 'upending the rich,' or 'eat the rich,' but there's something deeper too." As for Mark Mylod: "I like the satire to speak for itself too ... I hope it does." Film School Rejects described Mylod's response as being "hesitant," as if he was concerned the film's obvious satire wouldn't land. "That's one of the things I loved about the script," he said, adding: 
"I didn't feel like in the directing of it that I needed to hammer that [message] or put it in the foreground because it was layered in there, symbiotically linked to everything in the writing and in the storyline."
"What we did evolve together, which I found really interesting and intriguing, and one of the scary things that drew me to it was this idea of the culpability of the diners," he said, "Which led me to a massively pretentious reference of 'The Exterminating Angel.'" Mylod continued ruminating on the experience, saying, "I watched that film and just that sense of guilt, that sense of being part of the problem, part of the matrix, I thought was really fascinating." Fortunately, even one quick look at the trailer for "The Menu" indicates the satire of the film pretty prominently, so Mylod can surely put his concerns to bed.
"The Menu" cooks up in theaters on November 18, 2022.