Helena Bonham Carter Knew Playing Margaret On The Crown Would Be Tricky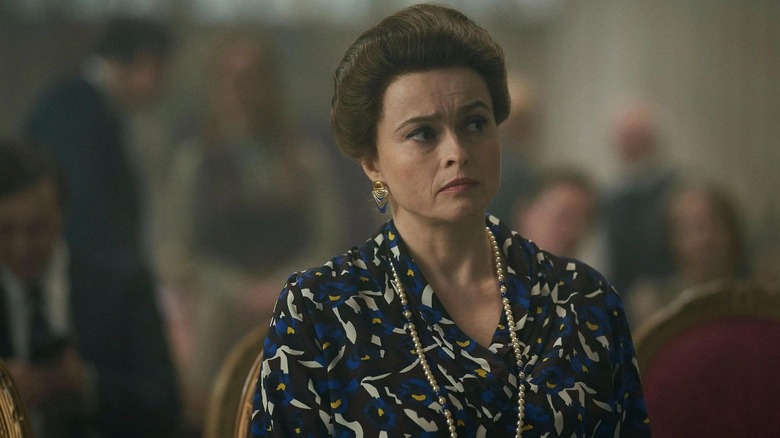 Netflix
Helena Bonham Carter takes her work very seriously — and her commitment to her performance as Princess Margaret in "The Crown" is proof of it. Before taking over as Margaret from Vanessa Kirby in the third season of Peter Morgan's lush royal drama, the 56-year-old award-winning actress embarked on a personal endeavor. While Bonham Carter knew what it was like to play a member of the British royal family before — the actress played the Queen Mother in the 2010 film "The King's Speech" — to play Princess Margaret in her noteworthy years was no easy feat. Capturing her essence to understand her better was a lengthy process for Bonham Carter. 
The actress knew she needed to have a profound understanding of Princess Margaret's life to do the part justice, and she was well aware that the role would be a tricky one. Judging from what the actress has to say, it appears that her capacity to empathize with the princess after discovering that they shared similar life experiences was of immense help.
'Margaret is about loneliness'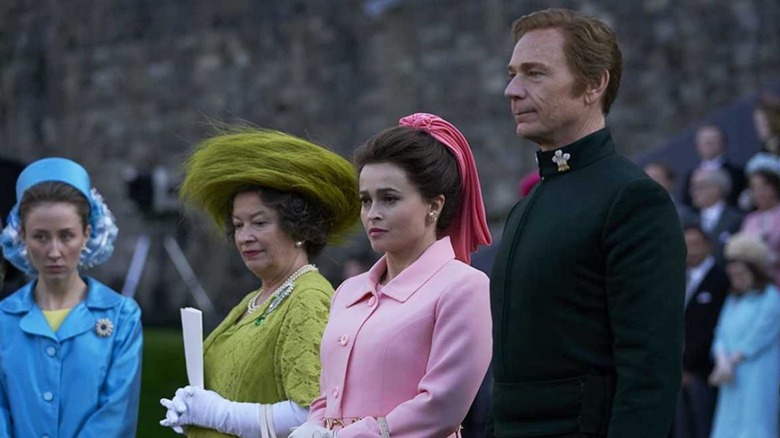 Netflix
In an interview with Vogue ahead of the show's fourth season in 2020, the actress described how she had come to learn more about the late princess. Bonham Carter spoke to the late royal's closest friends, Colin and Anne Tennant; Margaret's lady-in-waiting, and dived into dozens of biographies to read about her life. The actress also consulted the princess' astrologer — she wanted to leave no stone unturned.
Perhaps part of Bonham Carter's empathy toward Princess Margaret stems from their shared experiences. To the actress, the princess was a formidable, intelligent woman who was "tired" of being seen as tragic. She was also overwhelmed by loneliness following her divorce, which the actress suggested she had experienced in her own life. In December 2014, Carter and her husband of 13 years, filmmaker Tim Burton announced that they had amicably split, which came as a surprise to their admirers. Bonham Carter articulated how she had resonated with Princess Margaret, who had to rebuild herself, after her split from her husband, Antony Armstrong-Jones.
"In many ways, Margaret is about loneliness. She's divorced, I've gone through that myself and I know you have to make huge adjustments to your own identity, you have to reconstruct yourself because you are no longer part of a married couple."
Princess Margaret's story isn't tragic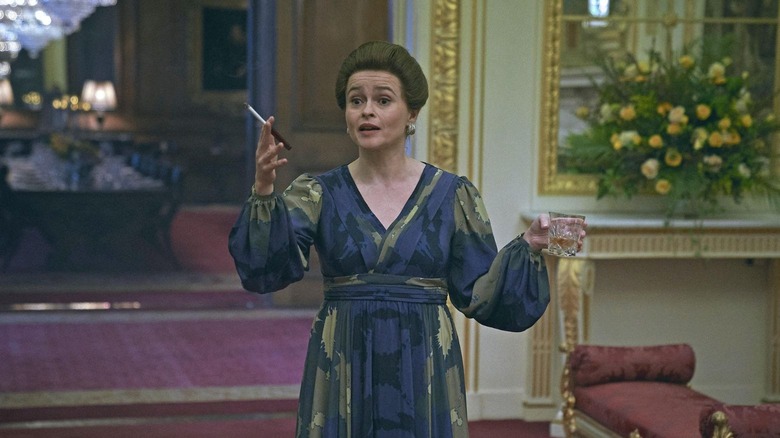 Netflix
The actor continued, praising the princess for her intelligence. When Bonham Carter met with Margaret's friend, a dancer at the Royal Ballet, he revealed to her that the late princess had quite the capacity for fun.
"Margaret wasn't someone to be pitied though, and she probably was tired of being seen as tragic. She was formidably intelligent – according to her hairdresser Josef Braunschweig she could do a crossword puzzle in around 11 minutes – and she had a huge capacity for fun. I spoke to her friend Derek Deane, a former principal dancer at the Royal Ballet (Margaret was the company's first president). He recalled at some point in the evening she would turn to him and say 'Can I go up?' and this was a cue to put her on his shoulders like in a ballet move. One time she disappeared over the back!"
Helena Bonham Carter illustrated the misunderstood and misinterpreted royal with ease and elegance, making Princess Margaret easily one of the most fascinating characters to emerge from "The Crown." With the release of season 5 on Netflix, she will have passed the baton to actress Lesley Manville.