The Crown Season 5 Review: Bad Times For The Old Royals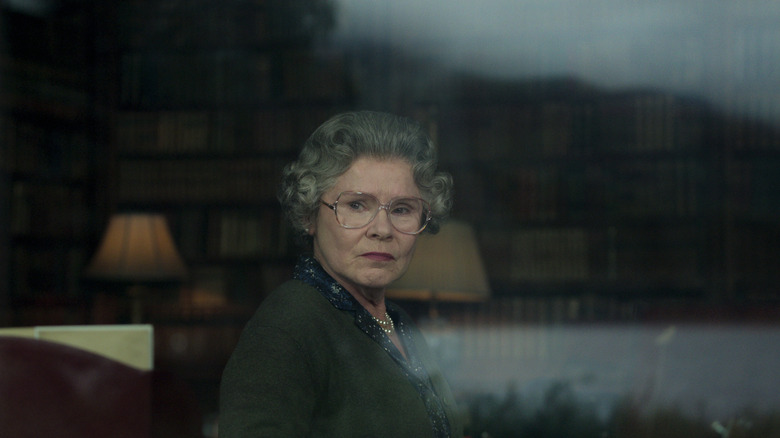 Netflix
'Even the televisions are metaphors in this place," says Queen Elizabeth II when her ancient TV suddenly goes on the fritz, its screen fuzzy and fading. It's a cheeky, winking little line from the writers of "The Crown" as the series enters an era of decline for the royal family. Things are falling apart left and right, including people's bodies, as the characters age into health problems and general malaise. It was a stroke of genius to frequently recast the characters of "The Crown" as they age because it hammers home the inevitable passage of time; the sense that the clock is always ticking, and sooner or later, it's going to run out for everyone.
As usual, "The Crown" follows Elizabeth (now played by Imelda Staunton, taking over for Olivia Colman) and her immediate family as they deal with the ever-changing times. I've long felt "The Crown" is the spiritual successor to "Mad Men" (though not nearly as good as that show) in how it unfolds its story. Each episode is able to stand on its own as a short film. At the same time, it's telling an overarching narrative that comes to a head by the time the season wraps up. Sure, "Mad Men" didn't invent this concept, but it did it so well that it stands out above so many other series, and it's clear the show was a huge influence on "The Crown." And in our current age when showrunners say boneheaded things like "This TV show is really like a 10-hour movie!", it's refreshing to have something this unapologetically episodic. 
"The Crown" season 5 heads into the '90s, and brings along a story introduced last season — the tragic tale of Princess Diana. Emma Corrin earned raves for their portrayal of Diana last season, but as good as Corrin was, they're surpassed by Elizabeth Debicki, who steps into the role this time around. Perhaps it's because, with her wigs and wardrobe, Debicki looks almost uncannily like the real Diana. But she also nails down Diana's slow, deliberate, and soft speaking style — along with her inner turmoil. Diana remains unwell, mentally, and her association with the cold, stiff, fading monarchy certainly doesn't help. Nor do the frequent, blatant infidelities of her husband, Prince Charles (Dominic West) — a persistent problem that eventually leads to the end of the marriage (spoiler alert?). 
The Diana/Charles story occupies a huge chunk of this new season, so much so that Staunton's Elizabeth recedes into the background. Indeed, even when the focus isn't on Diana, "The Crown" season 5 takes time to give other supporting characters — like Jonathan Pryce's Prince Philip — plenty of time in the limelight. It's likely intentional — like the monarchy itself, Elizabeth begins to feel like a footnote. The fact that the series is coming on the heels of the real Elizabeth's death will surely only heighten that atmosphere. 
Scandal and ruin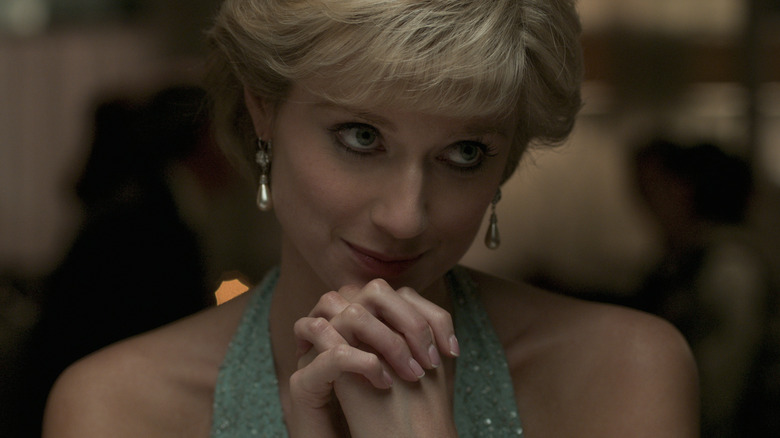 Netflix
Rot, decay, and destruction hang heavily over this season. When we first see Elizabeth she's undergoing a routine medical checkup that has her feeling old and worn down. As the story unfolds, Philip strives to feel useful again, with Pryce delivering a tender, warm performance — perhaps too warm; the other Philips on the series never struck me as this pleasant. And it's not just physical failure plaguing the royals — the public seems to have all but given up on the monarchy, calling into question their relevancy, and especially their use of public funds — Elizabeth turns to the new prime minister, John Major (Jonny Lee Miller), to help with finances to repair the royal yacht, much to the PM's concern. And later, when Windsor Castle goes up in flames, the end-times metaphors begin to grow more than a tad on-the-nose and clumsy. 
To make matters worse, the family itself is in shambles — specifically the younger generation, who are all seen as feckless and spoiled, blowing up their marriages in the process. Last season painted the royals in a particularly ghoulish light, particularly in how they treated Diana. The mistreatment of Diana continues into this season, but the characters have been softened a bit. We don't always agree with them, and sometimes they're downright foolish. But they're not as ghastly as they seemed in season 4. 
Still, trouble and scandal lurk around every ornate corner, particularly when it comes to Diana. She struggles to get out from under the thumb of the monarchy, so much so that she begins talking to journalists — first Andrew Morton, author of the tell-all book "Diana: Her Story," and then journalist Martin Bashir (Prasanna Puwanarajah), who interviews Diana for an explosive TV special. Diana also falls in love with a kind befuddled doctor (Humayun Saeed). History tells us that she later entered into a relationship with Dodi Fayed, and while the character appears here (played by Khalid Abdalla), their relationship is something being held back for next season. But the Fayed connection results in one of the season's best episodes — a flashback that doesn't focus on Dodi, but rather his wealthy father Mohamed Al-Fayed (Salim Daw) as he attempts to break into British society. It's a diversion from the main characters that expands the world of the show and introduces us to characters outside the immediate royal orbit. 
Royal pains
Netflix
Here's the thing: no amount of jokes in the script about how heavy-handed the metaphors can distract from how heavy-handed the metaphors are. The season opens with the story of the yacht in disrepair, and how its sorry state reflects both the Queen's failing health and the monarchy's troubled times. Later, an episode horrifically recreates the execution of the Romanov family to tie into a storyline about Russia following the Cold War. And Philip's hobby of fixing up old horse-drawn carriages acts as a reflection of the fading man attempting to recapture some vitality.
There's nothing wrong with any of this, though. The heavy-handed nature is baked into the recipe of "The Crown." It is a soapy, frothy, addictive show. It goes to dark places, but there's an air of disconnect to it all that makes it all go down easy, like an overly-sweet cocktail with a somewhat nasty kick. It's the gorgeous production design — all those lofty, meticulously decorated rooms — and strong performances that elevates "The Crown" above its station. Everyone is bringing it here, although some have more to do than others — Lesley Manville's Princess Margaret is woefully underused, which seems like a mistake after casting such a phenomenal performer in the role. Through it all, a horror movie-adjacent score from Rupert Gregson-Williams and Lorne Balfe paints a picture of slow-burning ruin. 
If there's a standout, though, it's Debicki, who makes Diana both frustrating and sympathetic. This season goes to lengths to hint that while the royals were no picnic, Diana had problems of her own — problems that were only made worse by her connection to the Windsors. She grows paranoid that she's being watched, spied on, even marked for death when the brakes of her car fail. Debicki's performance is both welcoming and haunted; cold and warm at the same time. 
Like the royal family depicted in its episodes, "The Crown" is winding down to a conclusion — season 6 is to be the show's last — and the overwhelming feeling of time running out lingers over the series. Relationships disintegrate, buildings burn, and institutions fall. Even the televisions are metaphors in this place. 
"The Crown" season 5 premieres on November 9 on Netflix.