Helena Bonham Carter Looked To The Stars To Understand Princess Margaret On The Crown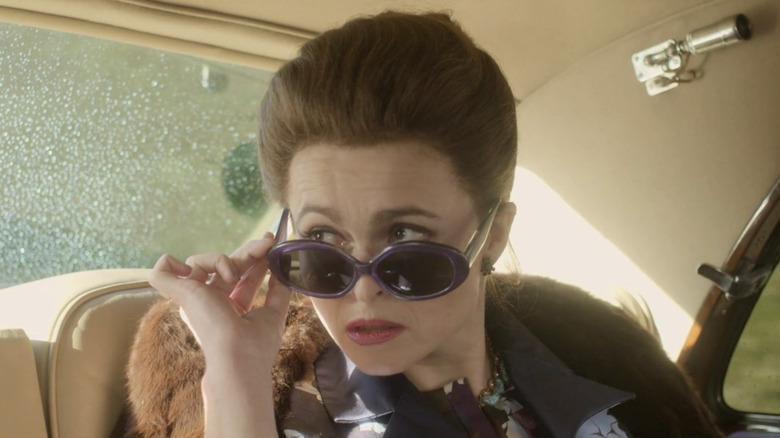 Netflix
There's been a lot of chatter regarding how historically accurate a show like "The Crown" is, but that doesn't stop its cast from putting in major work to depict the royal family with accuracy. For Helena Bonham Carter — who portrayed Princess Margaret in the third and fourth seasons of "The Crown" — the process was multidisciplinary, to say the least. "'The Crown' never professes to be a documentary," the actor told Vogue in 2020, "but a drama inspired by real people." That said, Bonham Carter was still keen to observe a certain "line of respect" when it came time to slip on the princess' trademark 4-inch tiara.
Bonham Carter approached the role of Margaret from every angle imaginable. "I've always involved a psychoanalytical approach," she said. "Even though it's a work of fantasy, you have to understand her to the point that what you are saying becomes inevitable." As the daughter of a psychoanalyst herself, Bonham Carter understands the intricate work that comes with understanding someone's inner workings, fictional or otherwise. The actress consulted every resource at her disposal, including Margaret's close friends and former lovers, biographers, therapists, and even psychics. Nothing was off the table for her research, not even the topic of astrology.
A diffrent kind of stardom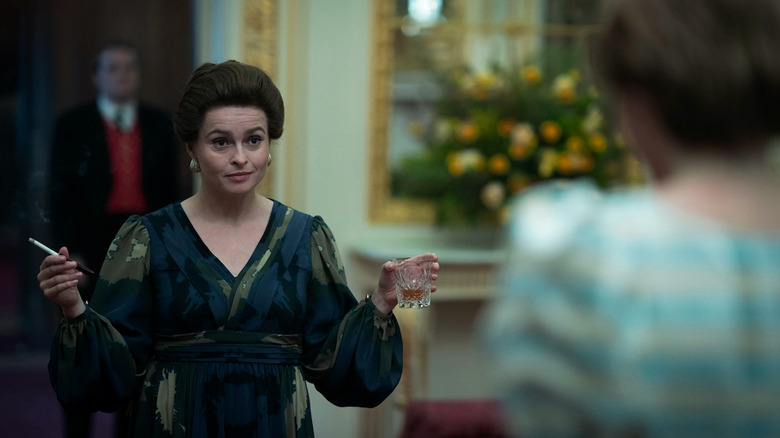 Netflix
Many hear the word "astrology" and immediately think of horoscopes in magazines like Cosmopolitan, but the practice of natal chart reading has become a much more intricate (and popular) offshoot of that simple idea. Basically, a natal chart records the position that the planets were in on the date of your birth. Say the sun was close to the constellation Scorpius. That pretty much makes you a Scorpio, right? Well, yes, and no. There are still 10 other planets that designate certain energy in your life, and when done right, a reading can be more accurate than something like the more conventional Myers-Briggs Type Indicator. It can also allegedly provide predictions about your future, but it's more often used as a way to understand exactly what makes you tick.
Of course, this probably sounds hokey to some. Helena Bonham Carter, funnily enough, is not a big fan of astrology herself. "I don't know how astrology works," she admitted to Vogue, "And frankly, I don't care." But with a figure as elusive as Princess Margaret, the actor didn't have many conventional sources that explained her inner world. Barring a conversation with Margaret's ghost (which actually was attempted!), there wasn't much Bonham Carter could do to really get inside the late princess' head. So she sought out the help of a close friend, one with great intuition when it comes to astrology:
"Darby, my astrologer friend, is laser-beam perceptive about people. Whether I'm playing Margaret or Elizabeth Taylor in 'Burton & Taylor' or Eleanor Riese in '55 Steps.' I could spend 10 days reading about one of those people, or spend 30 minutes with Darby and walk away with all their determining characteristics."
The Margaret within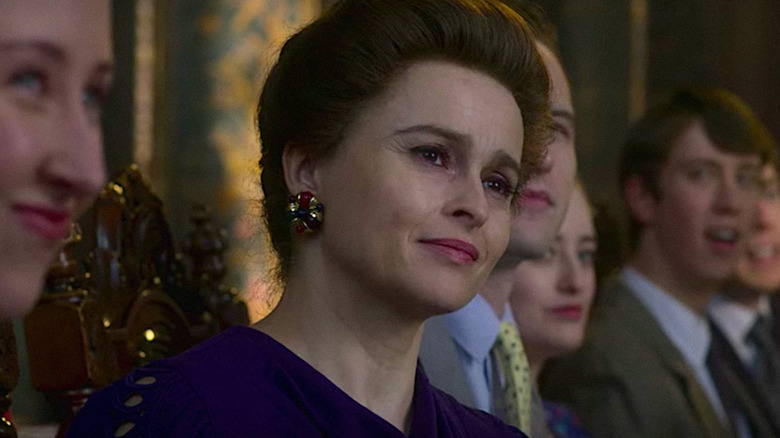 Netflix
As the late Princess Margaret was born on August 21, she was a proud Leo on the cusp of Virgo. That means she possessed the attention-seeking passion and individuality of the former along with the shrewd sensibilities (and probably a bit of the anxiety) of the latter. "She couldn't pretend to be anything but herself, so in a way she was honest and authentic, but unfortunately also incredibly rude," Helena Bonham Carter explained in an interview with Town & Country.
This matches up with the note that "The Crown" showrunner (and main scribe) Peter Morgan gave to Vanessa Kirby, who played Margaret in the show's first two seasons. "Act as if there's something pinching your foot inside your shoe," Morgan apparently told Kirby, and it's something that likely informed Bonham Carter's portrayal as well. "If a person is in pain, if they're feeling vulnerable, that's when they're most likely to attack someone," she told Vogue.
Bonham Carter may not fully understand astrology, but she doesn't seem picky about the sources she uses to get into character. Of course, her extensive research likely went a long way as well. With all those efforts combined, she still came away with just about everything she needed to know about Princess Margaret that few actually saw.