Squid Game Star Lee Jung-Jae Finds The Show's International Success Upsetting For A Very Specific Reason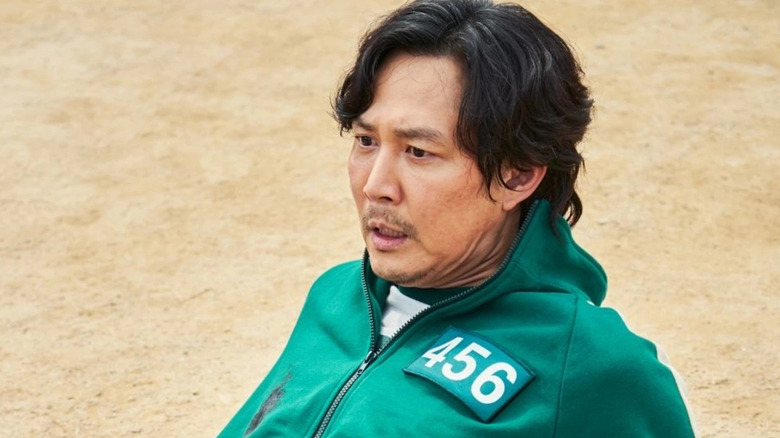 Netflix
The sophomore season of "Squid Game" may be far off from its release, but in the meantime, the series' influence is still very much thriving. Last September, the Netflix horror satire about a deadly game show, where the contestants are murdered if they lose, took the world by storm. Cosplays, TikTok challenges, and YouTube recreations were flooding out at a moment's notice. But while the series' iconography is one of the driving forces behind its cultural footprint, the real reason why this show works is because of the characters at the center of this demented twist on children's games.
"Squid Game" boasts an incredible ensemble, especially with Lee Jung-jae as Seong Gi-hun, a desperate father who only wants to be available and provide a better life for his daughter. While there are plenty of characters you come to love and empathize with, Gi-hun is the heart of the show. A large swath of U.S. audiences came to know the actor's work through the Netflix series, but Jung-jae has had an illustrious career in the industry for decades now.
As of late, not only will Jung-jae soon release the spy thriller, "Hunt," a film he wrote, directed and starred in, but he'll also be seen in an undisclosed lead role in the upcoming "Star Wars" television show, "The Acolyte," along with Amandla Stenberg and Jodi Smith-Turner. Even with all of the projects he's got lined up, however, "Squid Game" will no doubt mark a huge turning point in his career.
That said, with the series out in the world, Jung-jae can't help but view the show's success through a complicated lens.
The depressing reality of the show's resonance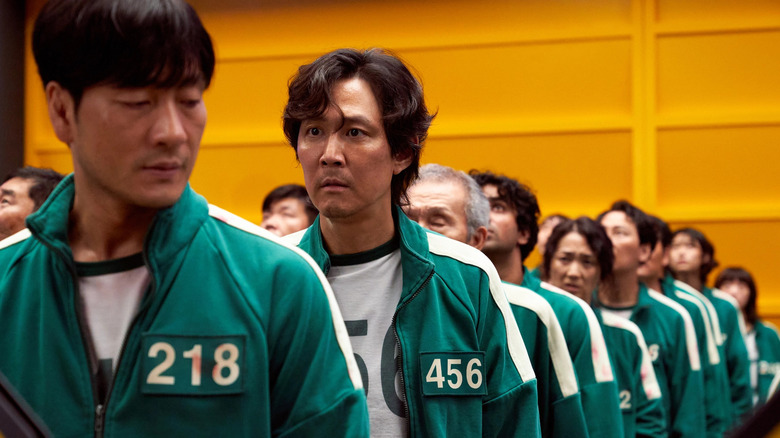 Netflix
In a profile with The Guardian, Jung-jae talks about how much the success of "Squid Game" means to him, especially in how folks are now seeking out more Korean projects. "I'm happy about it, of course," he said, "[...] but it's bittersweet."
Within everyone relating to the series comes a dark realization from Jung-jae about the sad and fragile state of our world:
"If you think about the themes of 'Squid Game' — how far are we willing to go to accumulate personal wealth; the lengths people are forced to go to — the fact it resonated with so many around the world is worrying. You get a sense this is the reality for so many people globally. And that makes me feel hugely sad."
Much like what happened with "The Hunger Games," we like to see what kind of decisions we would make in order to survive. Whereas that franchise sees children being forced to participate or die under fascist leadership, the contestants of "Squid Game" are manipulated to play on account of the world's systemic failings as it currently is.
The Hopscotch challenge becomes less fun when you have to think about whether you would sabotage the life of another human being so that you may live to see a potential future of riches. Most folks are barely getting by as is. After all, the horror of the series derives from how quickly folks would be eager to take part in the death lineup, and whether they would turn against their morals if it meant survival.
The irony is that Netflix isn't wasting any time to make that vision a reality ... sort of.
The reality show complicates matters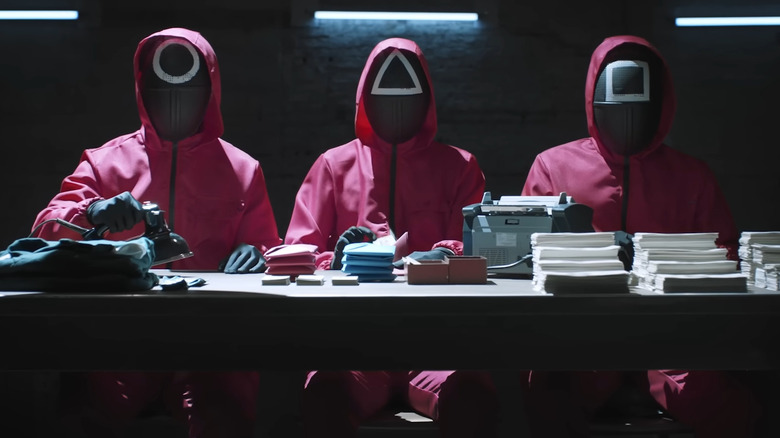 Netflix
It was inevitable that someone would try to capitalize on the success of "Squid Game" by actually turning it into a reality game show, with over 456 players vying for an unprecedented $4.56 million cash prize.
While attending the Emmys, at which he took home an award for Outstanding Directing for a Drama Series, "Squid Game" creator Hwang Dong-hyuk talked about how the existence of "The Challenge" shouldn't raise any alarms (via Variety):
"I think that even though our show does carry quite a heavy message — and I know that there are some concerns on taking that message and creating it into a reality show with a cash prize — I feel like when you take things too seriously, that's really not the best way to go for the entertainment industry."
I see what Dong-hyuk is trying to say. Unlike the series, the folks behind the reality show won't actually murder people if they can't complete a game of red light, green light. But as /Film's BJ Colangelo masterfully lays it out, this endeavor makes it feel like the Netflix executives missed the entire point of the show. Media literacy is important, folks.
Taking murder out of the equation, "Squid Game: The Challenge" will still be stringing along 456 souls, most of whom need this money to survive in a continually collapsing economy. I can't help but feel a little icky knowing how many people are suffering, but what does this kind of social experiment mean if it can't be broadcast to Netflix subscribers around the world?
Every episode of "Squid Game" is currently streaming on Netflix.