Hunt Review: An Intense And Unpredictably Twist-Filled Korean Spy Thriller [Cannes]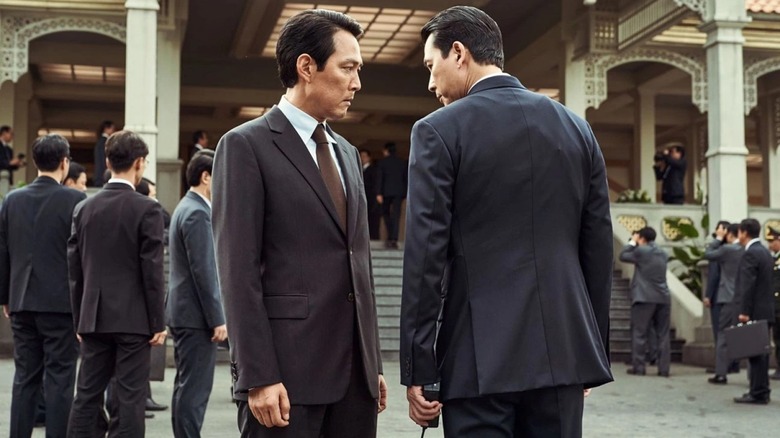 Megabox Plus M
Continuing to show that Korean thrillers are just on a whole other level, Lee Jung-jae makes his directorial feature debut with "Hunt," an action-packed spy thriller with plot twist upon plot twist upon plot twist, and not a single care for whether the audience can keep up with its convoluted story. Loaded with well-choreographed action that feels straight out of a Michael Mann movie, "Hunt" takes place in 1983, just four years after South Korean dictator Park Chung-hee was assassinated by the chief of his intelligence agency, ending 16 years of violence and abuse of power. Except his death only led to more violence as a new president gained power via a military coup, and it's clear he is not above massacring hundreds of demonstrators. 
So when there's an assassination attempt on the new president, the idea of another mole in the Korean Central Intelligence Agency stops sounding far-fetched, so the foreign and domestic branches of the agency set out to investigate and outmaneuver one another to try to protect their boss and find a supposed North Korean mole in the agency.
A very twisty spy game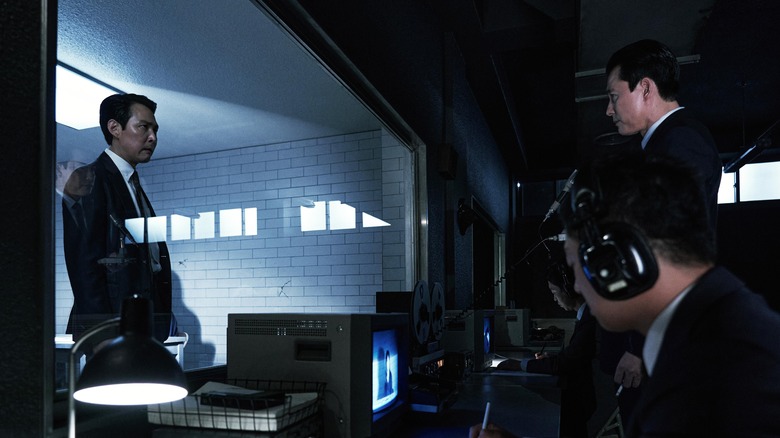 Megabox Plus M
Lee does a commendable job as a first-time feature director, with a confinement sense of pace and framing that keeps "Hunt" thrilling and engaging despite its 131-minute runtime. Just when the film begins to slow down, a new twist is introduced, or a new character, or an entirely new storyline, and all of them get a proper pay-off before being replaced by new twists, characters, and storylines. The worst thing to be said about the movie is that its plot can be quite convoluted most of the time, with Lee and his co-writer Jo Seung-hee trying to cram every single spy thriller concept into a single movie, without a single care given to logic or cohesion. 
There are plot twists on top of plot twists, on top of flashbacks introduced at the very end for the specific purpose of serving as a plot twist. "Try to keep up or get lost!" seems to be the number one mandate here, and if you blink or go to the bathroom you'll get immediately lost.
Though American audiences most likely just got acquainted with Lee through super-hit "Squid Game," he does not let his status as a veteran superstar in Korea go to waste behind the camera. The co-writer and director also stars as KCIA chief Pyung-ho, a man who is equal parts Jack Bauer — quick to disregard rules, torture prisoners, and lie his ass off to get his way — and dapper Don Draper. Even without the ridiculously entertaining plot twists and the thrilling gunfights, "Hunt" works because of Pyung-ho's relationship with his rival/friend agent Jung-do (Jung Woo-sung), with the two constantly working against each other while also having a rather friendly rapport.
A treat for Michael Mann fans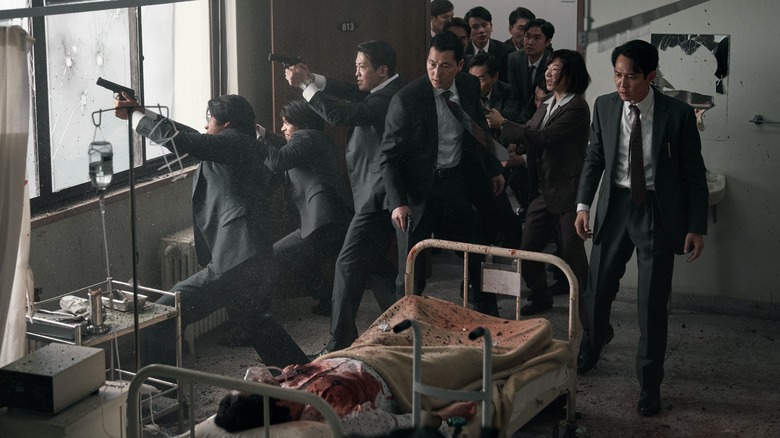 Megabox Plus M
Though there is some poignant commentary on the damage of sustaining power through secrets, and about the dilemma of doing your job protecting a man versus wanting to do what is right for the people suffering under his leadership, "Hunt" seems more interested in providing a thrilling mystery than commenting on a part of history that is already deeply familiar to its target audience (even if the actual plot is fiction). The central question of who this mole is ends up making less sense than the Riddler plot of "The Batman," but it is far more engaging and surprising.
The real star of the film, however, is the meticulous action. A far cry from the shaky cam so common in mainstream American action movies, cinematographer Lee Mo Gae finds inventive angles to frame scenes we've seen a million times before. It helps that "Train to Busan" stunt coordinator Heo Myeong-Haeng is credited as the director of the action sequences, as he makes the many, many gunfights feel grandiose and operatic, like a Korean version of "Heat." There may be much bigger premieres at Cannes this year, but it's hard to imagine one with a higher body count or with cooler action scenes.
By the time the film ends, it brings yet another fantastic twist that recontextualizes everything we saw before, and you'd be forgiven for scratching your head trying to see if you missed some crucial detail before. Though "Hunt" does not break the spy thriller mold, it does provide plenty of thrills that should play like gangbusters.
/Film rating: 8 out of 10
"Hunt" premiered as part of the Cannes Film Festival 2022.