The Willow Sequel Was Born Out Of The Chaotic Production Of Solo: A Star Wars Story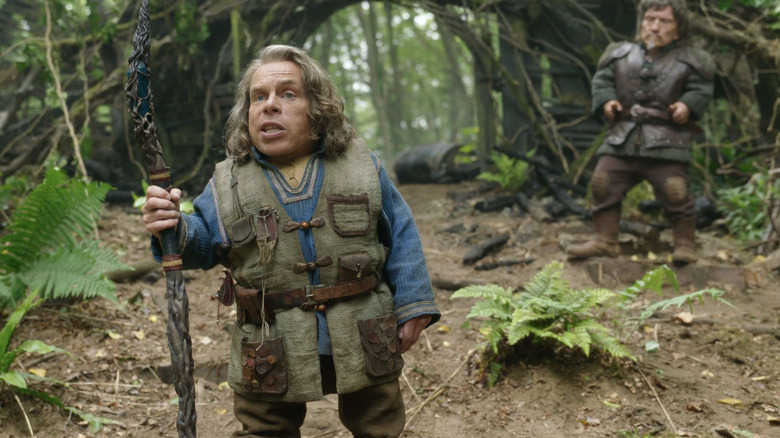 Lucasfilm
The fact that there haven't been any more anthology "Star Wars" films following the release of 2018's "Solo: A Star Wars Story" should be telling enough that the Alden Ehrenreich-led prequel movie wasn't what Lucasfilm was expecting. The production of "Solo" was filled with behind-the-scenes drama, especially when the original directors of the project, Phil Lord and Chris Miller, exited the project in the middle of production. Director Ron Howard was left to pick up the pieces, and the end result is a mixed bag of a film. While the lead performances are endearing, the story "Solo" tries to tell ends up feeling derivative and wholly unnecessary, filling in gaps to things people already knew.
While the production of "Solo" may have been stressful and chaotic, there are still silver linings for those involved. Specifically, the creation of the upcoming "Willow" sequel series on Disney+ may not have ever happened if not for the gathering of particular members of the crew of "Solo." More than that, the conversations had on set also showed that the landscape for storytelling was changing, allowing for new and different opportunities that didn't rely on box office revenue.
Finding opportunity in difficult times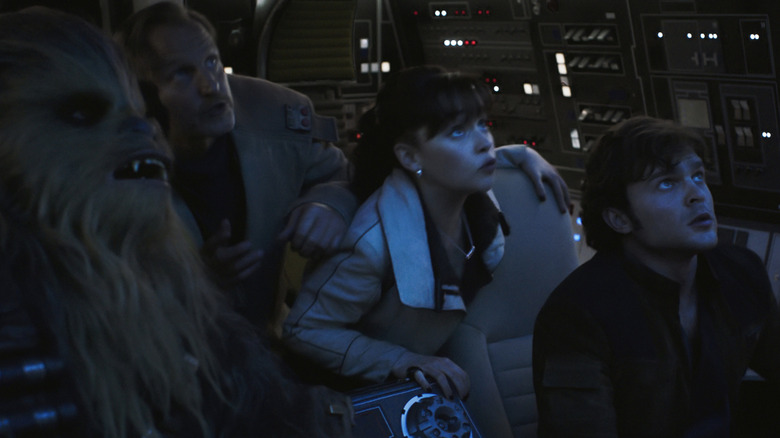 Lucasfilm
In an interview for the December 2022 issue of Total Film (on sale November 10), Jonathan Kasdan, the showrunner and co-writer of "Willow," recalled how the series came together during the more hectic moments while making "Solo: A Star Wars Story:"
"I'll be frank; the show came together in two troubling moments [during 'Solo: A Star Wars Story]. We were behind schedule in the Canary Islands when I first met Warwick and told him, 'I'm going to ask Kathy [Kennedy] to let me make a sequel to 'Willow.' And he sort of lit up a little. And then I was like, 'Oh s***, and now I've really got to make this happen!' [Laughs]"
Warwick's role as one of the members of Enfys Nest in "Solo" was only one half of the "Willow" reunion found on the set of "Solo." It was directors Lord and Miller's replacement, Ron Howard, who would be the other half of the serendipitous reunion that would help solidify the plans for a sequel to "Willow." Moreover, Ron Howard's critical insight into the future of storytelling would turn the sequel to "Willow" into a series rather than a feature film as Kasdan had initially planned.
Taking advantage of the streaming landscape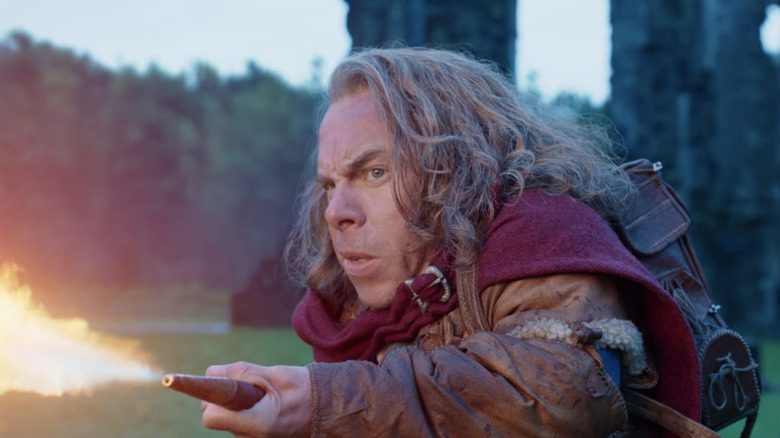 Lucasfilm
In the same interview, Kasdan talked about his conversation with Ron Howard, who had directed 1988's "Willow." When Kasdan made his intentions known to Howard to write a sequel, the "Solo: A Star Wars Story" director provided a different perspective:
"Then Ron [Howard] came in to help us out [on 'Solo'], which, as you can imagine, was another fraught moment. But when I met him for the first time, I told him I was a huge 'Willow' fan and that maybe we could make [a sequel] happen. And then when they launched Disney+, Ron was like, 'This is how we're going to get this going [as a series rather than a movie]. You can just air it, and you won't have to deliver an $80m opening weekend.'"
While the circumstances that led to the "Willow" series being created were stressful and chaotic, Kasdan's ability to find new stories to tell despite the stress is inspiring. Even more interesting is Ron Howard's realization of the potential for Disney+, allowing creators to tell compelling stories without the pressure of box office revenue. While the parameters for "Willow" to be considered successful have changed now that it's a series, only time will tell if the series will find success and an audience on streaming.