Willow Series Takes Place 20 Years After The Movie, Will Feature The Return Of Sorsha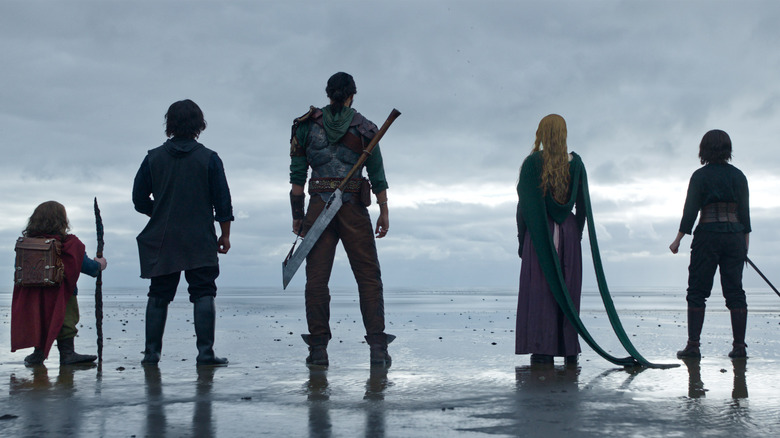 Disney+
We may receive a commission on purchases made from links.
In 1988, five years after the conclusion of the "Star Wars" original trilogy, George Lucas tried his hand at another original fantasy saga. Despite months of hype that began with a tantalizingly opaque teaser, "Willow" fell far short of Lucas's box office expectations (according to John Baxter's "Mythmaker: The Life and Work of George Lucas," the producer had hoped it would do business on par with "E.T. – The Extra-Terrestrial"). But over the years, the Ron Howard-directed film gradually found a fervent following. People fell in love with Warwick Davis' plucky, would-be wizard Willow Ufgood, and his quest to safely deliver infant Elora Danan, the future Princess of Tir Asleen, to sorceress Fin Raziel, who must defeat the evil Queen Bavmorda of Nockmaar.
While the plot was tied up pretty neatly at the end of the movie, fans have long clamored for a sequel. Their prayers were answered when Lucasfilm announced plans for a "Willow" series to be aired on Disney+. Today, at the 2022 Star Wars Celebration in Anaheim, California, the Ufgood faithful got their first look at the teaser, and also heard from series executive producers Howard and Jonathan Kasdan (who co-developed the series with Wendy Mericle).
The return of the sorceror
Kasdan told the Celebration crowd that he was a mere seven years old when he saw the teaser for "Willow." At the time, he was convinced it would be "bigger than 'Star Wars'." "It wasn't," said Howard. Nevertheless, when Kasdan and his legendary screenwriter father Lawrence Kasdan co-wrote "Solo: A Star Wars" for Howard, he approached the director about making a "Willow" sequel series for Disney+. 
"Jon and I would talk about 'Willow' all the time between setups on 'Solo,'" said Howard. "I always thought we could do 'Willow' as a series, because George believed in that format." Kasdan concurred, but maintained that his involvement was contingent on the return of Davis as Willow. Per Kasdan, "You don't have 'Willow' without Warwick Davis."
Davis was then brought out on stage to raucous applause. He confessed to feeling a bit "old" in reviving one of his best-known roles, but averred that a "Willow" series "is something I've always wanted to do." Davis was joined onstage by Joanne Whalley, who's also back as the fierce warrior Sorsha. "It's incredible to be here," she said. "And I still can't quite — I'm back with the sword. I've got Sorsha's sword in my hand."
A new generation of warriors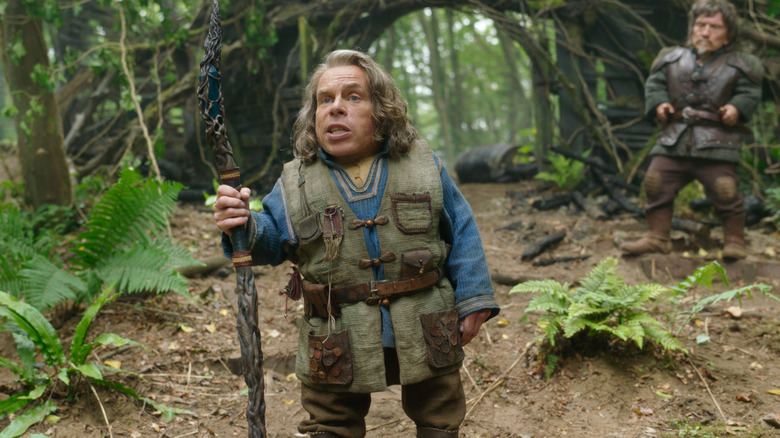 Disney+
The new series takes place 20 years after the movie, or about 250 moons in Willow speak. Ruby Cruz joins the saga as Kit, the (what else?) warrior daughter of Sorsha and Madmartigan (Val Kilmer) who sets out to rescue her twin brother. Ellie Bramber plays Dove, a maid who falls for Kit's brother, while Erin Kellyman co-stars as Jade, a servant who dreams of becoming a warrior like Kit. Their quest leads them to seek the aid of Willow, who is now a powerful sorcerer.
"Willow" hits Disney+ on November 30, 2022.
An epic period fantasy series with a modern sensibility set in an enchanted land of breathtaking beauty, "Willow" features a diverse international cast with Jonathan Kasdan, Ron Howard, Wendy Mericle, Kathleen Kennedy, and Michelle Rejwan serving as executive producers. The story began with an aspiring magician from a Nelwyn village and an infant girl destined to unite the realms, who together helped destroy an evil queen and banish the forces of darkness. Now, in a magical world where brownies, sorcerers, trolls, and other mystical creatures flourish, the adventure continues, as an unlikely group of heroes set off on a dangerous quest to places far beyond their home, where they must face their inner demons and come together to save their world.