Why Solo: A Star Wars Story Bombed, And What We Can Learn From It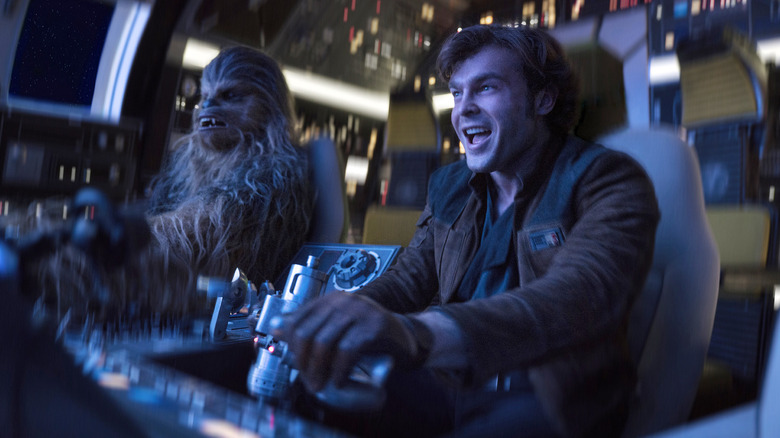 Disney/Lucasfilm
To date, Ron Howard's "Solo: A Star Wars Story" is the only "Star Wars" film to lose money at the box office since George Lucas launched the blockbuster space opera franchise in 1977. The movie follows a young Han Solo (played by Alden Ehrenreich) as he goes from being a romantic street urchin working for a small-time gang on his home planet of Corellia to becoming the swaggering, cynical smuggler famously brought to life by Harrison Ford in "Star Wars: A New Hope." As has become a recurring issue for "Star Wars" of late, "Solo" struggles to overcome its prequel trappings. It reveals little about Han as a character that audiences didn't already know beyond how he met Chewbacca, how he got all his stuff, and, in the film's most eye-roll worthy moment, how his last name came to be.
For an origin story that plays things way too safe, "Solo" is far from the worst "Star Wars" movie. The film draws heavily from the motifs of classic Westerns, delivering thrilling train heists and shoot-outs in-between captivating scenes where Han fights to survive, rekindles ties with his childhood sweetheart Qi'ra (played by Emilia Clarke), and risks his future on card games with a smooth-as-silk Donald Glover as Lando Calrissian. It also brings the seedy underbelly of a galaxy far, far away to visually-striking life in ways that no other "Star Wars" film has, courtesy of Bradford Young's stylishly murky, muted cinematography. What's more, when you consider its production troubles, it's kind of a miracle "Solo" managed to avoid becoming a giant mess.
A disturbance in the Force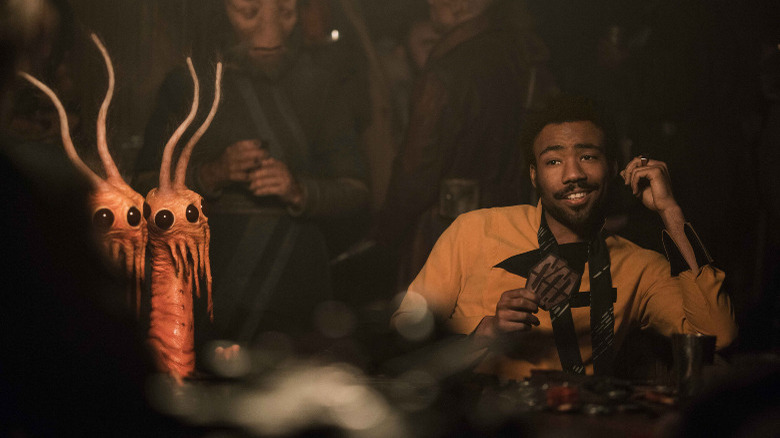 Disney/Lucasfilm
"Solo" was one of two "Star Wars" spin-off movies announced by Disney after its purchase of Lucasfilm in 2012, along with "Rogue One." The film was initially meant to have a fairly modest budget for a modern tentpole, with a projected cost of $125 million. In theory, this would've also afforded its director greater creative freedom to imprint their vision on the franchise. Lucasfilm would go on to hire "21 Jump Street" and "The LEGO Movie" helmers Phil Lord and Chris Miller to oversee the movie, drawing from a script by "Star Wars: The Force Awakens" co-writer Lawrence Kasdan and his son Jonathan Kasdan.
All seemed to be going well in the public's eye until Lucasfilm fired Lord and Miller with just three weeks left of principal photography, citing creative differences. It's been reported the duo envisioned the film being an action-comedy similar to the tone of their earlier work and allowed for a good deal of improv on-set, much to the concern of its producers (especially Lawrence Kasdan). Not long after, Ron Howard was brought onboard to replace them. He had previously directed Lucasfilm's fantasy-adventure "Willow" in 1988 and even starred in George Lucas' breakout movie "American Graffiti" all the way back in 1973.
Howard wound up overseeing heavy reshoots on "Solo," causing its budget to swell to $275 million. The film would go on to open in theaters in May 2018, grossing a franchise-low $393.1 million. Its failure had a huge impact on Lucasfilm's plans for the future. Developing films centered on Boba Fett and Obi-Wan Kenobi were later scrapped and re-configured as limited series for Disney+. In April 2019, now-former Disney CEO Bob Iger confirmed the "Star Wars" movies would take a break after "The Rise of Skywalker" later that year.
Never tell me the odds!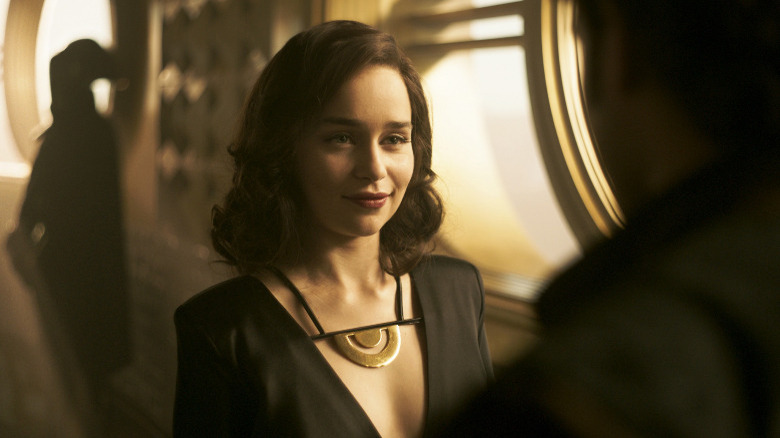 Disney/Lucasfilm
It's possible the main factor that led to "Solo" bombing was its release date. The film came out a mere six months after "Star Wars: The Last Jedi," at a point when many "Star Wars" fans too were too busy debating Rian Johnson's polarizing sequel to care about yet another prequel. In September 2019, Bob Iger admitted Disney had pushed out too many "Star Wars" movies too quickly, stating, "I just think that we might've put a little bit too much in the marketplace too fast." It didn't help that "Solo" had much heavier competition to deal with than Disney's other "Star Wars" films had, including "Avengers: Infinity War" and "Deadpool 2."
The other major factor was cost. Had "Solo" stuck with its original budget, it would've made a healthy profit despite being the lowest-grossing live-action "Star Wars" movie to date. This might've also encouraged Disney and Lucasfilm to continue producing less costly spin-off films, allowing the franchise to further experiment with different tones and re-casting famous characters like Han Solo. Instead, the studios wrongly assumed a "Star Wars" movie would be a huge hit at the box office no matter when it's released or what it's about, spurring them to go recklessly overboard with their spending on the reshoots.
If nothing else, "Solo" bombing shows why studios would do well to focus less on trying to break the bank every time they green-light a tentpole and more on supporting filmmakers in realizing their unique visions. In rushing to make a "Star Wars" movie they believed would appeal to as many people as possible, the Mouse House and Lucasfilm simply ended up shooting themselves in the foot instead. It's little wonder so many directors are wary about getting to make their "Star Wars" movies now.