Mel Brooks First Words To Gene Wilder Were A Joke About Urine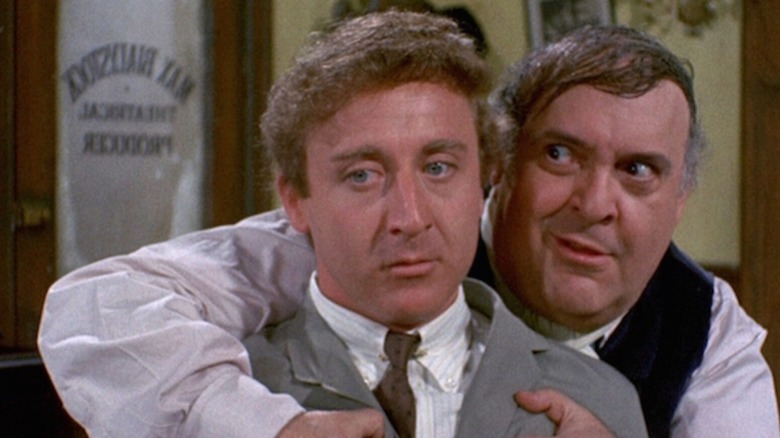 Embassy Pictures
Actor Gene Wilder and writer/director Mel Brooks had a blessed relationship, and the two of them collaborated on three of the funniest comedies of all time. In "The Producers" (1967), Wilder plays the nebbish Leo Bloom, a fearful, meticulous, and very shy accountant who is convinced by con man Max Bialystock to come out of his shell. In so doing, he is also convinced to cook the books for a flop Broadway show and embezzle the earnings. In "Blazing Saddles," Wilder plays Jim, a.k.a. The Waco Kid, a once-legendary gunfighter who has fallen into alcoholism. In "Young Frankenstein," Wilder finally took the lead, playing the embarrassed grandson of horror's famed corpse-reanimator who returns to an inherited castle to pick up the family line. Had Brooks and Wilder never made any additional films, they would still be considered invaluable cinematic geniuses for those movies alone. 
As it so happens, the first meeting between Brooks and Wilder was something of an informal affair. In a 2005 video interview with the BBC, Wilder recalls the occasion. 
In the 1960s, Wilder's career was mostly on stage. In 1963, he appeared in a stage production of the Berthold Brecht play "Mother Courage and her Children." Wilder played the Chaplain in the show, one of Brecht's many productions about the evils of fascism. He shared the stage with Anne Bancroft, the headliner at the time. The production also starred Barbara Harris. The play only ran from March to May of 1963, totaling only 52 performances, but that was long enough for Bancroft's boyfriend, Brooks, to be introduced. 
Urine luck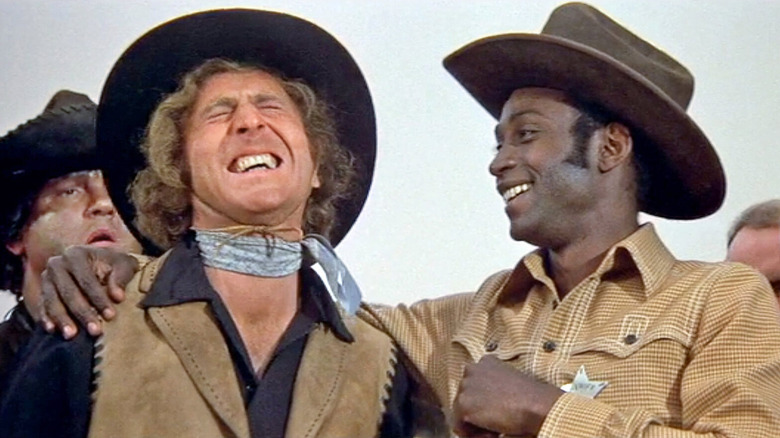 Warner Bros.
Brooks and Bancroft would, of course, marry the following year and they would stay married until her death in 2005. At the time, they were merely dating. Brooks was, at the time, a comedy luminary on TV and radio, writing and performing "The 2,000-Year-Old Man" in 1960, and working on "Your Show of Shows" and "Caesar's Hour" going back to 1950. Wilder, upon seeing brooks for the first time, was dazzled by the man's wardrobe, inviting a urine-based exchange. As Wilder tells it: 
"I did 'Mother Courage' with Anne Bancroft, whose boyfriend was Mel Brooks, whom I'd never met. And Anne said, 'I'd like you to meet my boyfriend, Mel.' And I came backstage after the performance one night, and there he was in this beautiful ... what they used to call pea jackets. Merchant Marine black, thick jacket, keep you warm ... it was pretty chilly out. And he was wearing that, and I said, 'Oh, and how lovely to meet you,' and 'well you look so handsome in that pea jacket.' He said, 'Yeah, they used to call them urine jackets, but they didn't sell!'"
It was a memorable first encounter. Vintage wool pea jackets can easily be found on eBay these days, but they were hefty, classy pieces of clothing in 1963. While Brooks repeatedly watched "Mother Courage" for Bancroft, he did, as a result, see Wilder perform multiple times as well. That was enough to allow Wilder to drift into consideration for a screenplay he was working on. Brooks invited Wilder to his home on Fire Island, already a growing haven for the queer community, and a lovely living spot for Brooks and Bancroft.
The script that became The Producers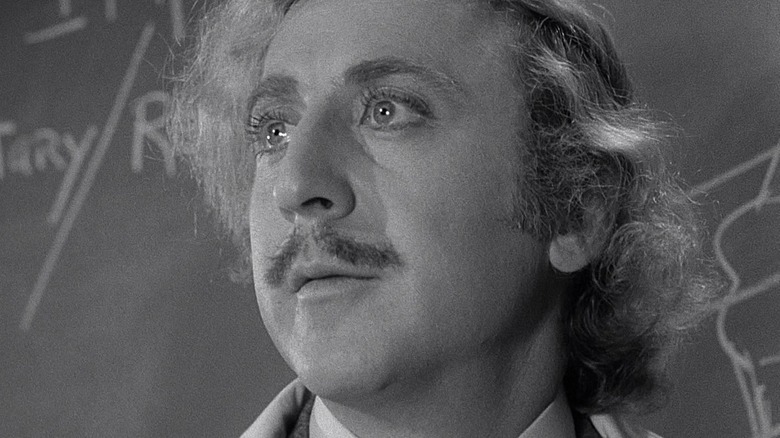 20th Century Fox
As Wilder tells it, the urine joke was a light moment, and led directly into a lucrative working relationship for the both of them. In his words: 
"So I started laughing, and then he watched me perform in that play, 'Mother Courage,' so many times that he said, 'Would you like to come to Fire Island' — which is a little island off of Long Island — 'one weekend, as I've written a screenplay and I'll read you the first 30 pages. It's called 'Springtime for Hitler." I said, 'Well, I'd like that very much.' So I went one weekend, and we had a nice dinner that Anne cooked, and then Mel read the first 30 pages. And they're almost the same as, the script is, as it is in the movie 'The Producers' now."
Wilder continued with a fraught story about how years had to pass before he was able to appear in "The Producers." At first, there was a scheduling conflict when Wilder was unable to leave a Broadway production of "One Flew Over the Cuckoo's Nest" (opposite Kirk Douglas) to film a movie. Three years later, Brooks re-contacted Wilder about playing the Leo Bloom role, as he had finally secured funding. Brooks was keen to include Wilder, but his already on-board co-star Zero Mostel had stipulated that he could hold auditions for Leo himself. 
Mostel, in another bizarre introduction, grabbed Wilder and kissed him on the lips for a long, long time. If Wilder was nervous before, he certainly wasn't now. 
Wilder got the part. The rest is a matter of comedy legend.