The 15 Best Gene Wilder Movies, Ranked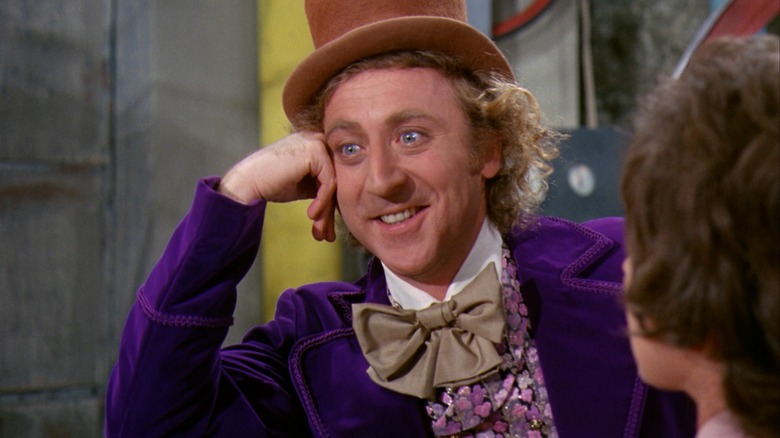 Paramount Pictures
In the realm of beloved entertainers, Gene Wilder is one who holds a special place in our collective hearts. The comedically gifted actor graced us with a variety of memorable roles over the course of his career, but his characters always displayed a special kind of charm.
Possessing an intelligent, calmly knowing exterior with a barely restrained manic energy simmering beneath the surface, Wilder exuded the air of someone acutely aware of the madness of the world, but also of its beauty, and he breathed that uniquely appealing energy into every character he played, often to hilarious results.
Thanks to these qualities, and his undeniable talent, we can count more than one of Gene Wilder's movies among the most iconic comedies ever made. We've ranked those here, along with some of his other best films. There's no way of knowing which direction we are going, as we present the best Gene Wilder films, ranked.
15. Hanky Panky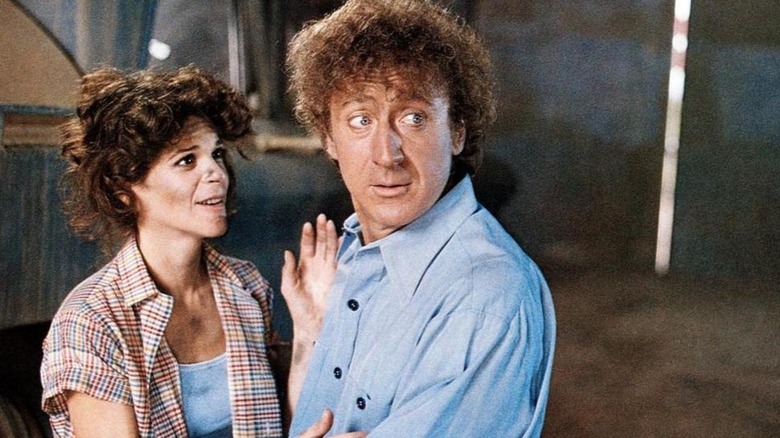 Columbia Pictures
One of several notable partnerships in Gene Wilder's life was his iconic marriage to another comedy legend, Gilda Radner. The duo first met on the set of the Sidney Poitier-directed "Hanky Panky" (1982), which would be one of three movies they starred in together before Radner sadly passed away due to ovarian cancer in 1989.
In "Hanky Panky," Wilder stars as Michael Jordon, a New York City architect who unwittingly becomes involved in a spy-like game of cat and mouse after meeting a woman (Kathleen Quinlan) in a cab who gives him a package, then later winds up dead. Suddenly finding himself the prime suspect in her murder, Michael goes on the run, where he meets Kate (Gilda Radner), whose murdered brother is also involved in the mystery. At first believing each other is the killer, the star-crossed pair then work to solve the mystery of who's chasing them and what's in that darn package that everyone wants.
While it might not be the best Gene Wilder film, Hanky Panky is a fun enough comedy caper that showcases both Wilder and Radner's talents, as well as their on-screen chemistry.
14. Haunted Honeymoon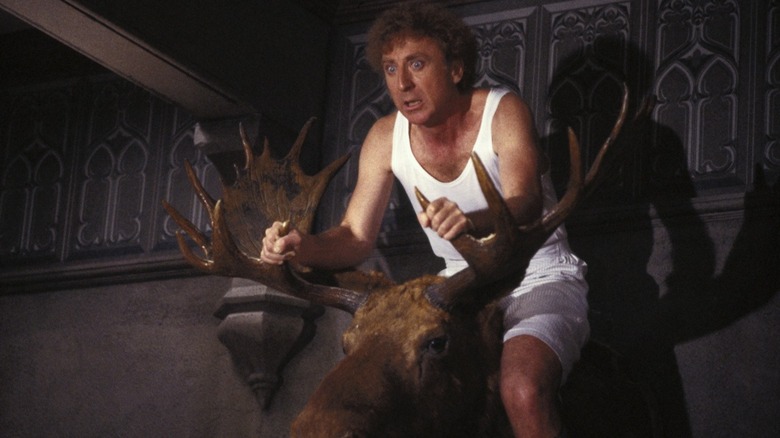 Orion Pictures
Edging out "Hanky Panky" by just a bit is Wilder and Radner's third and final on-screen pairing, the comedy chiller romp, "Haunted Honeymoon" (1986), which has the bonus element of taking place at a haunted mansion. Spooky.
This time, Wilder stars as Larry Abbot, a radio host who is newly engaged to his co-host of "Manhattan Mystery Theater", Vickie Pearle (Radner). However, Larry comes down with a case of the pre-wedding jitters, at which point his psychiatrist uncle, Paul (Paul L. Smith) decides a bit of "scare" therapy will help. The couple travel to Larry's childhood home for their wedding, where they encounter Larry's Aunt Kate (Dom DeLuise), his cousin Charlie (Jonathan Pryce), and a host of other eccentric family members. But they soon realize Paul's scare therapy isn't the only thing spooky in this manor, when they find themselves in the middle of a real-life murder mystery.
Is it a perfect movie? No. But "Haunted Honeymoon" is a silly bit of fun for those who like their comedies with a few goofy chills thrown in.
13. The Woman in Red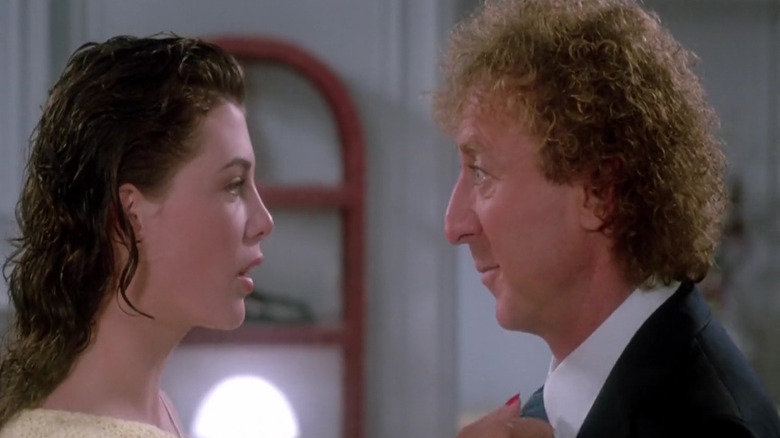 Orion Pictures
In between "Hanky Panky" and "Haunted Moon", Gene Wilder and Gilda Radner somehow found the time to star in one other comedy together, "The Woman in Red," (1984), which just edges out the others, perhaps in part because Wilder himself adapted the screenplay.
Here, Wilder plays Teddy Price, a married advertising exec who one day encounters a mysterious, seductive woman in red (Kelly LeBrock). As she channels her best Marilyn Monroe over a subway grate, he becomes obsessed with the idea of dating her, despite the fact that he is married to Didi (Radner). The nervous Larry tries to find creative ways to meet the woman in red discreetly, but he gets thwarted at every turn. Will his fantasies ever come to life? And if so, what about Didi?
Adapted from a French comedy called "Pardon Mon Affaire," "The Woman in Red" is a fine enough '80s comedy that allows Wilder's angst to shine and features a strong supporting cast including Charles Grodin. Notably, it won an Oscar for best original song, for Stevie Wonder's "I Just Called to Say I Love You."
12. The Little Prince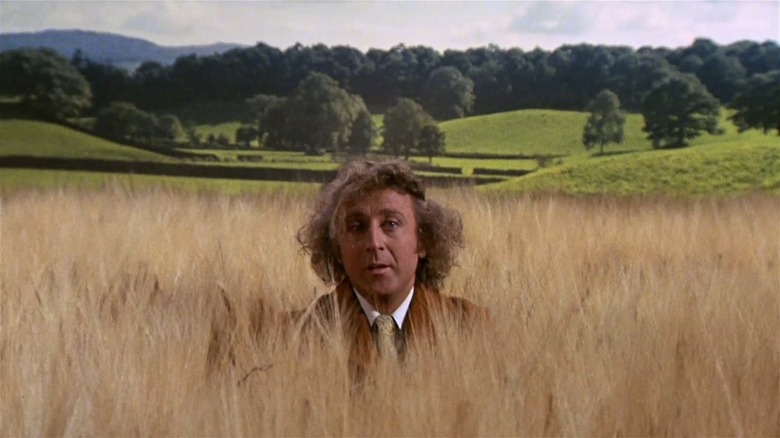 Paramount Pictures
Fans of Antoine de Saint-Exupéry's classic novel will appreciate Wilder's turn in this imaginative adaptation from 1974. There have been other adaptations of "The Little Prince", but this happens to be an imaginative musical which stars Gene Wilder as a talking fox.
Remaining faithful to the novel, "The Little Prince" follows the story of a pilot (Richard Kiley) who crash lands in the Sahara desert, where he meets the titular Little Prince (Steven Warner), fallen to earth from Asteroid B 612. The Prince asks him to draw a sheep, then shares with the pilot his backstory, which includes his encounters with a talking fox (Wilder), as well as a talking snake (Bob Fosse).
The film takes an interesting approach in the way it handles these animal characters. Wilder doesn't voice the character nor is he in an animal costume. He's just a man wearing a brown three-piece suit. Still, seeing him sit in a wheat field while he recites classic lines from the book like "It's only with the heart that one can see clearly. What is essential is invisible to the eye," is an interesting and touching experience that echoes shades of his character in "Willy Wonka."
11. The Adventure of Sherlock Holmes' Smarter Brother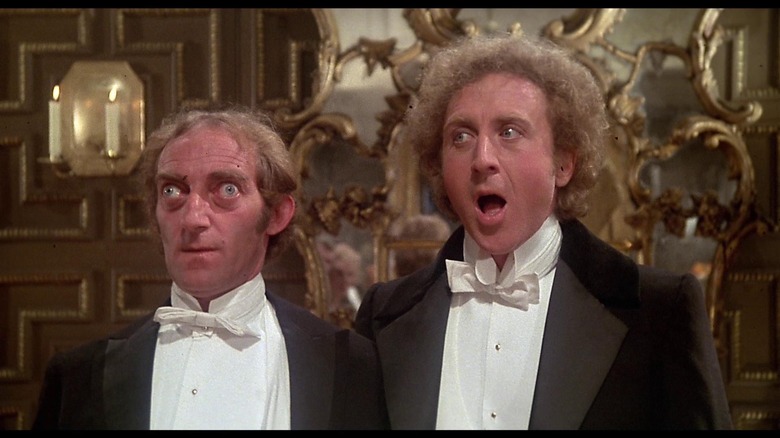 20th Century Fox
"The Adventures of Sherlock Holmes' Smarter Brother" (1975) re-teamed Gene Wilder with Madeleine Kahn and Marty Feldman, two of his castmates from "Young Frankenstein," which had been released the year prior.
Wilder wrote, directed, and starred in this clever slapstick parody, whose plot is just about what you'd imagine based on the title. The titular smarter brother here is Sigerson (Wilder), the other "S. Holmes," who is bitter about constantly being outshined by his elder sibling, Sherlock (Douglas Wilmer), whom he calls "Sheer Luck." When Sherlock and Watson go on a trip to Europe, Sigerson is assigned an important case involving stolen documents, which he feels will finally earn him the credit he is due. Sgt. Orville Sacker (Feldman) and Jenny Hill (Kahn) accompany him on the subsequent madcap adventure.
While it doesn't rise to the levels of comedy greatness that "Young Frankenstein" (featured later on this list) achieves, "The Adventures of Sherlock Holmes' Younger Brother" is a fun vehicle to once again showcase the outstanding talents of its cast.
10. The Frisco Kid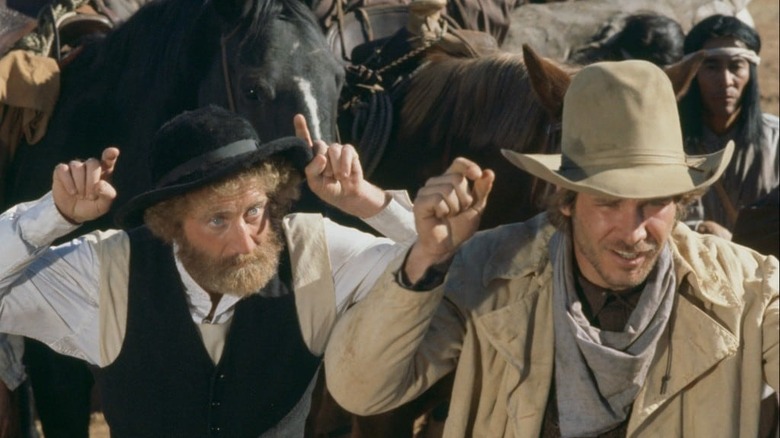 Warner Bros.
Speaking of capitalizing on Wilder's prior movies, "The Frisco Kid" (1979) shares some similarities with a certain other comedy western that Wilder had starred in a few years prior, "Blazing Saddles."
The plot here revolves around a rabbi, Avram Belinski (Wilder), who has arrived in Philadelphia in the 1800s en route to head a synagogue in San Francisco. After a series of misadventures, including a side quest with a group of Amish people, he meets and befriends a bank robber, Tommy Lillard (Harrison Ford), who takes pity on him, and the two have a few Old West adventures of their own, including Avram being taken captive by Native Americans.
"The Frisco Kid" isn't quite the satirical laughfest that "Blazing Saddles" is, it's actually a bit more heartfelt in the end. Directed by Hollywood Heavyweight Robert Aldrich, it has a tone that Wilder himself coined "Young Frankenstein meets The Dirty Dozen." It certainly has its own charms that are worth taking a gander at.
9. Start the Revolution Without Me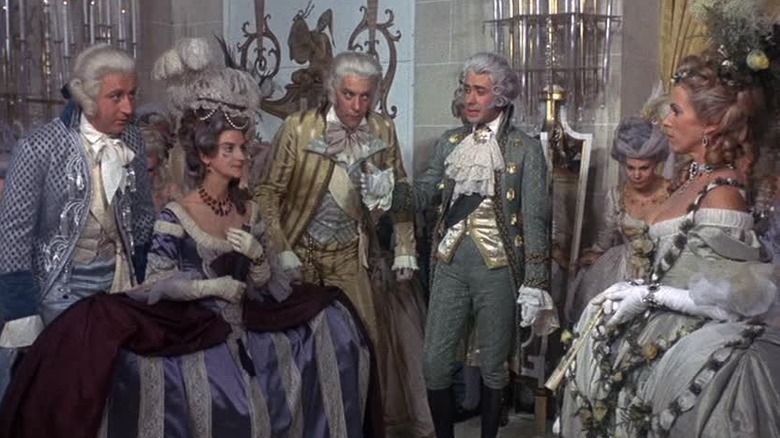 Warner Bros.
The aforementioned "Young Frankenstein" and "Blazing Saddles" may have inspired some of Wilder's other films, but "Start the Revolution Without Me" (1970) may have actually helped inspire them. Directed by Bud Yorkin, this satirical comedy skewers aristocratic society in the time of the French Revolution with a delightfully funny tale of mismatched twins.
Gene Wilder and Donald Sutherland star as Phillipe and Pierre Disisi, a pair of stuffy identical twins born into aristocracy. They also star as Claude and Charles, a pair of twins who are peasants. When the two sets of twins end up swapping places with each other, hilarity follows.
"Start the Revolution Without Me" satirizes not only the aristocracy of that time period, but the period as a whole. At the same time, it also pokes fun at the big-budget period costume dramas of the Hollywood of yore. While the film itself was a box office flop, it has since achieved a level of cult status. Ironically, Wilder himself panned it, once calling it " a great movie that didn't quite come off."
8. See No Evil, Hear No Evil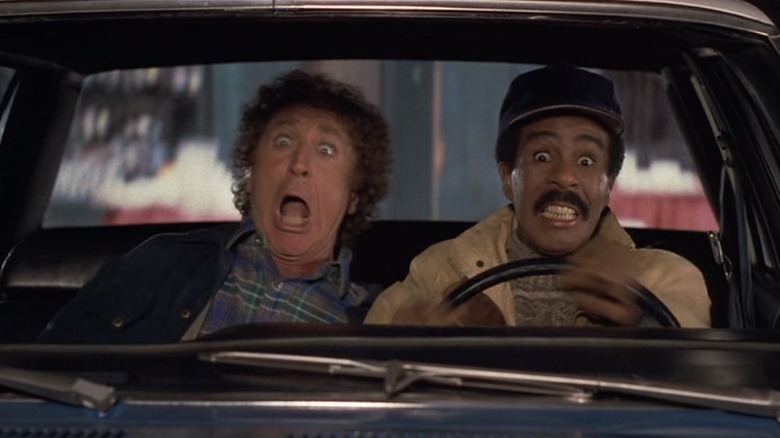 Tri-Star
"See No Evil, Hear No Evil" (1989) marked the third in a series of films that paired Gene Wilder with another comedy legend, Richard Pryor. It's an iconic pairing that offered the world a lot of laughs and a lot of warmth.
Pryor stars as Wally, a blind man, and Wilder as Dave, a deaf man. When Wally applies for a job at Dave's newsstand, the two men become fast friends, realizing they can help each other out in terms of filling in for the other's senses in small ways; Wally can be Dave's ears, and Dave can be Wally's eyes. This ends up coming into play in a serious way when a man is murdered at the newsstand, a crime that one of them sees, and the other hears. The police peg the murder on them, then the actual killer returns, and the men must work together to solve the crime before ending up as the next victims.
Though critics were harsh on the film, its simple, funny premise, bolstered by the generous talents of its leads, along with their on-screen chemistry, makes "See No Evil, Hear No Evil" a hilarious (albeit silly) and sweet buddy comedy.
7. Stir Crazy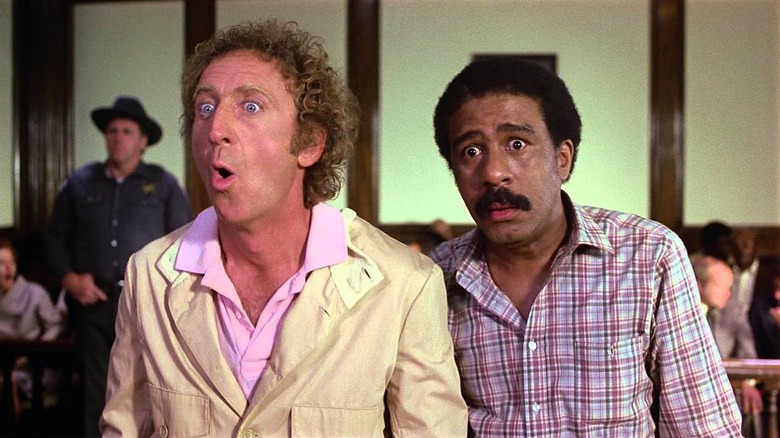 Columbia Pictures
The great Sidney Poitier directed Gene Wilder in not one but two films, and this one, "Stir Crazy" also marked the second film that Wilder and Richard Prior would star in together.
Here, Wilder stars as Skip Donahue, and Richard Pryor as Harry Monroe, two unemployed friends who become wrongfully accused of murder and sent to a maximum-security prison. There, Skip is discovered to have strong bull-riding skills, which leads the warden (Craig T. Nelson) to enter him in the annual prison rodeo. Meanwhile, Skip and Harry are planning their great escape.
"Stir Crazy" marks the peak of Prior and Wilder's work together. Though critics panned the film, the hilarious duo's on-screen chemistry and comic genius made "Stir Crazy" a box office success.
6. Silver Streak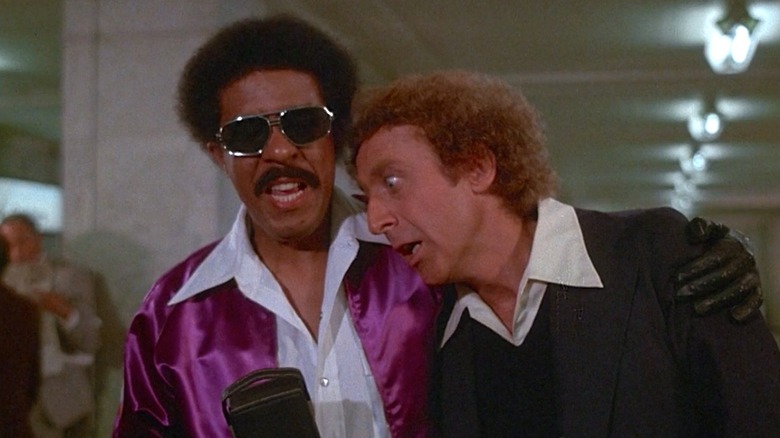 20th Century Fox
There's something about Gene Wilder that makes him the perfect foil for a murder-mystery, and here again in "Silver Streak" (1976) we have a case of a whodunnit, this time involving murder on a train. It also marks the first on screen pairing of Wilder and Richard Pryor, whose talents complimented each other so well that they would appear in four buddy comedies together.
"Silver Streak" stars Wilder as a businessman who takes a train from Chicago to LA, only to find himself the suspect in a murder that occurs during the trip. Along the way, he steals a patrol car carrying a thief, Grover T. Muldoon (Richard Pryor), and the two team up in an effort to elude the feds.
Collin Higgins, who wrote the screenplays for "Harold and Maude" and "9 to 5," penned the screenplay for "Silver Streak," for which he received a WGA nomination, while Wilder was nominated for a Golden Globe, and Pryor nominated for a New York Film Critics Circle award, respectively.
5. Bonnie and Clyde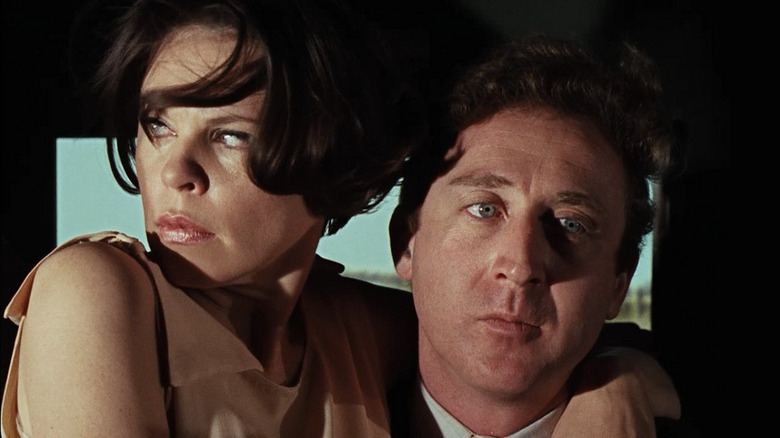 Warner Bros.
Gene Wilder's first appearance in a film was in "Bonnie and Clyde" (1967), a classic movie that ranks among his very best.
Based on the notorious real-life gangsters Clyde Barrow and Bonnie Parker, "Bonnie and Clyde" stars Warren Beatty and Faye Dunaway in the title roles, following the star-crossed couple's crime spree across the American south during The Great Depression. Their bank-robbing exploits captured the attention of the nation, as they became "public enemies" as well as celebrities.
Though Wilder's role as Eugene Grizzard, one of Bonnie and Clyde's hostages, was a small one comparatively, it was here the world first got to see his unique talent and charm. The film itself is considered a milestone in cinema. It's been called "the first modern American film" and a masterpiece.
4. Willy Wonka and the Chocolate Factory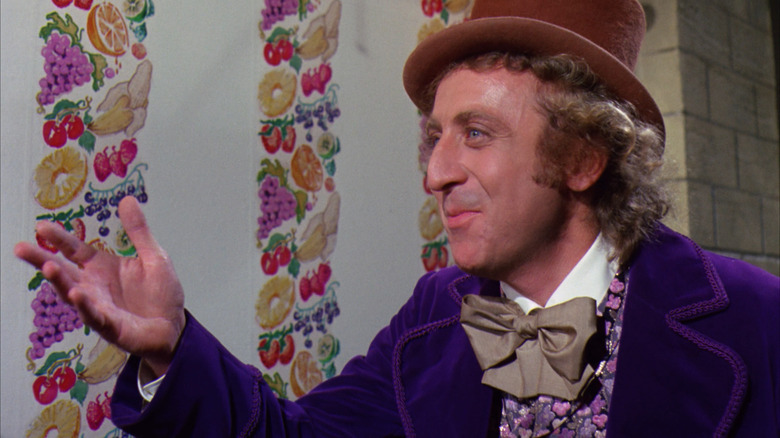 Warner Bros.
Easily Gene Wilder's most iconic role is that of the titular enigmatic candy factory owner in "Willy Wonka and the Chocolate Factory" (1971). This vividly colored, wildly imaginative, and darkly comedic adaptation of Roald Dahl's classic novel, "Charlie and the Chocolate Factory," was the perfect showcase for Wilder's unique brand of restrained but unpredictable manic energy. He imbued the role with a devilish impishness and humor, as well as heart, endearing himself to a generation of children (and adults) alike.
Peter Ostrum stars as young Charlie Bucket, who wins a coveted Golden Ticket to visit the chocolate factory. He takes his Grandpa Joe (Jack Albertson), and they are joined by other golden ticket winners such as Veruca Salt (Julie Dawn Cole), Violet Beauregarde (Denise Nickerson), and the television-obsessed Mike Teevee (Paris Themmen), but soon they are disposed of one by one in the most unusual ways.
Other stars such as Johnny Depp and soon Timothee Chalamet have stepped into the role, but we'll always remember it as Gene Wilder's.
3. The Producers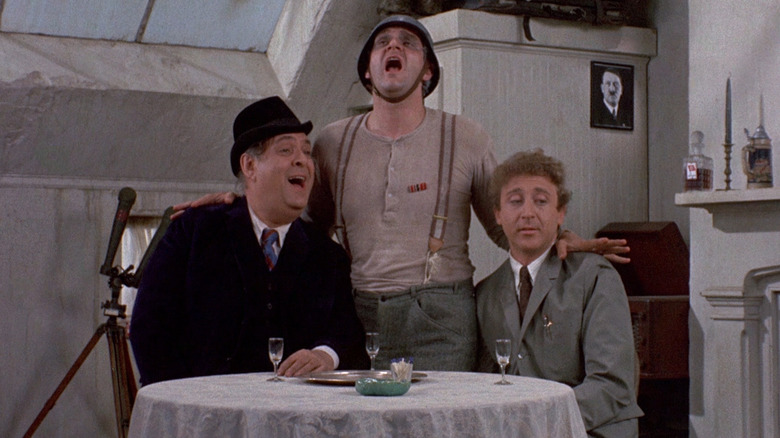 Embassy Pictures
Film critic Roger Ebert called "The Producers" (1967) "one of the funniest movies ever made," and it's undoubtedly true, although the same can and has been said of all three of the classic comedies that teamed Gene Wilder with writer/director and master satirist, Mel Brooks, of which "The Producers" was the first.
Zero Mostel stars as Max Bialystock, a struggling theater producer who hires a neurotic accountant, Leo Bloom (Gene Wilder), to help cook his books. Surmising that, from a tax benefit perspective, there's more money to be made in flops than hits, they devise a plan to stage a guaranteed bomb as a way to make a fortune. Their concept? A wacky, over-the-top musical called "Springtime for Hitler." They hire a Nazi writer, a terrible director, and a hippie actor known as "LSD" for the title role. What could go right? Needless to say, madcap hilarity ensues.
Imbued with a frantic, zany energy, "The Producers" remains a boldly audacious satire, one that still feels relevant and edgy today. Though studios at the time felt it was too brazen for their slates, Brooks found an independent distributor, and ultimately won an Academy Award for his brilliantly hilarious screenplay, while Wilder was nominated for best supporting actor. Regarding the Nazi satire in the film, Brooks once said "if you stand on a soapbox and trade rhetoric with a dictator you never win ... But if you ridicule them, bring them down with laughter, they can't win. You show how crazy they are."
2. Blazing Saddles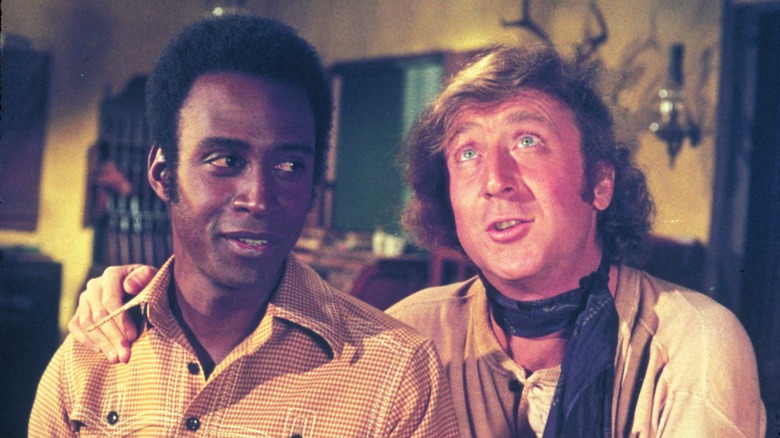 Warner Bros.
Speaking of brazen satires, seven years after making fun of Nazis in "The Producers," Mel Brooks would re-team with Wilder for a most brazen "satire of racism," "Blazing Saddles" (1974), which parodies Hollywood Westerns and their whitewashed version of history. The subversive, over-the-top comedy is filled to its brim with gags and quotable lines, never letting up on the silliness or outrageousness for even a moment.
The plot revolves around a Black railroad worker, Bart (Cleavon Little), who is appointed Mayor of the Western town of Rock Ridge by a corrupt politician named Headley Lamarr (Harvey Korman). Lamarr believes this will lead the town to ruin, making way for a new railroad line for his own enrichment. He also sends some dimwitted thugs in to make sure things go according to plan. But Headley's plans are thwarted when Bart actually becomes popular. Teaming up with the drunkard gunslinger Jim (Wilder), aka the "Waco Kid," the two men figure out a way to save the day.
The success of "Blazing Saddles" inspired a slew of other "interracial buddy comedies," such as those that teamed Richard Pryor and Gene Wilder in the '70s and '80s. It was nominated for multiple BAFTAs and is listed at number six on the American Film Institute's "100 Years... 100 Laughs" list. Mel Brooks himself has called it "the funniest movie ever made," while also speculating that the provocative film would never be made today. It's no surprise this has become a topic of debate considering that "Blazing Saddles" can be considered "one of the most un-PC films of all."
1. Young Frankenstein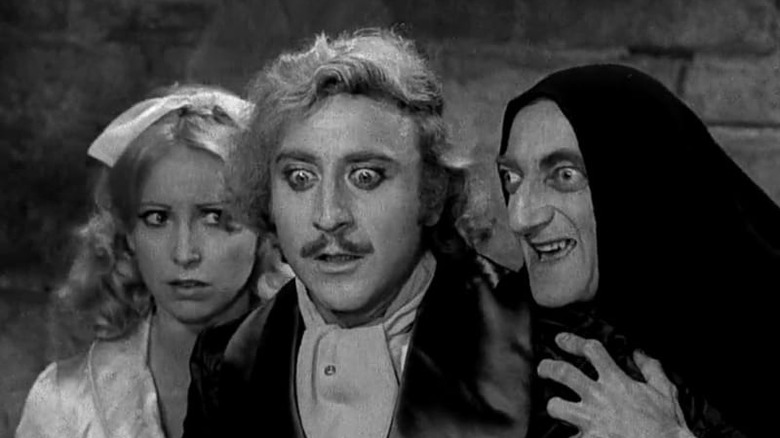 20th Century Fox
Finally we arrive at the all-time comedy classic, "Young Frankenstein" (1974), an insanely silly spoof that stars Gene Wilder as the titular Dr. Frederick Frankenstein, grandson of the infamous "Victor Frankenstein" of both novels and films.
The young Frankenstein travels to Transylvania, where he has inherited his family's estate. Upon arrival, he meets servant Igor (Marty Feldman), assistant Inga (Teri Garr), and housekeeper, Frau Blucher (Chloris Leachman). Upon discovery of his grandfather's laboratory, he decides to take up his experiments and ends up bringing his own monster (Peter Boyle) to life.
"Young Frankenstein" ended up being a perfect vehicle for Wilder to unleash some of the zaniness that he often held in for other roles. It's a side-splittingly hilarious send-up that has stood the test of time. Wilder received the second Academy Award nomination of his career for the screenplay, which he co-wrote with Brooks.