A 'Genius' Matt Smith Idea Helped Nail The Emotion In House Of The Dragon's Final Season 1 Scene
HBO
Spoilers ahead for season 1 of "House of the Dragon."
The end of the first season of the HBO series "House of the Dragon" was harrowing ... not that we'd expect anything less from a show based on the work of author George R.R. Martin. As I'm sure you recall because the image is burned into your brain, Lucerys Targaryen (Elliot Grihault) was sent by his mother Rhaenyra (Emma D'Arcy) to stir up her allies but was attacked by Alicent's (Olivia Cooke) son Aemond (Ewan Mitchell). Both of their dragons were out of their control, and Aemond's much, much larger one snaps Luke's dragon in half like a twig, sending him into the sea. 
Rhaenyra has been through many deaths in her life; her parents, her lover Harwin Strong (Ryan Corr), and her stillborn daughter. The death of her son, though, was the blow to end all blows. Though audiences may have expected her anger, as we saw when she was going through labor, what they got instead was an almost silent scene, with her uncle/husband Daemon (Matt Smith) telling her the news with both of their backs turned. 
On paper, that might sound like a missed opportunity, but it ended up having more impact than mere words or screaming would have. Daemon had been physically violent with her earlier after learning that she was told a prophecy by her father (Paddy Considine), so his taking her away from the others in the room to whisper the news was jarring in its lack of cruelty. Viewers knew what he was going to say, making the fact that we couldn't hear the words that we knew he was speaking brilliant. In an interview with British GQ, D'Arcy spoke about that incredible scene and Smith's role in it. 
Silence speaks louder than words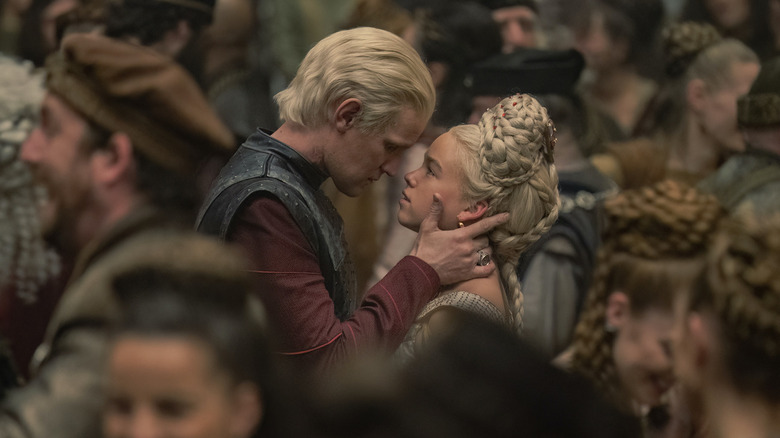 HBO
D'Arcy (who uses they/them pronouns) says that the credit for the scene goes to Smith. They explain:
"When we got on set to rehearse, it has to be known, it was Matt Smith, in a turn of f****** genius, who offered the idea that Daemon should give Rhaenyra the news while we're both walking away from camera, towards the fireplace. It was a sublime choice, and I could see it instantly. We've sort of touched on it, but I think losing a child, losing her son, it reframes grief immediately."
The scene is really impactful, not just because of the silence and the look on D'arcy's face when they turn back to the camera, but because of some beautiful touches from Smith. When you have a really well-written and acted villain, it's because in between scenes where they're awful, there are tiny moments of kindness. It's why you keep watching them so closely — to see when they're thoughtful or have a moment of real connection. Once you know it's there, you feel the need to hunt for it as a viewer. We glimpsed this side of Daemon before when he picked up the ailing King Viserys' crown and placed it back on his head — another improv moment from Smith.
Here, just for a moment in the final scene of the season, Daemon is kind. He holds Rhaenyra's hand and gives her some privacy for the moment when she learns about the death of her son. It's a gesture you wouldn't expect from Daemon, and yet it's there. Not seeing his face makes it even more striking. Is it time for season 2 yet?
"House of the Dragon" is streaming on HBO Max now.