Fred Armisen Shares Tales Of Working On SNL With Bill Hader And James Anderson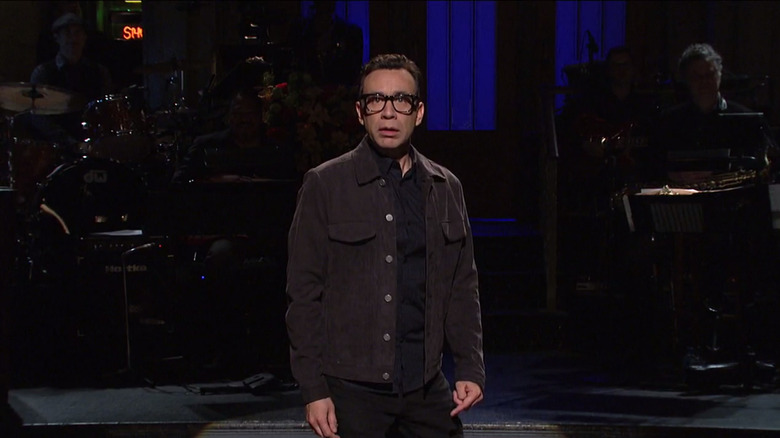 NBC
One of the many reasons that "Saturday Night Live" has managed to stay on the air since 1975 is the public's fascination with what happens behind the scenes of the perennial sketch show. The experience of being a cast member immediately places you in rarified air with the other performers that have come before. "SNL" is an exclusive club that consists of only about 160 people who have been fortunate and talented enough to grace the pull-out trundle stage in Studio 8H. Even fewer are actually remembered after their tenure on the show has come and gone. If the original cast was part of the Golden Age, Fred Armisen joined "SNL" during the Bronze Age with a new wave of cast members consisting of Bill Hader, Kristen Wiig, Tina Fey, Seth Myers, and Andy Samberg. 
It's an era that Armisen looks back on with fond memories, mainly due to the comedy bonds he formed with Hader and longtime writer James Anderson. Earlier this week, Armisen appeared on the popular "SNL" dissection deep-dive podcast "Fly on the Wall," hosted by Dana Carvey (who can't stop doing impressions) and David Spade (who can't stop laughing at them). Armisen spoke about his time on the show, dealing with the intense pressure of the schedule, and developing the popular recurring sketch "The Californians." The real takeaway, however, is his lasting friendship with Hader and just how important Anderson was to crafting so many memorable sketches during an electric time in the show's history. 
The impact of James Anderson on SNL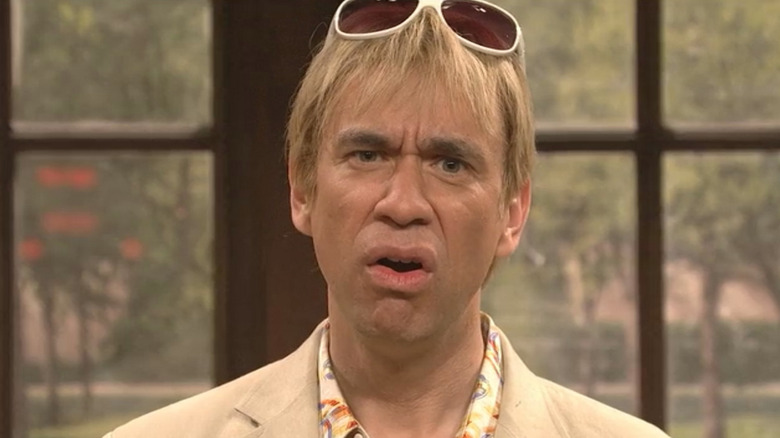 NBC
James Anderson was an unsung writer on "SNL" from 2000 to 2020 who crafted the "Gilly" sketches with Kristen Wiig, "The Californians" with Armisen and a number of groundbreaking queer-themed sketches like "Gays in Space" and "GP Yass." Armisen's time at 30 Rock began in 2002 and his final show was in 2013 after staying on an additional season to ease the pain of Wiig and Sandberg leaving the year prior. The first sketch of "The Californians" didn't air until 2012, giving Anderson and Armisen a long time to develop a fruitful working relationship. Armisen spoke about how Anderson helped develop the sketch on the "Fly on the Wall" pod, saying:
"I was like, 'What do we do with these Californians, what can we do with these directions?' And he was simply like, 'Why don't we just make it a soap opera?' That's kind of the magic of working with writers, I never would've thought of that."
As many former cast members have said on "Fly on the Wall" and elsewhere, it is crucial for a performer to find a writer they can connect and gel with for any real chance at on-air success. When Spade and Carvey asked who his favorite writer was during his run on "SNL," Armisen didn't hesitate. "James Anderson, because we wrote so much together. We just always ended up writing together." 
Anderson's legacy and Hader's friendship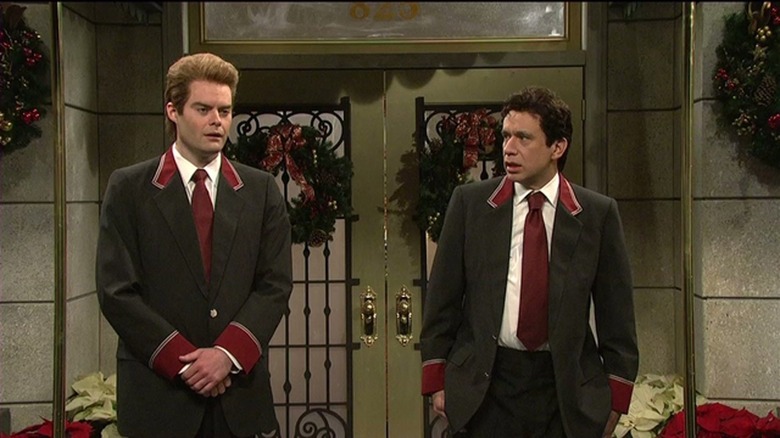 NBC
Aside from his work with Armisen, Anderson helped move the cultural needle with the "Drag Race" parody "GP Yass" featuring Bowen Yang. The sketch showed fictional drag queens with names like Candy Travesty and Unita Triscuit, but an actual contestant from ""Drag Race" named Peppermint also performed, apparently marking the first time a transgender woman had ever appeared on the show. In a 2018 interview with Vulture, Yang spoke about the changing tides at "SNL," saying "You have people like James, or like Paula Pell, like Julio [Torres], who have really been able to package [queerness] in a way that is palatable to everybody. Lorne just wants to make sure that everyone is on the same page about whatever's being shown. The show has built that over time."
Anderson was an important ally, but Bill Hader was Armisen's true counterpoint. On "Fly and the Wall," he credited Hader with helping him face the crowd and just have fun on the roller coaster ride that is "SNL." 
"I was kind of okay on the nerves scale. I don't know why, I just kind of enjoyed it and had a great time but being with Bill [Hader] really felt like I was really with my friend. We made each other laugh so much and we just identified with each other, supported each other. There was something in that relationship where it was just really supportive and fun, all the way."
Hader felt like a brother-in-arms to Armisen who added, "He made me laugh all the time. I mean everybody did, but there's something with him, that I felt like we were going through, I don't know, the same experience."
Amy Schumer will host the November 5th episode of "SNL" with Steve Lacy performing.