Wednesday Trailer: Meet Fred Armisen As Uncle Fester Addams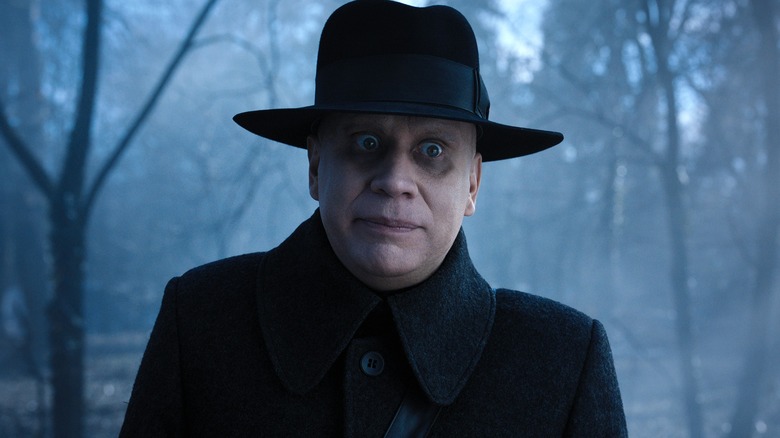 Cr. Vlad Cioplea/Netflix © 2022
Surprise! After initially keeping the actor's identity a secret, Netflix has revealed that Fred Armisen is playing Uncle Fester in the upcoming Addams Family series "Wednesday." The trailer that premiered at New York Comic Con this weekend gives audiences an in-depth look at the series, setting up the basic premise, characters, and mayhem of Nevermore Academy — a bone-chilling boarding school that should be perfect for Wednesday Addams (at least, in theory).  
Netflix is betting hard on "Wednesday," and after watching its most recent trailer, it's clear why. Although the series debut is still more than a month away, the streaming platform is promoting the heck out of it — and why shouldn't they? It's an entry in an established and popular franchise that was directed and produced by gothic-horror legend Tim Burton. Plus, it ticks all the "young-adult" boxes: a quirky "I'm not like other girls" heroine, fabulous cosplay-ready costumes, and mysterious, possibly magical, school. Move over "Cruella" — teen girls have a new naughty girl fashionista to rally behind.  
Armisen's involvement is a cherry on top of this spooky sundae. The veteran comedian is an accomplished character actor, having added his quirky charm to countless projects over the years. Perhaps best known for his work on "Saturday Night Live" and his sketch comedy show "Portlandia," Armisen is one of those people who can elevate a scene with just a look or a gesture — and based on the trailer below, it seems he'll be infusing "Wednesday" with some of that signature, comedic flair.    
Watch the new Wednesday trailer
The "Wednesday" trailer begins with a voiceover narration: "Nevermore was created as a safe haven for our children, to learn and to grow, no matter who, or what, they are." They emphasis here is on "what," as we see students who don't have facial features (creepy!) — standing alongside some admittedly preppy-looking peers. 
The trailer introduces Wednesday's perky roommate, and reveals her impossibly expansive and gorgeous room at Nevermore (the Addams family is obscenely wealthy, so that fits). We also learn that this "safe haven" is perhaps not so safe; a stone raven almost falls on our titular heroine. She gets into fights with boys. We're told there are mysteries and possibly even monsters lurking in the shadows at Nevermore! It's all very exciting.
Armisen appears briefly as Uncle Fester, surprising Wednesday in the woods and stating that he likes to travel "incognito," which apparently means riding a Dalmatian-themed motorcycle? It's a bit whimsical while maintaining a black-and-white motif — very on brand for Burton. We don't get much of Fester, other than a glimpse of his gentle, kind demeanor and a show of his innate electrifying abilities (the character traditionally powers lightbulbs by putting them in his mouth — in the trailer, we see him sending arc discharges down Wednesday's sword).   
There's another reveal in the trailer: we get our first look at Christina Ricci's character, Ms. Thornhill. Ricci, who was previously reported as involved in the series but in an undisclosed role, played Wednesday in 1991's "The Addams Family" and its sequel, "Addams Family Values." 
The Addams family returns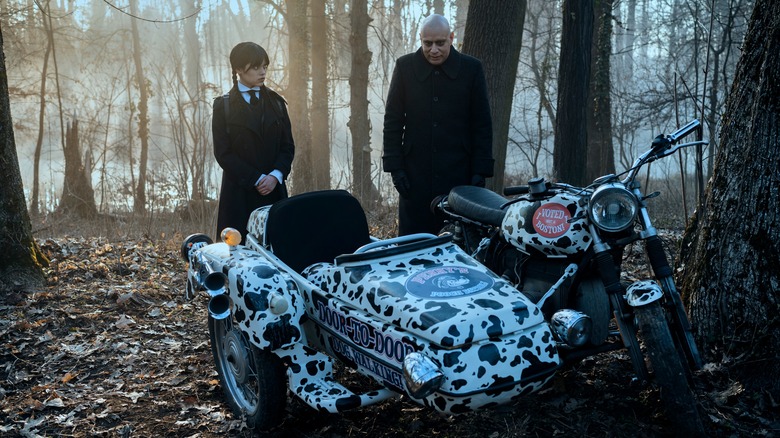 Cr. Vlad Cioplea/Netflix © 2022
"Wednesday" looks to deliver thrills, chills, and probably blood spills when it arrives next month. The series stars Jenna Ortega as the titular Wednesday Addams, with "Game of Thrones" alumn Gwendoline Christie as Principal Larissa Weems, up-and-coming actress Emma Myers as roommate Enid Sinclair, and many more. While the focus will be on the students and faculty at Nevermore Academy, additional cast includes the original Addams family: Morticia (Catherine Zeta-Jones), Gomez (Luis Guzmán), Pugsley (Isaac Ordonez), and, of course, Uncle Fester (Armisten).
The official Netflix synopsis:
The series is a sleuthing, supernaturally infused mystery charting Wednesday Addams' years as a student at Nevermore Academy. Wednesday's attempts to master her emerging psychic ability, thwart a monstrous killing spree that has terrorized the local town, and solve the supernatural mystery that embroiled her parents 25 years ago — all while navigating her new and very tangled relationships at Nevermore.
"Wednesday" premieres on Netflix on November 23, 2022.