Disenchanted Trailer: Happily Ever After Isn't Always That Easy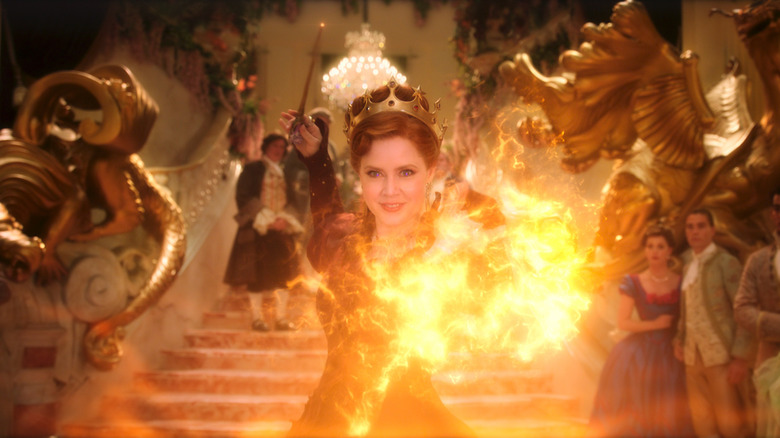 Disney+
15 years after "Enchanted" hit theaters, we're finally about to follow up with the lovely Giselle (Amy Adams) and see what the real world has had in store for her. If the newest trailer for "Disenchanted" is anything to go by, she's had to make some big adjustments. Not only has she been married to attorney Robert (Patrick Dempsey) for 10 years, but she's also become the stepmother to his now teenage daughter, Morgan (Gabriella Baldacchino). Add this prototypical tension to the stresses of moving to the suburbs, and Giselle has found herself in over her head.
So, what does a fairy tale character do to alleviate these stresses? You obviously use a magic wand to cast a spell that turns the entire suburb into a fairy tale. Maybe that logic has a few flaws that we see in this latest trailer, including turning into an evil stepmother, but hey, it's the thought that counts.
Check out the latest Disenchanted trailer
"Disenchanted" sees the return of several characters from the 2007 original, including everyone's favorite himbo, King Edward (James Marsden). His wife, Queen Nancy (Idina Menzel), and Giselle's chipmunk sidekick, Pip (Griffin Newman), also return to the real world to help Giselle out of this thorny situation. Get it? Because the vines growing from their home have thorns on them? Okay, I'll see myself out.
Joining the returning faces are a slew of brand-new ones. Maya Rudolph will play neighborhood mean queen Malvina, with Yvette Nicole Brown and Jayma Mays portraying her lackeys. Kolton Stewart, Oscar Nunez, Ann Harada, James Monroe Iglehart, and Michael McCorry Rose also star in the film. Adam Shankman replaces Kevin Lima as the director of "Disenchanted," directing a script from Brigitte Hales. While all these new names might be cause for concern, two of the most important figures from the original are returning, and those are songwriters and composers Alan Menken and Stephen Schwartz.
"Disenchanted" finally arrives on Disney+ on November 18 after years of speculation and waiting. However, if we're being honest, we think it should be given a theatrical release. Come on, Disney, you still have a couple more weeks to make this happen!