Disenchanted Trailer: Giselle And Her Big Sleeves Are Back!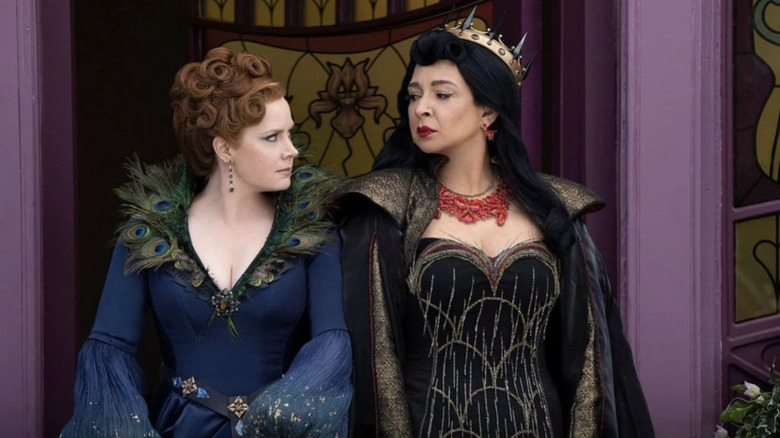 Disney+
After 15 years of longing, Amy Adams, Patrick Dempsey, Idina Menzel, and James Marsden are finally back with the highly anticipated "Enchanted" sequel, "Disenchanted." The live-action Disney princess movie that should have earned Adams her first Oscar became a beloved fan favorite immediately after release, but fans have been dying to learn what happened after Giselle (Adams) said goodbye to the magical, animated world of Andalasia in favor of her new life with Robert (Dempsey) and his daughter Morgan in New York City. Fortunately, we're finally getting our answer, with "Disenchanted" coming to us sooner than you can sing a happy little working song.
The film comes to us from director Adam Shankman ("Hairspray," "So You Think You Can Dance") with Disney legend Alan Menken returning for the music. When "Enchanted" first debuted in 2007, Idina Menzel's song as Nancy Tremaine was cut from the final edit. Fortunately, Disney more than made up for the egregious chop by casting her as Queen Elsa in the cultural juggernaut known as "Frozen," but we've been assured that Nancy will finally get a song of her own in "Disenchanted." Get ready to explain to all of your kiddos why Nancy and Elsa have the same voice, and to hear it belted non-stop until the end of time.
/Film's Ethan Anderton is on the ground at D23 Expo where they've finally released the trailer for the upcoming sequel.
Disenchanted trailer
Thanks to a sneak peek from D23, we've finally gotten our first look at actual footage from "Disenchanted." Don't get it twisted, we were absolutely thrilled to see Amy Adams in a peacock collar and Maya Rudolph in a stunning gown serving some major attitude when Disney dropped an exclusive look at the duo earlier this May — but seeing all of our favorites back in action can't help but make our hearts sing. The preview image already gave us big 1997's "Cinderella" vibes, but this new preview all but confirms it. Disney is having their cake and eating it too, by telling a fantastical princess story while also poking fun at the tropes they made famous.
"Disenchanted" picks up in real-time, set 15 years after the original film. Giselle, Robert, and Morgan (now played by Gabriella Baldacchino) are leaving New York City and moving to a new community, but unfortunately, both Andalasia and the "real" world are thrown into chaos thanks to a trio of beautiful baddies played by Yvette Nicole Brown ("Community"), Jayma Mays ("Glee"), and Maya Rudolph ("Saturday Night Live").
"Disenchanted" arrives on Disney+ on November 24, 2022.