Disenchanted First Look Features Amy Adams And Maya Rudolph, Release Date Revealed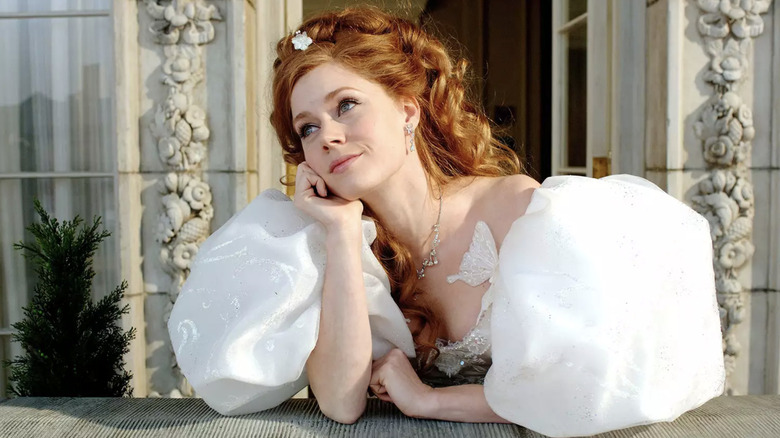 Walt Disney Studios Motion Pictures
It's been fifteen years since we were first blessed by the beautiful maiden Giselle (Amy Adams), when she was pushed through a magical vortex transporting her from the 2D animated fairy tale world of Andalasia and into the bustling live-action land of New York City by her wicked future stepmother, Queen Narissa (Susan Sarandon) in "Enchanted." The queen doesn't want Giselle to marry her precious son, Prince Edward (James Marsden), and thinks sending Giselle away will be the end of her worries. However, Giselle meets a cynical single dad named Robert (Patrick Dempsey) working as a divorce lawyer. He slowly learns to believe in the magic and helps Giselle find the true love she's been dreaming of. 
Spoiler Alert: It's him.
"Enchanted" is considered by many Disney fans to be one of the best princess movies the company has ever made, but the live-action hybrid has kept Giselle away from the endless merchandising opportunities afforded to her fellow princess sisters. With no Disney shorts or cute cartoon spin-offs to keep fans satiated, it was only a matter of time before we were finally given a sequel. After years of failed attempts, Disney+ will be the home of "Disenchanted," the sequel set years after the events of the first film that see Giselle, Robert, and their daughter Morgan moving to a new community, while both Andalasia and the "real" world are thrown into chaos. Disney has kept most of the "Disenchanted" news close to the chest, but today they've given us our first look at Amy Adams as Giselle and Maya Rudolph in her allegedly villainous role.
Amy Adams and Maya Rudloph are fairy tale royalty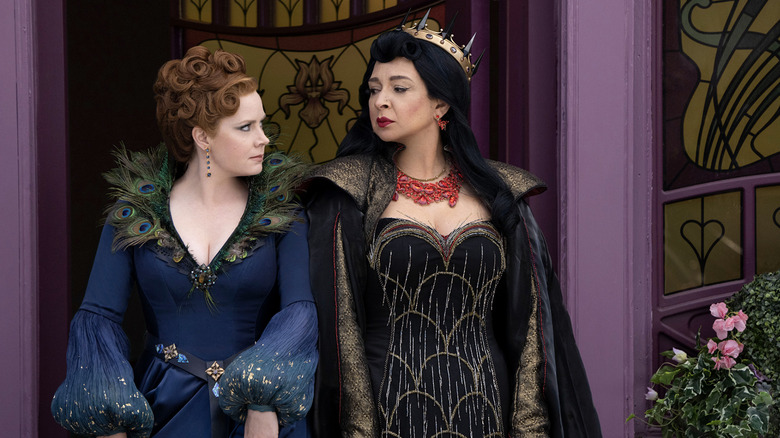 Disney+
Adams and Patrick Dempsey have been confirmed to reprise their "Enchanted" roles in the sequel, as well as James Marsden and Idina Menzel as Prince Edward and Robert's ex-girlfriend turned Edward's wife and Queen of Andalasia, Nancy Tremaine, respectively. Don't worry, it's also been confirmed that Menzel will get to show off her trademark belt that was wholly underutilized in "Enchanted" but shown off in "Frozen." Gabriella Baldacchino ("Ask for Jane") is taking over the role of Morgan for "Disenchanted," with Yvette Nicole Brown ("Community"), Jayma Mays ("Glee"), and Maya Rudolph ("Saturday Night Live") as a trio of villains.
Here's your 🤩FIRST LOOK🤩 at Amy Adams and Maya Rudolph in Disney's #Disenchanted.

See the Original movie streaming this Thanksgiving on #DisneyPlus! pic.twitter.com/hudDI5FUsR

— Disney+ (@disneyplus) May 17, 2022
Disney+ gave us the first look at Giselle and Rudolph's characters, with both performers looking like drop-dead perfection. Amy Adams with a peacock collar is not something I knew I needed in my life, but now that I've seen the preview, I will not rest until "Disenchanted" drops and I can properly gush over the perfect costuming. Maya Rudolph looks to be channeling Bernadette Peters' evil stepmother in the Rodgers & Hammerstein version of "Cinderella" starring Brandy and Whitney Houston, and I mean that as the ultimate compliment. 
"Disenchanted" is being directed by Adam Shankman ("Hairspray," "So You Think You Can Dance") so I'm already anticipating show-stopping dance numbers, and with Disney legend Alan Menken returning for the music, I can't wait to annoy everyone in my apartment building by singing the new tunes at the top of my lungs the same way I did with "That's How You Know."
"Disenchanted" will be available to stream on Disney+ on Thursday, November 24, 2022.