Will The Eternals Return To The MCU? Here's What We Know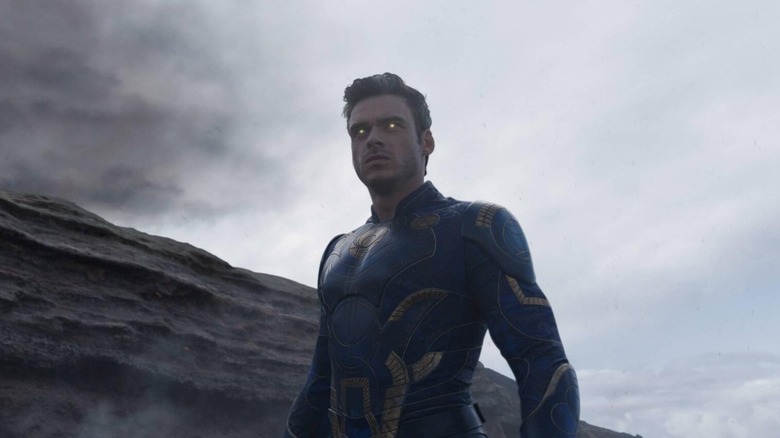 Marvel Studios
We have not, it seems, seen the last of Sersi and the gang, as the Eternals are going to appear again in the Marvel Cinematic Universe. The question is, when will they show up? And, perhaps more importantly, where are they going to show up? We will get into some speculation and analysis but first, let's go over precisely what we know.
Producer Nate Moore recently spoke with the folks at Comicbook.com, and amazingly enough, he was pretty straightforward when asked whether or not 2021's "Eternals" was the end of the line for those characters. "I don't want to spoil anything, but we have not seen the last of those characters," Moore said. So there we have it!
That answer does, however, leave much to be desired. Moore is incredibly unspecific. Not only does he not mention any specific projects or a timeline, but he doesn't touch on any specific characters, either. The cast for director Chloe Zhao's "Eternals" was downright massive, so any number of the people from that ensemble could pop up elsewhere in the MCU, not necessarily all of them. What about that character from the end credits scene, for example? With that being said, let's try to figure out what we can from Moore's few words on the matter.
Where could the Eternals show up next?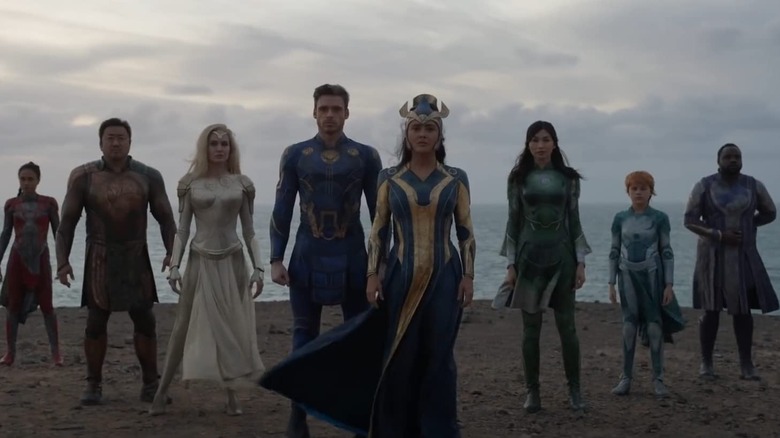 Marvel Studios
One thing we should mention before going any further is that it's highly unlikely that Moore is hinting at an actual "Eternals" sequel of any kind. For one thing, the movie garnered very mixed reviews from critics and viewers alike, while ranking as the lowest-rated MCU movie on Rotten Tomatoes to date. Admittedly, this was probably not what Marvel Studios and Disney had in mind when Zhao's "Nomadland" won Best Picture.
Aside from that, the movie topped out at just over $400 million worldwide against a reported $200 million budget. That means it absolutely did not turn a profit, and coupled with the critical response, it all but killed any chance of a franchise. That being said, there is almost certainly value in characters like Richard Madden's Ikaris, Kit Harrington's Dane Whitman/Black Knight, and Kumail Nanjiani's Kingo, among others.
Looking at Marvel's upcoming slate of movies, it's easy to see some places where these cosmic beings could appear once again. "Guardians of the Galaxy Vol. 3" doesn't feel overly likely, but not impossible. We've also got "The Marvels," the sequel to "Captain Marvel," which will undoubtedly be cosmic in nature. And, depending on how "Fantastic Four" goes, that could make for a logical landing spot as well.
But the glaring points on the calendar are "Avengers: The Kang Dynasty" and "Avengers: Secret Wars." Those movies figure to be absolutely massive crossover events that will surely pull from every single corner of the MCU. Why not call in some powerful beings like Sersi to help battle against Kang?
Is this a good idea?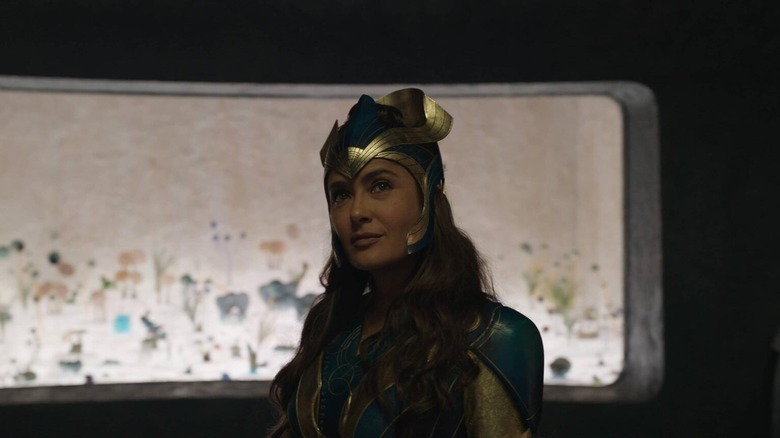 Marvel Studios
From a broader standpoint, one must ask to what degree bringing the Eternals back is a good idea for the MCU. The problem is that Marvel Studios is somewhat anchored to absolutely everything it produces, given that all of these movies and TV shows are connected. Kevin Feige and Co. have been accustomed to success, but in this case, they found themselves anchored to something that was not roundly successful. So, what happens then?
It's hard not to acknowledge the existence of characters this powerful after a movie like "Eternals" arrives. How do you ignore a giant Celestial sticking halfway out of the ocean in other MCU projects? It's part of the universe, and even if general audiences didn't respond well to the movie, it would seem almost illogical to ignore these characters and storylines entirely. So, perhaps placing them elsewhere in the MCU is the best path forward. It's all about execution.