Henry Selick Is A Little Tired Of Audiences Associating Nightmare Before Christmas With Tim Burton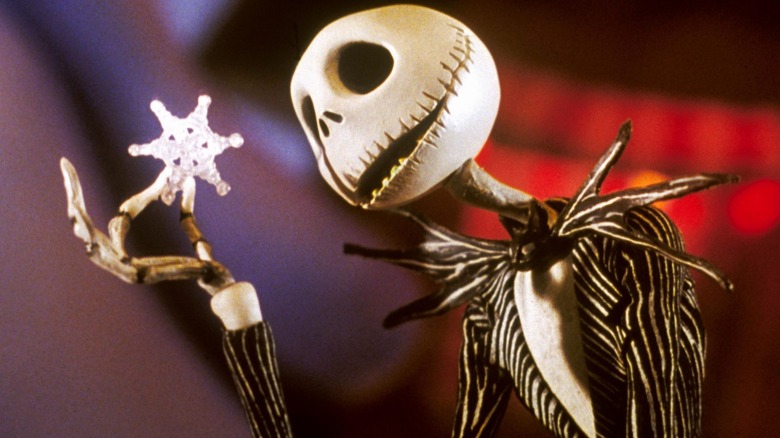 Buena Vista Pictures Distribution
In the same way that people often call all forms of disposable paper tissue "Kleenex" or medical adhesive bandages "Band-Aids," Tim Burton has permeated the subgenre of spooky animated films so deeply, he is often misattributed as the director of films actually helmed by Henry Selick. A lifelong animator, Selick's directorial debut was "The Nightmare Before Christmas," a now-classic stop-motion animated musical dark fantasy filled with memorable characters that have since adorned just about every merchandisable product available at Hot Topic stores. The story was based on a three-page poem of the same name by Tim Burton, who had broken onto the scene with the stop-motion short film "Vincent," featuring horror icon Vincent Price.
Burton had approached Selick about turning his poem into a feature film for Disney, but after the company deemed it "too weird," he was fired by Disney and went off to direct the highly profitable "Beetlejuice" and "Batman." With Burton being a hot name in Hollywood at the time and The House of Mouse in the midst of their Disney Renaissance, producer Jeffrey Katzenberg wanted to revisit "The Nightmare Before Christmas" in all of its weird, stop-motion glory. Burton at this point was slated to direct "Edward Scissorhands" and "Batman Returns," which meant Henry Selick would serve as the film's director. 
When looking at Selick's filmography, "Nightmare" is dripping with his auteur vision and animation style, which is often associated instead with Burton. In a recent interview with The A.V. Club ahead of the release of his newest film, "Wendell & Wild," Selick admitted that after two decades of misappropriation, he's tired of people erasing his contributions to "The Nightmare Before Christmas" narrative.
Put some respect on Henry Selick's name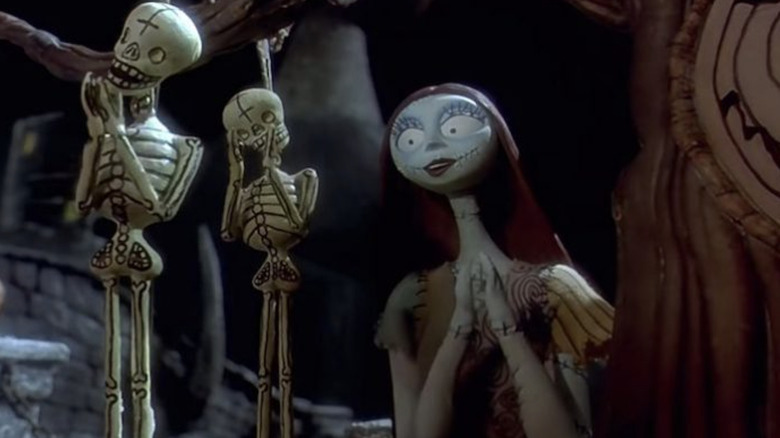 Buena Vista Pictures Distribution
Selick joked that he's "won many a bar bet," about being the true director of "The Nightmare Before Christmas," a film that is synonymous with the aesthetic and directorial style of Burton. It makes sense that audiences make the assumptive connection, as many of Burton's artistic touchstones like creepy kid-like stories and a Danny Elfman score are present in the film. Selick understands it, but he also calls it "a little unfair," clarifying that "it wasn't called 'Tim Burton's The Nightmare [Before Christmas]' until three weeks before the film came out."
Disney clearly wanted to capitalize off of the "Batman" director's success, slapping Burton's name all over the film. "I would have been fine with that if that's what I signed up for," Selick said. "But Tim was in L.A. making two features while I directed that film." 
Henry Selick is arguably the most prolific voice in stop-motion animation and is a living legend in the medium. He continued in the interview by saying, "I mean, Tim is a genius — or he certainly was in his most creative years," but is justifiably miffed that his own name on his feature directorial debut was deprioritized.
"I always thought his story was perfect, and he designed the main characters, but it was really me and my team of people who brought that to life," he said. It's hard not to see this as a similar example of what happened with Nia DaCosta's "Candyman" being attributed to producer Jordan Peele, where the marketing hook of a household name as a producer became the only name being used. Unfortunately for Selick, this was before Twitter, and we couldn't have "HENRY SELICK'S 'A NIGHTMARE BEFORE CHRISTMAS,'" viral campaigns.
Selick deserves better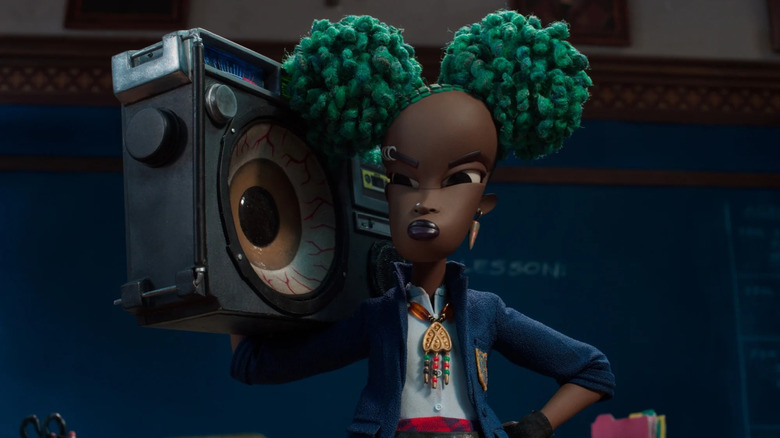 Netflix
As the director of "The Nightmare Before Christmas," "James and the Giant Peach," "Monkeybone," "Coraline," and now "Wendell and Wild," it's downright criminal that Selick has been constantly overshadowed by producers, source material writers, and other non-director contributors to his work. The connective tissue between all of these films is rooted in Selick's vision and sensibilities, and yet he's often not given the credit. Selick clarified with The A.V. Club that he doesn't mind when folks like Neil Gaiman (who wrote "Coraline") or Jordan Peele (who produced and co-wrote "Wendell and Wild") are given attention because he genuinely enjoys collaborating, and sometimes the collaborator's presence is what gets a film the green light. "But I'm the one leading the team to make the movie," he said.
There's nothing inherently wrong with using Burton, Roald Dahl, Gaiman, or Peele's names to get the word out about the project, but the fact that Henry Selick's name alone isn't enough to get an automatic greenlight is yet another example of the blatant disrespect shown to animation filmmakers. Our friends over at Screen Rant have even written about how often Tim Burton is attributed to "Coraline," despite having absolutely nothing to do with its production.
Selick's latest masterpiece, "Wendell and Wild," is currently available to stream on Netflix, even if the streamer's homepage is continuing to prioritize true crime documentaries and Ryan Murphy shows. Henry Selick is one of the greatest directors working today, and he certainly deserves better than playing second banana to folks who have made their names elsewhere.
This Halloween, spend some time watching stop-motion greatness. Selick's got plenty of treats to go around.