The Daily Stream: Coco Is The Perfect Film For Día De Los Muertos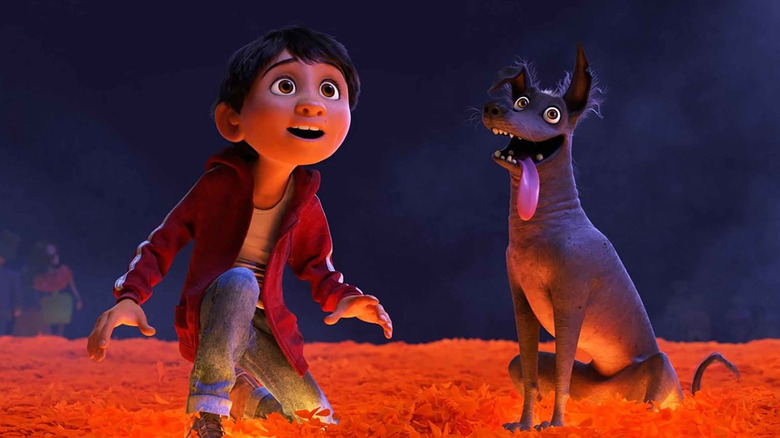 Disney/Pixar
(Welcome to The Daily Stream, an ongoing series in which the /Film team shares what they've been watching, why it's worth checking out, and where you can stream it.)
The Movie: "Coco"
Where You Can Stream It: Disney+
The Pitch: If you're looking for a beautiful film to watch in honor of Día de Los Muertos, Pixar's "Coco" will have you laughing through tears. The 2017 film is, in my humble opinion, one of the best things Pixar has ever done. It's gorgeous, it's funny, introduces the world to some wonderful traditions, and it's going to require a giant box of tissues. You've been warned. 
In the small Mexican town of Santa Cecilia lives a young boy named Miguel (Anthony Gonzalez) who loves his family, his Xoloitzcuintle dog buddy Dante, and, more than anything else, music. Normally that would be great, but his family has banned music. You see, many years ago, his great-great-grandfather was a musician and went off to play, leaving his great-great-grandmother Imelda and their tiny daughter Coco alone. He never returned. Now music has been banned in the family for generations. 
Poor Miguel has to take a guitar and practice in secret while his family tries to get him excited about joining the family shoe-making business. It's a hard thing when your loved ones don't support something you love so much, but Coco's (Ana Ofelia Murguía) daughter, Miguel's Abuelita (Renée Victor), is insistent. She doesn't want to hear music from the late Ernesto de la Cruz, the musician Miguel loves so much. As it turns out, there is a good reason for that. 
'Remember Me'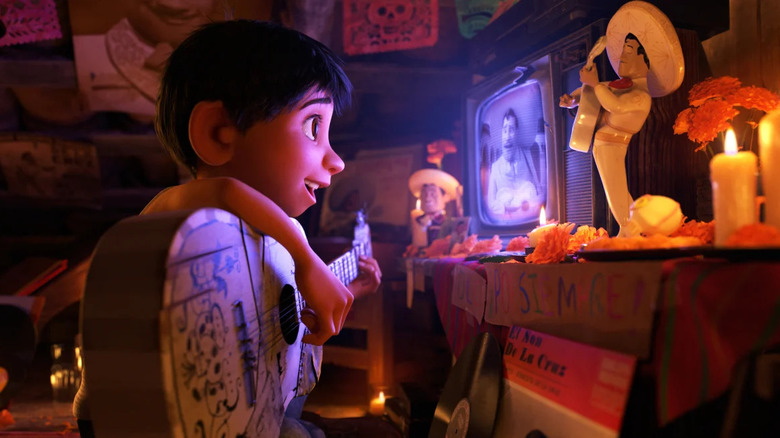 Disney/Pixar
The family is getting ready for the celebration of Día de Los Muertos, the honoring of family members who have passed on. The family altar or ofrenda is covered with pictures of loved ones, marigold petals are everywhere, and families all over the town have decorated the cemetery and brought their departed relatives' favorite foods. Miguel wants to join a celebratory talent show, but when his guitar is broken by his family, he gets angry and accidentally knocks over a picture on the ofrenda, showing none other than Ernesto de la Cruz (Benjamin Bratt) with Imelda and baby Coco.
Miguel steals Ernesto's guitar from his mausoleum, which is the biggest in the cemetery, and because of this, ends up in the Land of the Dead with no way out but a blessing from his family. Of course, the ones who are there with him are pretty upset about his love of music and refuse. He meets a ragged skeleton named Héctor (Gael García Bernal), who helps him find Ernesto, who can give his family's blessing to Miguel and get him home to the living. 
Obviously, all is not what it seems. The story is one of the loveliest that Pixar has ever done, and visually, one of the most beautiful.
The prettiest afterlife on screen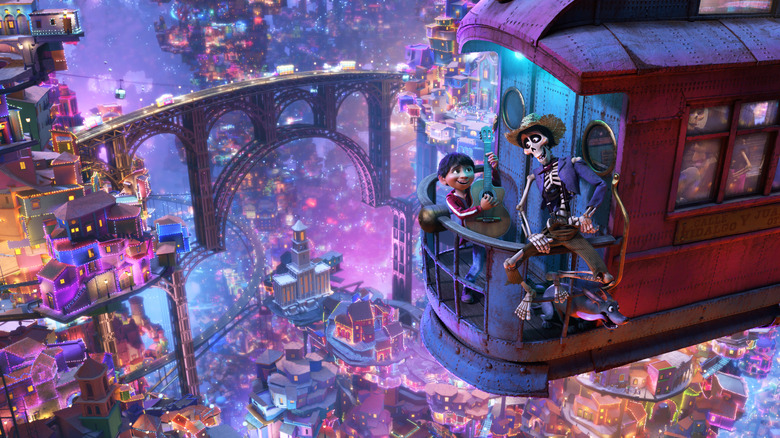 Disney/Pixar
Visually, the Land of the Dead is one of the prettiest environments, and fascinating in terms of its creation. Years ago, when the film was still in production, I got to attend the early press day where the artists explained that there is no green in the Land of the Dead since nothing lives there. You'll see teal, but that's as close as you're going to get. Plus, they spent a lot of time trying to figure out how to get clothing to work on skeletons that have no musculature to drape them over, and it works perfectly. We even learned about Xolo dogs like Dante and how they were thought to help the elderly pass to the other world. It's interesting to note that they have very little fur, and it's thought that their warmth helped soothe the joints of those with arthritis. The amount of work they had to do on the movement of Dante's skin alone is wild.
Of course, all of this blends into the background when you watch. There is so much heart in this film, which looks at generational trauma, the meaning of family, and why we work so hard to keep memories alive after a loved one passes. It also reminds you that it's okay to love something different than your family and to forge your own path. 
Excuse me while I get out the tissue pack with the skulls on it that I've been saving for tonight's viewing. I hope you'll join me virtually.