Will There Be A Sequel To Coco? Here's What We Know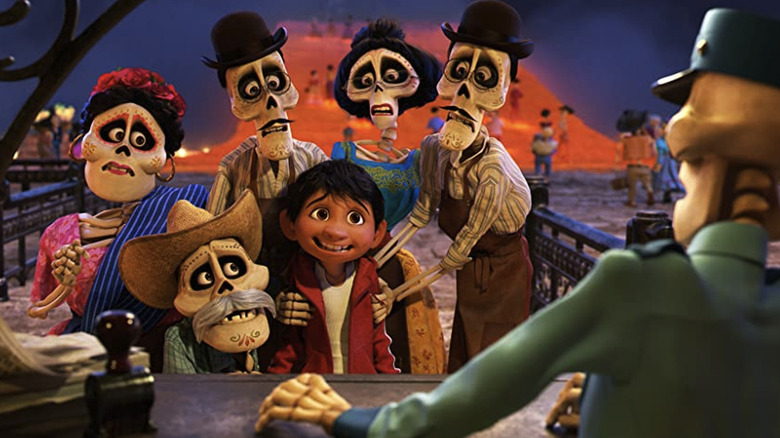 Pixar
Pixar has cracked the code for making emotionally-driven movies that will make you cry non-stop, but the studio has yet to greenlight sequels to some of its best ones. Inspired by the Mexican holiday Day of the Dead (Día de los Muertos), "Coco" is teeming with themes of family and the spirit of music. It is the first Pixar film to feature an all-Latino cast.
"Coco" is a love letter to Mexico as much as it is one to music, and is without a doubt one of the studio's most vibrant films. Featuring stunning animated landscapes that bring the holiday of Día de los Muertos to life, the film explores life, death, the afterlife, and how the ones we love never really leave us.
In "Coco," Anthony Gonzalez voices Miguel, a 12-year-old boy from Santa Cecelia, Mexico, who longs to be a musician like his idol, the legendary singer Ernesto de la Cruz. His family is unsupportive of his dream because Miguel's great-grandmother Imelda was married to a man who abandoned her and their daughter Coco to pursue a career in music. When her husband doesn't return, Imelda banishes music from their home and starts a shoemaking business instead. 
Decades later, Miguel, who is desperate to prove his talent, finds himself in the colorful Land of the Dead. He meets a charming ex-con known as Héctor, and the two of them embark on an otherworldly adventure to uncover the truth behind Miguel's family history. The animated film details Miguel's relentless endeavor of pursuing his dream, honing in on how families always belong together, no matter what. It's a very touching story, reminiscent of the magic seen in Studio Ghibli movies. Laughs will be shared, and tears will be shed.
"Coco" was a critical and commercial success, earning more than $800 million at the box office worldwide. Pixar fans are aware of how the studio is highly selective about making sequels, but with films such as "Toy Story" and "The Incredibles" transforming into major movie franchises, is it possible for "Coco" to earn a sequel too?
A Sequel To Coco Has Not Yet Been Announced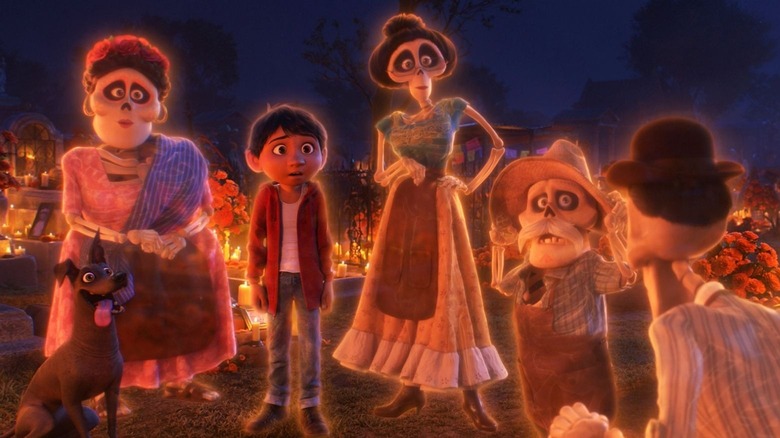 Pixar
So far, there has been no official statement from Disney and Pixar confirming that a "Coco" sequel is in the works. The film was released way back in 2017, and if a second film was in the works, one might assume the studio would have announced it by now. But seeing how "The Incredibles" sequel arrived over a decade after the first, it's never too late to continue the story of "Coco."
"Coco" won Best Animated Feature and Best Original Song (for "Remember Me") at the 90th Academy Awards. The film's achievements indicate that it might not be a bad idea for the studio to greenlight a sequel — admirers of Miguel and his family would happily experience a new chapter of his life.
But maybe Pixar doesn't believe that Miguel's return to the Land of the Dead would be an ideal way to carry on the tale? The Mexican holiday is central to the movie's plot, but it would be pretty interesting to see Miguel's musical career take off. There are several ways in which a "Coco" sequel could carry on his story without featuring any repetitive storylines.
Then again, maybe the success of "Coco" suggests it is better off as a standalone film. A second trip to the Land of the Dead could take away from the emotional journey of the first movie, and there's something beautiful about some stories being left to stand on their own. Until we hear about a "Coco" sequel being officially in the works, you can stream the first movie on Disney+, where Miguel and his charming adventures await you!